Food + Recipes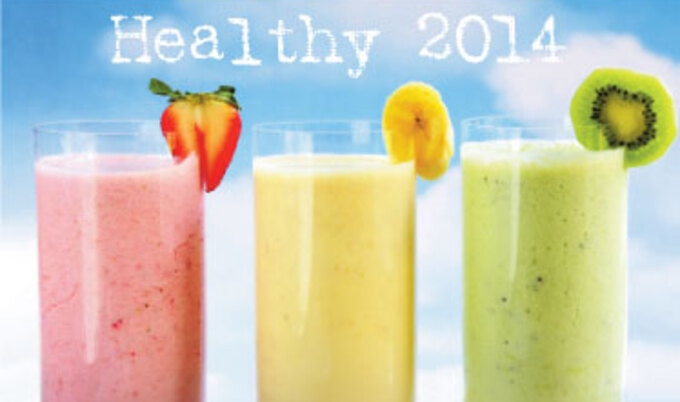 Colleen Holland's Top 10 Favorite Vegan Foods in 2014
VegNews' Colleen Holland reveals what's inside her kitchen to help her stay healthy in the new year.
January 12, 2014
---
We all know New Year's resolutions can be nothing more than a pipe dream lasting approximately 5.3 days, but that's okay. We're used to the love 'em and lose 'em cycle by now. More than a year ago, however, I committed to becoming a healthy vegan—and truckloads of kale, coconut water, and sweet potatoes later, I'm stickin' to it. After years of allowing all of the delicious vegan indulgences into my life (I'm looking at you, cookies/candy/doughnuts/pastries), I decided to clean up my act and make these foods a special treat versus a daily ritual. And guess what? I feel better than ever and am grateful every day that I made the switch to a whole-foods, high-raw diet.
So, here we are, at the start of another year with another chance to commit to change. What better gift to give yourself than to stock your fridge and pantry with the freshest, healthiest foods to jumpstart good eating habits? Walking into your kitchen and not being tempted by crème-filled cookies, pints of coconut ice cream, and peanut butter cups was—for me—the first step in ditching my old ways. Opening up your refrigerator to a rainbow of colorful produce, raw nuts, green juice, and cooked grains will make the transition so much simpler. Here are my top 10 healthy foods that are filling my kitchen this year, and I can't wait to dig in.
Sprouted almonds
Everyday around 11am, hunger pangs kick in, and I need something to hold me over until lunch. A handful of raw nuts gets the job done, but something even better is now available: sprouted almonds. I know soaking, sprouting, and dehydrating nuts helps to make them more digestable as well as release their full nutritional content, but I am just not going to do it at home. So I am thrilled companies like Living Intentions and Go Raw are doing it for me.
Kale
Kale is the love of my life and, in my world view, the king of greens. This superstar cruciferous vegetable is packed with vitamins A, C, and K, and I keep a few bunches in the fridge at all times to whirl into my morning smoothie, add to hot soup, or chiffonade onto a roasted sweet potato. If you've never tried kale, de-stem and chop into small pieces before sautéeing with garlic. That's what got me hooked years ago, and I've never looked back.
Coconut water
I've been making a morning smoothie for nearly 20 years, and I couldn't start my day any other way. I used orange juice as a base until I made a conscious decision to cut back on my sugar intake (a cup of orange juice every day adds up!). Last year, Whole Foods Market began offering coconut water-based smoothies at its juice bars, and I became an instant convert. I now keep a few quarts of Naked or 365 coconut water on hand and blend it up with frozen strawberries, blackberries, banana, and kale for a frothy smoothie I never tire of.
Vegan protein powder
If you would have told me two years ago that I would be addicted to a protein powder, I never would have believed you. I just couldn't shake the stereotype of a bodybuilder downing umpteen chalky, watery, whey-filled drinks a day to build up muscle mass. But then I discovered Vega One. Forumulated by vegan triathlete Brendan Brazier, Vega One was my first encounter with a clean, natural, plant-based version that's packed with 50 percent of my daily vitamin and mineral requirements. Tossing a scoop into my morning smoothie (I love the Chocolate flavor) not only tastes great but gives me confidence that I am fueling my body with what it needs.
Garbanzo beans
Beans make everything better, but garbanzo beans rank number one in my book. Packed with protein, fiber, and antioxidants, a salad without a hefty scoop of chickpeas just isn't a salad. Since I don't have time to soak and cook my own, I am grateful for the superb quality of canned beans. And if you haven't tried it, roasting garbanzo beans with olive oil and sea salt is life-changing.
Satsuma tangerines
I am not a fan of cold weather, but I look forward to eating mountains of Satsuma tangerines during the winter months. I buy pounds of them every week and keep in a bowl on the top shelf of my refrigerator for an easy snack or dessert. Originating from the Satsuma province of Japan, these easy-to-peel and often seedless tangerines can be found in Asian markets (best price) or natural food stores (organic available).
Japanese sweet potatoes
I am obsessed with the Japenese sweet potato (called satsumaimos) and won't even consider buying any other kind. During wintertime in Japan, street vendors push carts filled with fire-roasted sweet potatoes—and I've also seen them sold boiled and sliced in snack-size bags on the streets of Thailand. Satsumaimos are very sweet, especially when they get caramelized and gooey from baking, but I eat them several times a week with a soup or salad and still can't get enough. Bake at 425 degrees for about an hour, or until the skin is slightly crispy and the inside is bright yellow and creamy.
Healthy soups
Soups have become a daily part of my life—a steaming bowl topped with broccoli, kale, or Swiss chard always hits the spot. I have a small rotation of go-to blends, but more often than not I'm eating Indian kitcheree, an ayurvedic staple made with yellow lentils, Basmati rice, cumin, anise, and turmeric. I cheat and often pick up a quart at one of my favorite vegetarian restaurants, but soups are a breeze to make at home and are the perfect healthy meal.
Genmaicha
I have never been a coffee drinker and avoid caffeine in general, but an occasional soy chai or green tea always makes me feel good. I especially love green tea with toasted brown rice—called genmaicha in Japanese—and enjoy a cup in the morning when I'm in need of a mental boost. Not only does the nutty, aromatic flavor taste wonderful, I get the benefits of a caffeine kick without the fat, sugar, and calories of a fancy coffee drink.
Raw chocolate
Despite having cut back on dessert over the past two years, I still have a sweet tooth and love a treat once in a while. I adore the smoothness and rich, cacao flavor of raw chocolate—and since it's made from cold-pressed beans, it's loaded with nutrients and enzymes. My current favorite bars include the Caramel Cacao Bar from Righteously Raw, the Cool Mint from Gnosis Chocolate, and the Aztec Crunch from Lulu's Chocolate. And don't miss my recent review of Rawcholatl hot chocolate spice blend, as nothing beats a frothy mug of cocoa on a chilly day.
VegNews' co-founder Colleen Holland feels her best when eating healthy vegan food. For more healthy food wisdom, follow Colleen on Facebook here!
Please support independent vegan media and get the very best in news, recipes, travel, beauty, products, and more.
Subscribe now to the world's #1 plant-based magazine!
Subscribe