Food + Recipes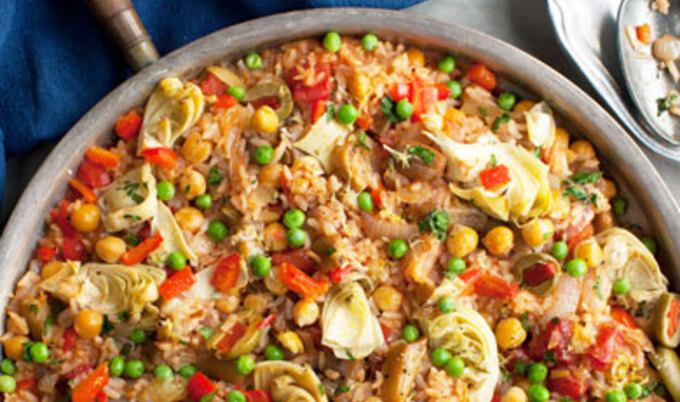 Robin Robertson: My Top 10 Vegan Dishes Around the World
With her newest cookbook Vegan Without Borders in stores now, authoress Robin Robertson shares her own favorite global vegan meals.
November 19, 2014
---
Plant-based eating is common in many areas of the world, especially where—for economic or religious reasons or both—meat is either not eaten at all or used as a flavoring for otherwise vegan dishes. Our plant-based choices are many, and vegans love exploring the rich culinary paradise the world's cuisines have to offer.
We adore chowing down the bean burritos and guacamole of Mexico, savoring falafel and hummus from the Middle East, and the spicy and satisfying peanut stews of Africa. Who doesn't enjoy working culinary magic with Asia's gifts of seitan and tofu "done right"? In the specialties of India, we find comfort in the savory dals and fragrant vegetable curries, and from Indonesia we get our tempeh fix.
It's no wonder that international dishes are often the first choice of vegans looking for great food. It's certainly true for me, and I'm pleased to take this opportunity to share my top 10 favorite vegan dishes from around the world:
Spain: Vegetable Paella
This voluptuous Spanish dish (pictured above) is named for the pan in which it is traditionally cooked. Although meat and seafood are commonly featured in a classic paella, the real star is the saffron-infused rice studded with artichoke hearts, tomato, bell pepper, and olives.

France: Pissadaliere
This savory caramelized onion tart hails from the Provençe city of Nice. Known for its thick dough and lusty topping of flavorful onion confit and luscious Caillette or Niçoise olives, this sophisticated pizza can be enjoyed as an appetizer or main dish.
Italy: Trofie with Green Beans, Potatoes, & Pesto
This classic coastal Italian dish combines pasta and pesto with green beans and potatoes for a hearty and delicious meal. Trofie pasta is a specialty of the region where the bite-sized pasta twists are rolled by hand and commonly served with Pesto Genovese.
Ethiopia: Spicy Lemon Chickpeas
This Ethiopian dish called buticha is also known as "fasting eggs," because it resembles scrambled eggs in appearance. The flavor of this addictively delicious dip is like a lemony Ethiopian-spiced hummus … only better. Scoop up with injera, the distinctive Ethiopian fermented flatbread.
Jamaica: Jamaican Jerk Skewered Vegetables
The heady fragrance and flavor of jerk spices can make any meal a party. Ideal for the grill, these vegetable skewers can also be roasted or broiled in the oven. If you don't like the fussiness of skewers, you can cook the vegetables in a grill basket instead.
Singapore: Mei Fun
Mei fun noodles are thin Chinese rice noodles (also called rice vermicelli) that are extremely popular in Singapore. Basic mei fun is usually stir-fried with shiitake mushrooms, soy sauce, and other ingredients, with additional condiments served on the side. Singapore mei fun, on the other hand, is distinctive for its addition of curry powder. It usually features a number of vegetables, and protein, and is especially good made with tofu.
India: Papri Chaat
The word chaat is used broadly to describe savory snacks served from food carts in India. My favorite chaat is papri (also called papdi) chaat. It is made of crispy crackers that are typically topped with cooked potatoes, chickpeas, a drizzle of yogurt, a spicy mint or cilantro chutney, and a sweet tamarind sauce. A feast for the senses, papri chaat are all at once crunchy, creamy, spicy, and sweet.
Korea: Bibimbap
Literally "stirred or mixed rice," bibimbap features a variety of vegetables and is flavored with the spicy Korean chili paste known as kochujang. This dish is typically made with white sticky rice, but I prefer to use brown rice because it is more nutritious. Bibimbap is frequently served topped with a fried egg, which is obviously omitted from a vegan version.
Thailand: Miang Kam
The sublime Thai appetizer known as miang kam is as fun to make as it is to eat. To make, individual wild pepper leaves are topped with tiny mounds of toasted coconut, crunchy peanuts, pungent ginger, zesty lime, and spicy chiles. To eat, simply pick up a leaf with its toppings and pop n your mouth—it's a delicious flavor explosion that brings everything you like about Thai food into one bite.
United States: Butternut Squash Mac & Cheese
Few dishes are more classically American than mac and cheese, and this version is one of my favorites. Butternut squash is the secret ingredient in the creamy rich sauce made with cashews and an arsenal of spices. For a variation, add some cooked green vegetables, such as broccoli or peas.
Robin Robertson has written more than 20 cookbooks, including Vegan Planet, Vegan on the Cheap, and the brand-new Vegan Without Borders—where versions of many of these dishes can be found.
Please support independent vegan media and get the very best in news, recipes, travel, beauty, products, and more.
Subscribe now to the world's #1 plant-based magazine!
Subscribe