News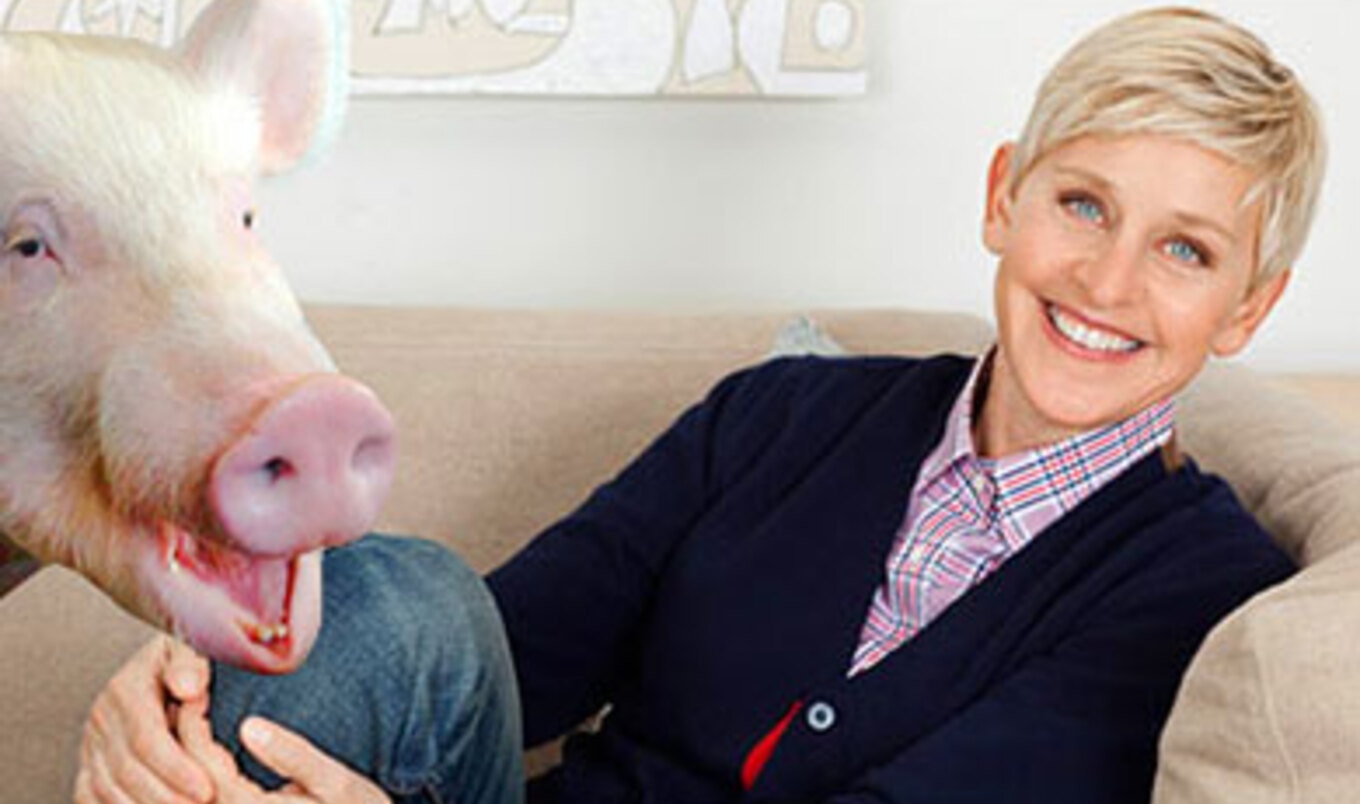 Ellen DeGeneres and Portia de Rossi Adopt Esther the Wonder Pig
The Hollywood couple fall in love with famous pig after watching videos on YouTube.
March 31, 2014
---
If you haven't heard of Esther the Wonder Pig, you've probably been living on a remote island for the past six months with no connection to the outside world. Esther—born in 2012 on a commercial pig farm and then adopted by a couple in Toronto, Canada—has become an internet sensation with her very own website, Facebook page (120k fans and counting), Twitter following, and YouTube channel. People all over the world have fallen in love with 400-pound Esther after watching her sleep, yawn, take a bath, wrestle with her canine siblings, open doors, eat breakfast, and play tag with the family.
And one of those people happen to be Ellen DeGeneres. In an exclusive interview with VegNews, the talk show host and vegan tells us that it all started one night this past January. "Portia and I were making our favorite tempeh chili for dinner and decided that we wanted a salad to go with it. So I hopped on my iPad to watch the Vegan Zombie video for Creamy Kale Salad, which Portia loves. Well, I kept watching those zombie boys but then somehow ended up on Esther's YouTube page. That's when it all began."
Ellen fell fast and hard for the vegan wonder pig. She admits to staying up all night after that serendipitous kale salad to watch heartwarming videos of Esther eat pie, fluff her bed, watch TV, and flash her signature smile to the camera. In the middle of the night, Portia remembers waking up to find Ellen laughing hysterically in front of the computer. Thinking she was just up late writing jokes for her upcoming Oscar gig, Portia shook her head and went back to sleep.
By the next morning, Ellen had already reached out to Esther's family in Toronto to arrange a meeting. Esther's dad, Derek Walter, recalls that unexpected phone call. "Hi, this is Ellen," Derek remembers the famous comedian saying. She continues, "I can't stop thinking about Esther, and I have to meet her. We have a private plane waiting out front and can be there in six hours. We'll bring vegan cookies." Derek and his partner, Steve Jenkins, agreed to the visit by the celebrity duo. "After all, who wouldn't, eh?" says Steve. "And no one makes vegan chocolate chip cookies better than they do, plus they make them gluten-free!"
That morning, after watching videos of Esther snuggling up to the family dogs and opening the refrigerator door for a snack, Portia quickly understood Ellen's desire to meet Esther. "I, too, fell in love with her," says Portia. "That grin! That swagger! Those eyes! I couldn't get enough." So the two set out for Ontario, Canada and spent the entire flight watching every single YouTube video of Esther the Wonder Pig—again and again.
Fast forward three months, Ellen and Portia have visited Esther 11 times and even purchased and renovated a farm on the city outskirts where Esther stays while the couple is in town. Steve tells VegNews that "Esther loves to play tag and tug-of-war, so the 75 acres Ellen and Portia bought come in very handy for outdoor playtime." But just last week, after it became obvious how much Esther had bonded with her new California companions, her two dads agreed to let Ellen and Portia legally adopt her.
"It will be a good life for Esther, as she'll thrive in the warm Los Angeles climate," Derek says. "And since she's a celebrity herself, she'll fit right into the Hollywood scene as well as have daily access to her favorite foods—kale salad and green juice. But most importantly, we made it very clear to the girls what Esther needs to maximize her comfort level."
So just what were those stipulations? According to the adoption contract, Esther must:
• Have her own bathroom (complete with hot tub, cold plunge, and heated floors)
• Have a private dressing room outfitted with eco-friendly bedding and fresh flowers on the set of The Ellen DeGeneres Show
• Receive three deep-tissue massages a week by LA's top animal masseuse
• Eat only organic food prepared by a live-in vegan chef
• Get a minimum of three hours of pool time each day
• Be honored at a welcome dinner hosted by Jason Bateman at Crossroads Kitchen
• Attend at least one vegan restaurant opening every week
• Have regular check-in appointments with Cesar Millan to ensure she is happy, healthy, and fulfilled
Oh, and those selfies Ellen is a big fan of? Make room for Esther.
VegNews' co-founder Colleen Holland is obsessed with Esther the Wonder Pig but can't compete with the perks offered by Ellen and Portia. Follow Colleen on Facebook here!
Love the plant-based lifestyle as much as we do?
Get the BEST vegan recipes, travel, celebrity interviews, product picks, and so much more inside every issue of VegNews Magazine. Find out why VegNews is the world's #1 plant-based magazine by subscribing today!