Food + Recipes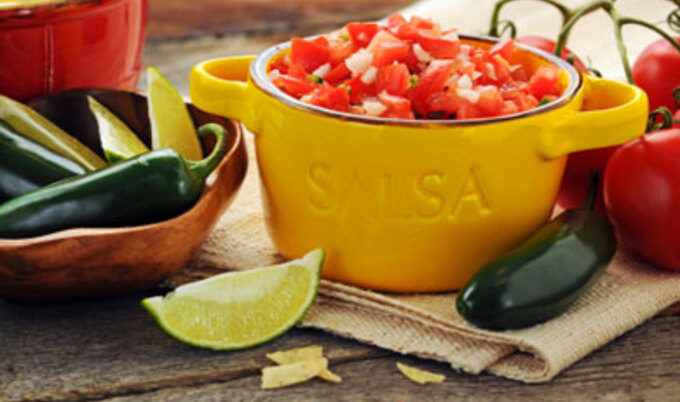 How to Make Great Vegan Mexican Food at Home
Vegan chef and Mexican food expert, Jason Wyrick, shares his 10 go-to pantry ingredients for great south-of-the-border dishes.
---
Is there anything better than vegan Mexican food? Think tacos, quesadillas, enchiladas, burritos, empanadas, and tamales—all smothered in guacamole, salsa, cheese, and sour cream. Mexican cuisine can be healthy (black bean tacos with fresh vegetables) or more on the decadent side (a towering platter of nachos with cheese, avocado, and soyrizo). However you like your south-of-the-border favorites, we've turned to vegan chef, Jason Wyrick, to help us set up the ultimate Mexican food pantry at home. Author of the brand-new cookbook, Vegan Tacos (one of our 15 Most-Anticipated Vegan Cookbooks of 2014), Jason knows a thing or two about the best ingredients to have on hand to create mouthwatering Mexican meals. Here are Jason's top 10 pantry items to get this fiesta started.
1. Limes
Mexican cuisine is full of bright flavors, and limes are the best way to achieve that. Whether it's the typical green lime or the delicious sweet yellow lime (perfect for margaritas), a squeeze adds life to almost any dish.
2. Dried Beans
Canned beans are great in a pinch, but dried beans are much less expensive—and by cooking them with other ingredients (like beer), they can be infused with lots of flavor.
3. Mexican Oregano
Although it's not actually oregano as we know it, Jason's go-to herb for Mexican dishes has a similar flavor profile to the Italian variety but with additional aromatic notes.
4. Masa
Whether it's the dried flour called masa harina or the prepared dough simply known as masa, this corn-based staple is essential for making homemade tortillas, tamales, garnachas, sopes, and huaraches.
5. White Vinegar
Another way to brighten any dish, especially a chile or tomato sauce, is to add a splash of vinegar. Jason's favorite brand? Trader Joe's White Balsamic Vinegar.
6. Guajillo and Ancho Chiles
The foundation for most chile sauces, guajillos have toasted caramel notes while anchos have fruity notes—and both are fairly mild as far as chiles go. Rehydrate and purée into robust sauces for enchiladas, pastas, and sandwiches.
7. Chipotles in Adobo
Chipotles are smoked-dried jalapeno peppers, and adobo is a marinade made with puréed chiles, spices, and vinegar. Typically sold in cans, they can be added to sauces for a smoky, spicy flavor.
8. Tomatoes & Tomatillos
If chiles are the foundation for most sauces, roasted tomatoes and tomatillos are the foundation for many other dishes, including a vast array of salsas.
9. Mojo de Ajo
You'll need to make this yourself, but this olive oil-blend made with roasted garlic, salt, and sour orange juice is worth the effort. Once you cook with mojo de ajo, you won't be able to live without it.
10. Mezcal
Every good meal deserves a good drink, and this predecessor to tequila is made by fire-roasting the agave plant and extracting its smoke-flavored syrup. Sip gently to fully appreciate the depth of flavor.
Jason Wyrick—author of the just-released Vegan Tacos: Authentic and Inspired Recipes for Mexico's Favorite Street Food—is the executive chef of The Vegan Taste and the operator of a nationwide vegan meal delivery service. VegNews' co-founder Colleen Holland could happily eat Mexican food morning, noon, and night.
Please support independent vegan media and get the very best in news, recipes, travel, beauty, products, and more.
Subscribe now to the world's #1 plant-based magazine!
Subscribe