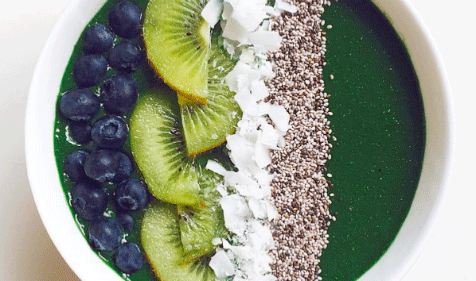 From smoothie bowls to a meaty fast-food throwback, we round up the most like-worthy breakfasts on Instagram.
October 5, 2015
---
A few years ago, if you wanted to get ideas on how to switch up your meals, you'd have to grab the same-ol' vegan cookbook off your shelf and pick from recipes you'd already passed on. Luckily, things have changed, as now you can just reach into your pocket, type #veganfoodshare on Instagram, and find thousands of gorgeous photos of tasty vegan food such as fig toast, smoothie bowls, and breakfast sandwiches in an instant. With #vegan yielding more than 16 million search results, there's almost too many posts to choose from. To save you time and effort, we combed through the pic-friendly site for nine of the best #veganbreakfasts to help you start your mornings the right way.

1. @casandrapatricia's simple tomato, pepper, and spinach sandwich with tea is a great savory breakfast that could easily transcend to a delicious brunch or lunch. We prefer it for lazy weekends on the couch.

2. @curlexxa's beautiful silken tofu cream cheeese and fig toast spread with fresh mint leaves is almost too pretty to eat. But we found a way.
3. Topped with country gravy and Daiya cheddar cheese, @seattle_vegan's mouthwatering Hillbilly Omelet from @waywardvegancafe is breakfast nirvana thanks to sausage (deep-fried Gimme Lean made with TVP and spices), hash browns, grilled peppers, and onions.

4. Plan on skipping lunch if you're eating @gypseavegan's classic vegetable-forward tofu scramble. The massive plate comes with sprouted organic tofu, sweet peppers, purple onion, tomato, spinach, and baby mushrooms, seasoned with garlic, turmeric, and Himalayan salt.

5. If you're the type of person to eat with your eyes first (and aren't we all), you'll love @truenorthvegan's gorgeous smoothie bowl. Made with kale, spinach, banana, pineapple, chia, flax, spirulina, and coconut water (and topped with blueberries, kiwi, coconut flakes, and chia seeds), this might be your new go-to in the mornings.

6. Anyone tired of avocado toast yet? Neither are we, so try @greeneatingqueen's pomegranate and pepita powerhouse punctuated with a pinch of pepper (and alliteration).

7. We know, we know … everything in moderation, but @laurakolonic's homemade cinnamon rolls topped with cinnamon and gooey icing are too adorable to stop at just one

8. Is @youngveganfoodie's porridge chock full of goji berries, soy yogurt, and cashew butter breakfast or a work of art? Both!

9. @marinakatura's breakfast burger is made with a homemade grits bread bun, organic ketchup, toasted hash brown patty, grilled sausage patty, crispy vegan bacon slices, scrambled tofu, and Vegenaise. Pardon us if we're drooling, but this thing looks delicious!