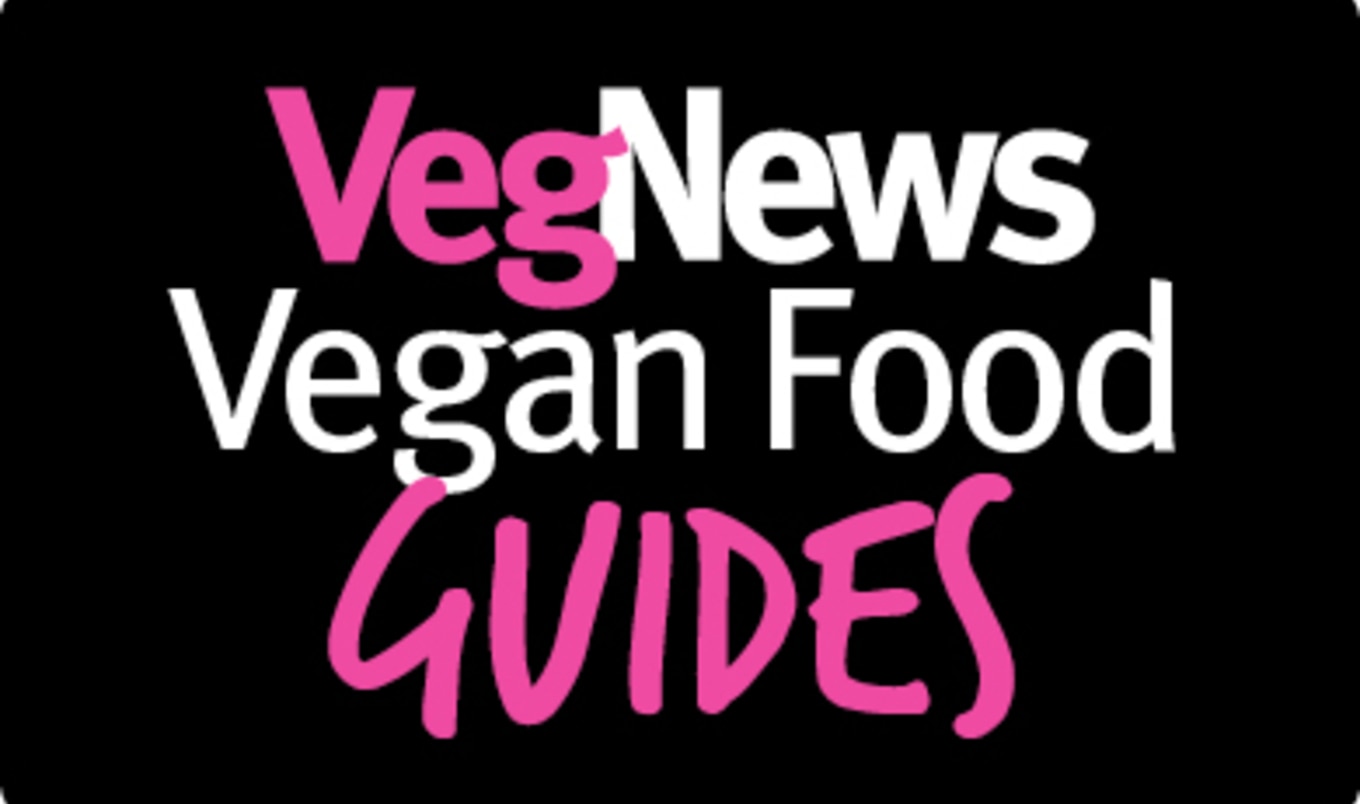 Need cheese? Our ultimate, up-to-date guides to vegan products give you everything you need to know.
October 27, 2015
---
Here at VegNews, we make it our job to be on top of the newest products, the must-try sweets, the gotta-have-it items. And just as important as it is to know what those new items are, we want to share them with you, so that you can be the most current conscious consumer out there. So we present to you the VegNews Guides, a series of lists dedicated to the things vegans love most—cheese included. Below is an up-to-date, ever-expanding roster of the vegan cheeses offered nationwide.
Bute Island
Blue English Style Sheese
Blue French Style Sheese
Cheddar Style Creamy Sheese
Cheddar Style with Caramalized Red Onion Sheese
Cheddar Style with Garlic & Chives
Cheddar Style with Jalapeño & Chili
Chives in Creamy Sheese
Edam Style Sheese
Garlic and Herb Creamy Sheese
Gouda Style Sheese
Greek Style Sheese
Mature Cheddar Style Sheese
Mild Cheddar Style Sheese
Mozzarella Style Sheese
Smoked German Style Sheese
Strong Cheddar Style Sheese
Original Creamy Sheese
Red Leicester Style Sheese
Wensleydale Style with Canberries Sheese

Cheeze & Thank You
Black Garlic Truffle Fontina
Dill Havarti
Giardinera Jack
Herbed Feta
Mozzarella Capri
Mustard Seed Smoked Gouda
Daiya
American Style Slices
Cheddar Style Shreds
Cheddar Style Slices
Cheddar & Mozza Style Blend Shreds
Chive & Onion Cream Cheese Style Spread
Classic Blend Shreds
Garden Vegetable Cream Cheese Style Spread
Jalapeño Havarti Style Block
Medium Cheddar Style Block
Monterey Jack Style Block
Mozzarella Style Shreds
Mozzarella Style Slices
Pepperjack Style Shreds
Plain Cream Cheese Style Spread
Provolone Style Slices
Smoked Gouda Style Block
Smoked Gouda Style Slices
Strawberry Cream Cheese Style Spread
Swiss Style Slices

Dr-Cow
Aged Macadamia Cheese
Cajun Aged Cashew Cheese
Cream Cashew Nut Cheese with Chives
Cream Cashew Nut Cheese with Tomato-Turmeric-Garlic
Plain Aged Cashew Cheese
Plain Cream Cashew Nut Cheese
Reishi Mushroom Aged Cashew Cheese
Smoked Aged Cashew Cheese
Truffle Aged Cashew Cheese
Field Roast
Creamy Original Chao Slices
Garden Herb Chao Slices
Tomato Cayenne Chao Slices

Follow Your Heart
American Style Slices
Cheddar Shreds
Dairy-Free Cream Cheese
Fiesta Blend Shreds
Garden Herb Style Slices
Medium Cheddar Style Slices
Mozzarella Shreds
Mozzarella Style Slices
Parmesan Style Grated Cheese
Parmesean Style Shreds
Pizzeria Blend Shreds
Pepper Jack Style Slices
Provolone Style Slices
Smoked Gouda Style Slices
Vegan Gourmet Cheddar
Vegan Gourmet Mozzarella

Good Planet Foods
American Slices
Cheddar Shreds
Cheddar Slices
Garlic & Herb Slices
Hot Pepper Slices
Mozzarella Shreds
Parmesan Shreds
Smoked Mozzarella Shreds
Smoked Provolone Slices

Go Veggie Foods
Cheddar Style Shreds
Chive & Garlic Cream Cheese
Classic Plain Cream Chese
Grated Parmesan Style Topping
Mexican Style Shreds
Mozzarella Style Shreds
Strawberry Cream Cheese
Heidi Ho Organics
Beer Cheeze Plant-Powered Dip
Queso Plant-Powered Cheeze Dip
Smoky Bourbon Plant-Powered Cheeze Dip
Kite Hill
Almond Milk Ricotta
Chive Cream Cheese Style Spread
Everything Cream Cheese Style Spread
Plain Cream Cheese Style Spread

Misha's Kind Foods
Black Truffle
French Connection
Joi
Lox
Sari
Seven Point Five
Smoked Cheddar

Miyoko's Creamery
Black Ash Cheese Wheel
Biergaten Garlic Chive Vegan Roadhouse Cheese Spread
Cheers to Cheddah Vegan Roadhouse Cheese Spread
Classic Double Cream Chive Cheese Wheel
Fresh Vegan Mozarella
Garlic Herb Cheese Wheel
Herbs de Provence Cheese Wheel
Plainly Classic Cream Cheese
Rustic Alpine Cheese Wheel
Sensational Scallion Cream Cheese
Sharp Farmhouse Cheese Wheel
Smoked Vegan Mozarella
Spicy Revolution Vegan Roadhouse Cheese Spread
Sundried Tomato Garlic Cheese Wheel
Un-Lox Your Dreams Cream Cheese
Winter Truffle Cheese Wheel
Nacheez
Dairy-Free Nacho Sauce Medium
Dairy-Free Nacho Sauce Spicy
Dairy-Free Nacho Sauce Mild
Parma!
Better than Bacon Parma!
Chipotle Cayenne Parma!
Garlicky Green Parma!
Original Parma!

OddlyGood
Cheddar Style, Log
Cheddar Style, Shredded
Mozzarella Style, Log
Mozzarella Style, Shredded
Parmela Creamery
American Style Slices
Black Pepper Creamy Nutcheese
Cheddar Style Block
Cheddar Style Slices
Havarti Dill Style Block
Havarti Dill Style Nutcheese Spread
Kalamata Olive Creamy Nutcheese
Mozzarella Style Block
Mozzarella Style Shreds
Original Creamy Nutcheese
Pepper Jack Style Shreds
Pepper Jack Style Slices
Sharp Cheddar Style Shreds
Smokey Cheddar Style Nutcheese Spread
Smokey Gouda Style Nutcheese Spread

Rooted Delights
Creamy Mozzah Cheez Wheel
Mild Cheddah Cheez Wheel

So Delicious Dairy Free
Cheddar Shreds
Cheddar Jack Shreds
Mozzarella Shreds

The Vegetarian Express
Parma Zaan Sprinkles
Tofutti
American Cheese Slices
Better Than Cheese Ricotta
Better Than Cream Cheese Plain
Better Than Cream Cheese Herbs & Chives
Better Than Cream Cheese Garlic & Herb
Better Than Creme Cheese Whipped
Mozzarella Cheese Slices

Treeline Treenut Cheese
Chipotle-Serrano Pepper Soft French-Style
Classic Aged Nut Cheese
Cracked Pepper Aged Nut Cheese
Herb-Garlic Soft French-Style
Scallion Soft French-Style
Sea Salt & Pepper Soft French-Style

VBites
Blue Style Cheezly Block
Blue Style Cheezly Grated
Blue Style Cheezly Sliced
Dairy-Free, Soy-Free Cheezly
Edam Style Cheezly Block
Hard Italian Style Cheezly Block
Mature Cheezly Grated
Mozzarella Style Cheezly Block
Mozzarella Style Cheezly Grated
Mozzarella Style Cheezly Slices
Pepper Jack Cheezly Block
Pepper Jack Style Cheezly Grated
Red Cheddar Cheezly Original
Red Cheddar Style Cheezly Sliced
Smoked Applewood Vegan Cheese Block
Smoked Applewood Vegan Cheese Slices
Supermelting Mature Cheezly Block
Supermelting Mature Cheezly Grated
Supermelting Mature Cheezly Slices
Supermelting Mozzarella Style Cheezly Block
Supermelting Mozzarella Style Cheezly Grated
Supermelting Red Cheezly Grated
Supermetling Red Cheezly Block
Supermelting White Cheezly Slices
White Cheddar Style Cheezly Grated
Vevan
Ched-Melts
Ched-Shred
Mozza-Melts
Mozza-Shred
P'Jack-Melts
P'Jack-Shred

Violife
Epic Mature Cheddar Flavor Block
Epic Smoked Cheddar Flavor Block
Just Like Cheddar Shreds
Just Like Cheddar Slices
Just Like Cream Cheese Cheddar
Just Like Cream Cheese Garlic & Herbs
Just Like Cream Cheese Original
Just Like Feta Block
Just Like Mature Cheddar Slices
Just Like Mozarella Shreds
Just Like Parmesan Wedge
Just Like Smoked Provolone Slices
Vromage
Brie Truffle
Camembert
Cheddar-Spicy
Feta-Basil
Feta-Herb
Goat-Chive
Goat-Cranberry
Goat with Herb
Mozzarella
Pâté de Noix Gras
Pepperjack
Picorino with Ash
Ricotta from Organic Nuts
Truffle Cream
Veganzola
Vtopian Artisan Cheeses
Aged White Cheddar (wedge)
Black Garlic (wedge)
Caramelized Onion Camembert (wedge)
Chive & Dill (wedge)
Dark Chocolate Strawberry Brie (wedge)
Lavender (wedge)
Macadamia & Cashew Camembert (wedge)
Peppercorn Brie (wedge)
Port Cheddar (wedge)
Smokey Cheddar (wedge)
Spicy Cheddar (wedge)

WayFare Foods
Cheddar Cheese
Nacho Cheddar with Jalapeños
Onion Chive Cream Cheese
Original Cream Cheese

Need more up-to-date info? Check out our other VegGuides!
Beer
Candy
Chocolate
Milk
Wine
Love the plant-based lifestyle as much as we do? Get the BEST vegan recipes, travel, celebrity interviews, product picks, and so much more inside every issue of VegNews Magazine. Find out why VegNews is the world's #1 plant-based magazine by subscribing today!