Food + Recipes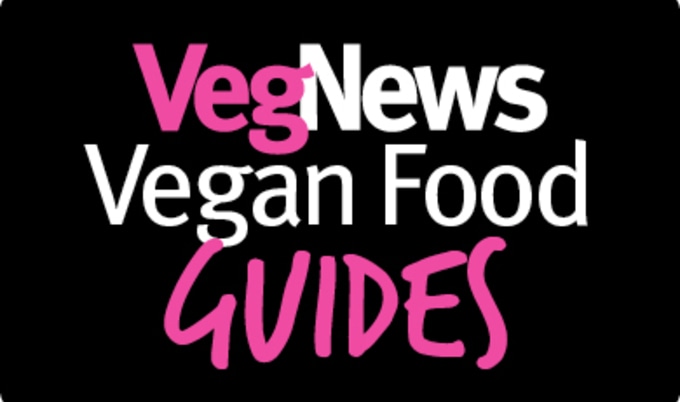 The VegNews Guide to Vegan Cheese
Need cheese? Our ultimate, up-to-date guides to vegan products give you everything you need to know.
---
Here at VegNews, we make it our job to be on top of the newest products, the must-try sweets, the gotta-have-it items. And just as important as it is to know what those new items are, we want to share them with you, so that you can be the most current conscious consumer out there. So we present to you the VegNews Guides, a series of lists dedicated to the things vegans love most—cheese included. Below is an up-to-date, ever-expanding roster of the vegan cheeses offered nationwide.
Bute Island
Blue Style Sheese
Cheddar Style with Chives Sheese
Cheshire Style Sheese
Edam Style Sheese
Gouda Style Sheese
Medium Cheddar Style Sheese
Mozzarella Style Sheese
Smoked Cheddar Syle Sheese
Strong Cheddar Style Sheese
Cheddar Style Creamy Sheese
Chives in Creamy Sheese
Garlic and Herb Creamy Sheese
Mexican Style Creamy Sheese
Original Creamy Sheese
Chicago Vegan Foods
Mozzarella Style Teese
Cheddar Style Teese
Teese Creamy Cheddar Sauce
Teese Nacho Sauce
Daiya
Cheddar Style Shreds
Swiss Style Slices
Provolone Style Slices
Cheddar Style Slices
Mozzarella Style Shreds
Pepperjack Style Shreds
Cheddar Style Wedge
Monterey Jack Style Block
Smoked Gouda Style Block
Jalapeño Havarti Style Wedge
Jack Style Wedge
Plain Cream Cheese Style Spread
Chive & Onion Cream Cheese Style Spread
Strawberry Cream Cheese Style Spread
Dr-Cow
Cashew Nut Cream Cheese
Cream Cashew Nut Alternative Cheese
Aged Cashew Nut Cheese
Aged Cashew & Hemp Seeds Cheese
Aged Cashew & Crystal Algae Cheese
Aged Cashew & Brazil Nut Cheese
Aged Cashew & Dulse Cheese
Aged Cashew & Kale Cheese
Aged Macadamia Nut Cheese
Aged Macadamia & Hemp Cheese
Field Roast
Creamy Original Chao Slices
Tomato Cayenne Chao Slices
Coconut Herb Chao Slices
Follow Your Heart
Vegan Gourmet Cheddar Cheese
Vegan Gourmet Cheddar Shreds
Vegan Gourmet Fiesta Shreds
Vegan Gourmet Mozzarella
Vegan Pepper Jack Style Slices
Vegan Smoked Gouda Style Slices
Vegan Provolone Style Slices
Vegan Garden Herb Style Slices
Vegan Mozzarella Style Slices
Vegan American Style Slices
Vegan Gourmet Garden Herb Cheese
Vegan Gourmet Provolone
Vegan Parmesean Shreds
Vegan Gourmet Pizzeria Blend Shreds
Vegan Gourmet Fiesta Blend Shreds
Vegan Gourmet Mozzarella Shreds
Vegan Gourmet Nacho Cheese
Vegan Gourmet Cream Cheese
Vegan Gourmet Monterey Jack Cheese
Food For Lovers
Vegan Queso
Galaxy Nutritional Foods
American Flavor Rice Vegan Slices
Mozzarella Flavor Rice Vegan Slices
Cheddar Flavor Rice Vegan Slices
Pepper Jack Flavor Rice Vegan Slices
Classic Plain Cream Cheese
Chive & Garlic Cream Cheese
Grated Parmesan Style Topping
Vegan Mexican Style Shreds
Vegan Mozzarella Style Shreds
Heidi Ho Organics
Chia Cheeze Sauce
Monterey Jack
Chipotle Cheddar
Smoked Gouda
Feta Crumbles
Kite Hill
Soft Fresh Original
Soft Fresh Truffle Dill & Chive
Soft Ripened
Ricotta
Plain Cream Cheese Style Spread
Chive Cream Cheese Style Spread
Miyoko's Kitchen
Pub Crock Cheddar with Onions
Heat-and-Serve Sharp-Cheddar Style Sauce
Fresh Buffalo Style Mozzarella
Classic Double Cream Chive
Double Cream Sundried Tomato Garlic
High Sierra Rustic Alpine
Fresh Loire Valley in a Fig Leaf
Mt. Vesuvius in Black Ash
French Style Winter Truffle
Aged English Sharp Farmhouse
Aged English Smoked Farmhouse
Country Style Herbes de Provence
Double Cream Garlic Herb
Nacho Mom's
Ultimate Vegan Queso
Fire Roasted Queso
Hatch Chile Vegan Queso
Nacheez
Dairy-Free Nacho Sauce Spicy
Dairy-Free Nacho Sauce Mild
Dairy-Free Nacho Sauce Medium
Parma!
Original Parma!
Chipotle Cayenne Parma!
Garlicky Green Parma!
Shake! Original
Better than Bacon Parma!
Parmela Creamery
Original
Black Pepper
Kalamata Olive
Sundried Tomato
Garlic & Chive
Hickory Smoked Gorde
Spicy Pepper
Monte Bianco
Parmela Blue
Herbs de Provence
Rosemary & Thyme
Punk Rawk Labs
Cashew Original
Cashew Smoked
Cashew Herb
Nacho
Soy Kaas Vegan
Mild Cheddar Block
Mozzarella Block
Ste Martaen
Colby
Pepper Jack
Muenster
Olive
Smoked Gouda
Tofutti
Better Than Cream Cheese Plain
Better Than Cream Cheese French Onion
Better Than Cream Cheese Herbs & Chives
Better Than Cream Cheese Garlic & Herb
Better Than Cream Cheese Non-Hydrogenated Plain
Mozzarella Soy-Cheese Slices
American Soy-Cheese Slices
Treeline Treenut Cheese
Classic Hard Cheese
Cracked Pepper Hard Cheese
Herb-Garlic French Style Soft Cheese
Scallion French-Style Soft Cheese
Chipotle Serrano Pepper French-Style Soft Cheese
Green Peppercorn French-Style Soft Cheese
VBites
Blue Style Cheezly
Cranberry Cheezly
Nacho Cheezly
Pepperjack Style Cheezly
Red Cheddar Style Cheezly
Soy Free Cheezly
White Cheddar Style Cheezly
Super Melting Cheddar Slices
Super Melting Edam Block
Super Melting Mozzarella Block
Super Melting Mozzarella Slices
The Vegetarian Express
Parma Zaan Sprinkles
Vromage
Veganzola
Goat-Cranberry
Feta-Herb
Goat-Chive
Asiago
Cheddar-Spicy
Feta-Basil
Camembert
Picorino(sp) with Ash
Brie
Brie Truffle
Goat with Herb
Pepperjack
Truffle Cream
White Gouda (Yellow)
Red Gouda (Smoky)
Vtopian Artisan Cheeses
Aged White Cheddar
Spicy White Cheddar
Macadamia & Cashew Camembert (wedge)
Caramelized Onion Camembert (wedge)
Chive & Dill (wedge)
Reserve Sharp Cheddar (wedge)
Cranberry Brie
Raspberry Brie
Sundried Tomato Brie
Peppercorn Brie
Dark Chocolate Strawberry Brie
Mapled Seitan Cheese Ball
Mediterranean Feta
Roasted Red Pepper Surrise
Creamy Basil Borealis
WayFare Foods
We Can't Say It's Cheese Cheddar Spread
We Can't Say It's Cheese Hickory Cheddar Spread
We Can't Say It's Cheese Mexi Cheddar Spread
We Can't Say It's Cheese Cheddar Sauce

Need more up-to-date info? Check out our other VegGuides!
Beer
Candy
Chocolate
Milk
Wine
Want more of today's best plant-based news, recipes, and lifestyle?
Get our award-winning magazine!
Subscribe