Food + Recipes
Two-Ingredient Thanksgiving Hacks from Trader Joe's
Throw a holiday feast with enough items to breeze through the express line at TJ's.
---
As much as we love to cook, Thanksgiving doesn't have to involve countless hours in a hot kitchen—not when there's Trader Joe's. The veg-friendly chain is full of cruelty-free foods ready to eat out of the package, but we've gone a step further and combined ingredients for dishes you'll love all-year long that are much more convincing as home-cooked meals than a platter of falafel and hummus from your local Mediterranean joint. So pack your grocery tote because we're hanging with our good friend Joe this Thanksgiving while building an entire menu that'll still qualify for checkout in the express lane.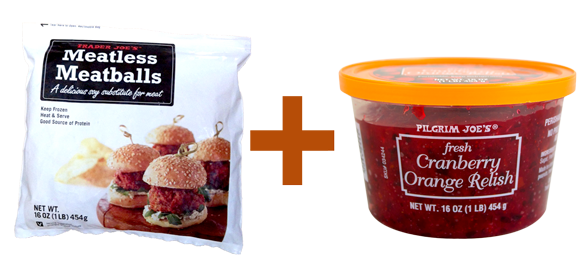 The Appetizer
Meatless Meatballs + Cranberry Orange Relish
Throughout the year, we like to embellish our Trader Joe's vegan meatballs with TJ's marinara and a dash of nutritional yeast to recreate classics such as saucy meatball subs and sliders. However, for Thanksgiving, we're getting seasonal by dressing these meatless staples in a coating of Trader Joe's Cranberry Orange Relish (a tangy concoction of chopped California cranberries and Valencia oranges), sticking a toothpick in each, and devouring them as festive appetizers.


The Entrée
Breaded Turkey-Less Stuffed Roast + Fuji apples
Trader Joe's recently updated its roast by rolling it around in seasoned breadcrumbs, inspiring us to add baked Fuji apples (be sure to core first), covering with foil, and then baking. To keep the meal crisp, hold off on pouring the included gravy until you've snagged your individual slice. Is that Gardein disguised as a Trader Joe's roast? When it's stuffed with wild rice and cranberries—and feeds a family of eight—who really cares?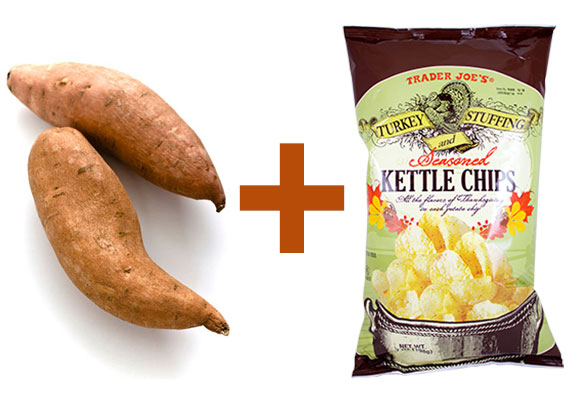 The Side
Baked sweet potato + Turkey and Stuffing Seasonal Kettle Chips
Vegan chips that taste like gravy? This is why we love Trader Joe's. To transform this snack into a meal, bake a potato (skin on), split down the middle, sprinkle with crushed chips, and prepare to amaze friends and family.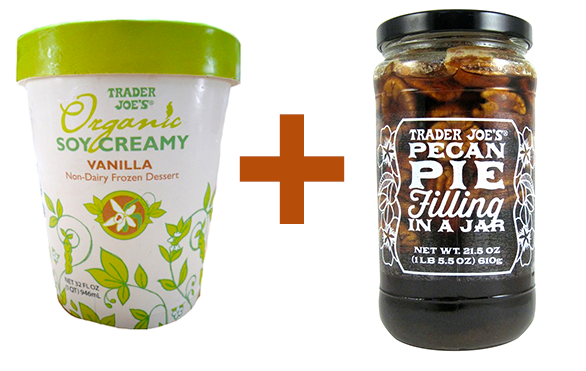 The Dessert
Pecan Pie Filling in a Jar + Soy Creamy Vanilla Non-Dairy Frozen Dessert
Thanksgiving isn't complete without pie, but baking an entire pie can be as daunting as laundry day. So, to skip the oven, we take a few scoops of Trader Joe's Soy Creamy Vanilla Non-Dairy Frozen Dessert and top it with their vegan Pecan Pie Filling in a Jar. Make it affogato-style by tossing a hot shot of espresso over the scoops, or add a sprinkle of fancy salt (may we suggest Trader Joe's Cypriot Pyramid Salt?) to take it to the next level.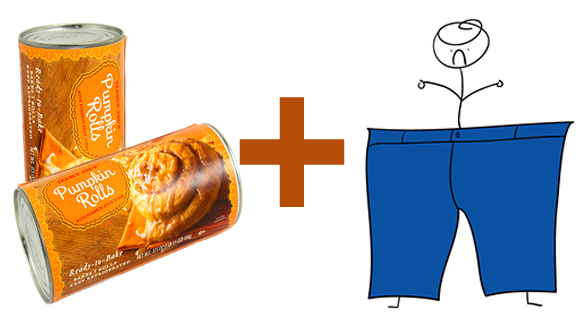 The Second Dessert
Pumpkin Rolls with Pumpkin Pie Spice Icing + Bigger pants
This soft cinnamon-y roll with a hint of pumpkin spice and a flavorful, pumpkin-forward sweet icing is all the reason you'll need to have a second dessert. Tip? Opening the exploding tube will remind you that you'll need a bigger pair of pants once this whole holiday thing blows over.

Please support independent vegan media and get the very best in news, recipes, travel, beauty, products, and more.
Subscribe now to the world's #1 plant-based magazine!
Subscribe
Give a Gift