News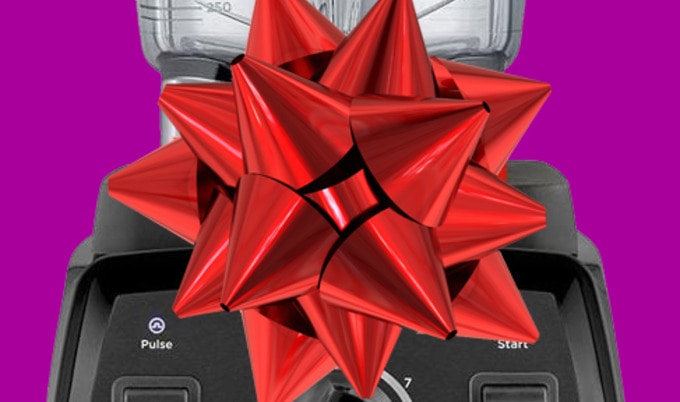 10 Things Every Vegan Wants for Christmas
All I want for Christmas is you—and a Vitamix, and a bag of avocados, and …
December 17, 2015
---
If you've been vegan long enough, surely someone has given you a cookbook as a Christmas gift. We love vegan cookbooks (and will never say no to one), but our shelf space is getting thin. So, this year, when family and friends asked what we wanted for Christmas, we were prepared with answers ranging from store-bought snacks to private shoe-shopping extravaganzas. Here's our list … and don't forget the nutritional yeast.

1. Vitamix
As the holy grail of vegan kitchen appliances, a Vitamix would make any vegan scream with excitement if one were to show up on Christmas day because nothing is more seductive than whipping up smoothies, banana ice cream, and savory soups with ease. While a refurbished one will do the trick, pick up a new touchscreen model and a hanky because cries of pure joy are coming your way.

2. Bag of avocados
If you can gift us a bag of perfectly ripe avocados this time of year, we'll be your best friend for life … or until they're in season again.

3. Nooch
Whether you prefer calling it fairy dust, a vegan's little helper, or by its horrible true name (nutritional yeast), we can never have enough nooch. From baking cheesy muffins to throwing a handful over freshly-massaged kale, the umami-bomb flavor has helped us survive the blandest of times. Buy it in bulk, fill a giant cookie tin, tie it with a bow, and put it under the tree.

4. MooShoes shopping spree
Gifting one pair of vegan shoes is more than fine, but arranging a full hour of unsupervised shoe shopping at New York and Los Angeles all-vegan shoe store MooShoes is a fantasy we've only entertained in our wildest dreams. Give us the key, close the door, and watch from the storefront window as we frantically slip our feet into every pair in the store.

5. Subscription to VegNews
Not to toot our own horn (well, sort of) but our magazine is on sale this month! If you cash in by December 31, you save a cool 25 percent. We work hard to bring you the latest news, products, restaurant reviews, and compelling feature stories, so subscribe to have VegNews delivered directly to your door. Then, pour a glass of wine (or hot chocolate or soy nog) and savor every page … you deserve it!

6. Peanut butter
A solitary (gift-wrapped or not) jar of peanut butter is all you really need to make your favorite vegan happy this holiday season. Crunchy, smooth, flavored, or plain, vegans are the best to shop for because, really, a regular ol' jar of pb makes us happier than a puppy on a trampoline.

7. Chloe's magic pill
Can you gift wrap someone else's success? If so, we'll have whatever Chloe Coscarelli is having. This year alone, the cookbook author/restaurateur and her eatery by CHLOE have been covered by more news media outlets than we could ever keep track of. Rachael Ray devoured her mac 'n' cheese, and Derek Jeter praised her for being an inspiration to young people. If you can't figure out how to bottle her success, one of her books, veggie burgers, or kale cocktails will suffice.
8. Takis
These spicy chips are the ultimate junk food snack for those on Santa's naughty list. Think rolled up tortilla chips that taste like Flamin' Hot Cheetos but with zero cruelty and a heavier hit of lime. Trust us, you want these.

9. Squatty Potty
This one isn't for the faint of heart, but, seriously, fiber pumps through the veins of vegans, and if anybody knows a thing or two about "the go," it's us. Plus, we respect a company that combines a cartoon unicorn and colorful soft serve in a marketing ploy to sell toilet accessories.

10. Compassionate card
Spent your last dollars on boozy drinks? Worry not, as one of the best gifts you can give a vegan is a promise that you'll lay off the meat, eggs, and cheese. If you're considering making the switch, you've got the perfect cheap vegan gift on your hands. Just scribble a note that says you're going vegan, and gift your promise for a special present that money can't buy. To take it to the next level, tell us how much we inspired you to make this decision. For bonus points, adopt a sanctuary turkey in our name. To hit the jackpot, make us cookies. But a card will do.

Please support independent vegan media and get the very best in news, recipes, travel, beauty, products, and more.
Subscribe now to the world's #1 plant-based magazine!
Subscribe
Give a Gift