Recipes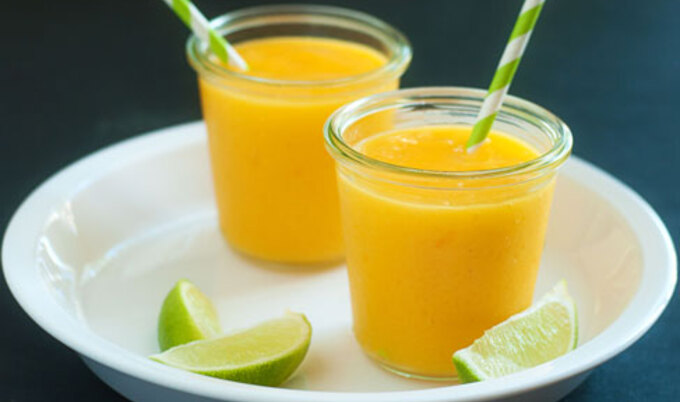 Mango Slushie
Add extra ice and a splash of sparkling water to turn that smoothie into a sweet glass of icy goodness.
September 20, 2015
---
Slushies are a great warm-weather staple because they come together quickly and make use of all that amazing seasonal fruit.
Serves 2 to 4
What You Need:
3 cups fresh mango, peeled and roughly chopped
2 cups ice
2 tablespoons lime juice
⅔ cup carbonated water
What You Do:
In a blender, combine the mango, ice, and lime juice. Blend until the ice is finely chopped.
Add the carbonated water and pulse once to combine.
Pour into glasses and serve with a straw.
Chef's Tip: If your mango is not ripe, add a little more sweetness with a pitted date, a drizzle of agave, or splash of simple syrup. If you like spice, sprinkle a pinch of cayenne pepper or grate in a teaspoon of fresh ginger.
Nicole Axworthy and Lisa Pitman are authors of the forthcoming cookbook, DIY Vegan.
Let's get FABULOUS! Order your copy of the hot-off-the-press VegNews Guide to Being a Fabulous Vegan — filled with everything you need to know to live a super-fabulous vegan life (including our all-time favorite recipes)!
Order Now