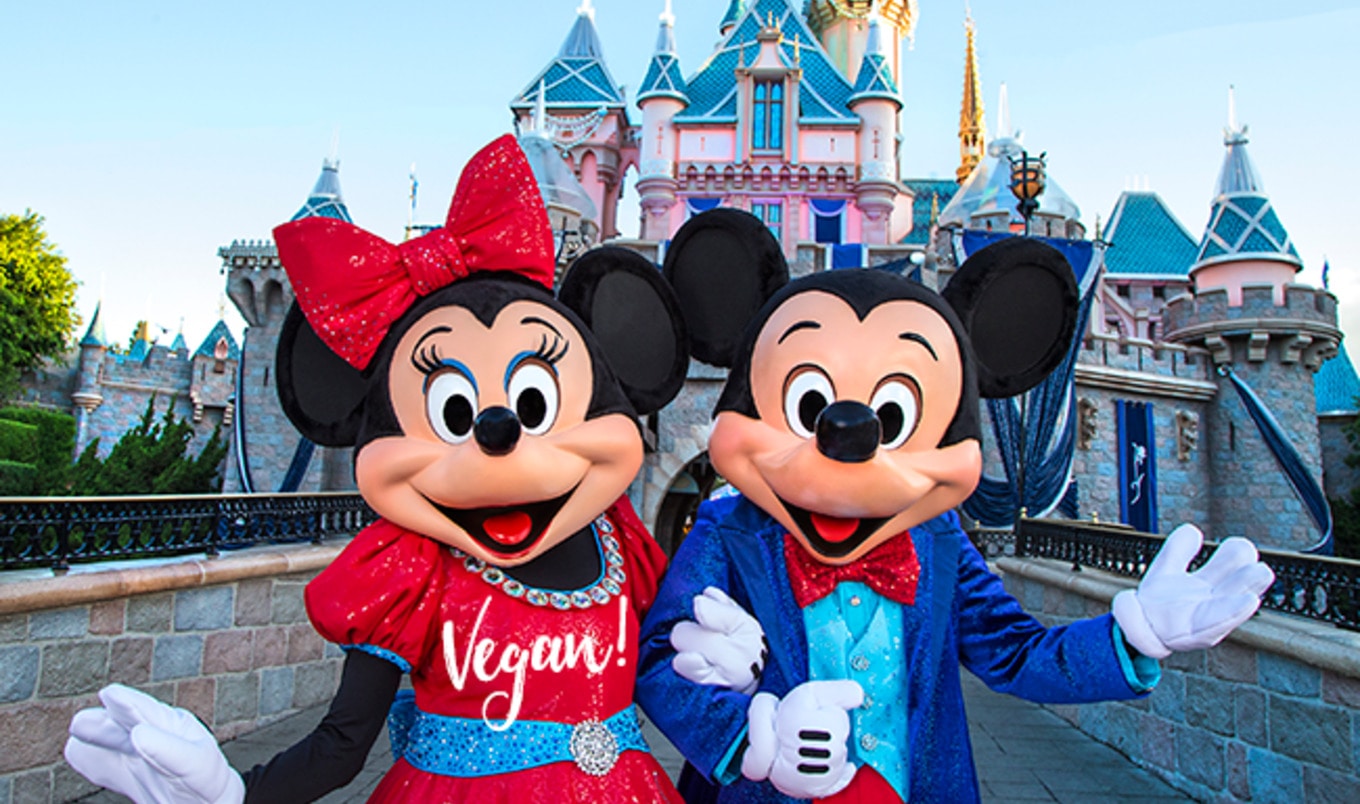 The happiest place on earth just got happier with an array of vegan options.
November 30, 2016
---
The happiest place on earth isn't too happy when you're starving. In fact, a vegan at a Disneyland (or the neighboring California Adventure and Downtown Disney) can turn Grumpy in the grips of hunger pangs while being surrounded by others eagerly indulging in Mickey Mouse-shaped treats. Thankfully, Disney has expanded its plant-based options at all of of its Anaheim, CA locations to include delicious treats beyond giant pickles and apple slices. Disney's mission is to make their guests' wishes come true—including vegans—so lace up, dawn a pair of Mickey ears, and enjoy your day to the fullest.

Vegan Food @ Disneyland
For those who aim to squeeze as many rides and attractions into their day as possible, forgo the sit-down restaurants and opt for snacks; you'll save time by eating on the go … or in line for Hyperspace Mountain. For lighter fare, stop by the fruit stands on Main Street or near the Jungle Cruise in Adventureland for fresh fruit, hummus, giant pickles, and fruit crisps. Want something a bit more unique? Seek out the pretzel stands near Small World and Star Tours in Tomorrowland for a hot and delicious Mickey-shaped pretzel. Another classic is the Dole Whip Float, served just outside the Enchanted Tiki Room. This creamy, refreshing pineapple soft serve atop a glass of cool pineapple juice is divine on a hot southern California day. A few other refreshing treats include the Strawberry Whole Fruit Bar at Clarabelle's in Toontown and the frozen lemonade, located at carts around the park. For a quick but hearty meal, head to the Royal Street Veranda near Pirates of the Caribbean for some comforting vegan jumbo served in a sourdough bread bowl. Looking for something lighter? The French Market Restaurant in New Orleans Square offers an exceptional vegan salad (but make sure to order the N'Awlins Salad without the candied pecans—they're not vegan). You can also find quick service vegan pasta and pizza at Pizza Port in Tomorrowland, a Wicket's Wicked Veggie Wrap at the Galactic Grill (no cheese or aioli), and a vegan burrito stuffed with rice, beans, and vegetables at Rancho del Zolaco in Frontierland. Tell the staff you are vegan, and they are happy to accommodate. For a sit-down dining experience within the park, the Carnation Cafe on Main Street makes a satisfying veggie burger. Had your fill at Disneyland? Get your Park Hopper Pass ready and head to California Adventure!

Vegan Food @ California Adventure
California Adventure is the most vegan-friendly portion of the Disney parks in Anaheim and also offers the most fine dining options. At Carthay Circle, an old Hollywood-themed venue in the center of the park, order the Tower of Vegetables, an off-menu entrée that includes a large portion of seasonal vegetables and grains finished with a light savory sauce. Wine Country Trattoria, another upscale dining option with a Northern California theme, showcases two vegan pastas: the Broccolini Aglio Olio and Quattro Pomodoro. Reservations for both restaurants are required. For faster and cheaper fare, vegans can choose from the tofu Asian rice bowl at the Lucky Fortune Cookery; the portobello mushroom Philly (without cheese) at Award Wieners; and veggie fajitas, burritos, and tacos at Cocina Cucamonga (without cheese, sour cream, or Guajillo sauce).

Vegan Food @ Downtown Disney
For those gearing up for a stay-until-the-park-closes day, fuel up for breakfast at the Grand Californian Storytellers Cafe. You do not need to be a hotel guest to dine here, though reservations are recommended if you want to get in quickly. The chef here is happy to accommodate vegans, and he might come out to meet you! Just be sure to inform your server of your plant-based diet. Two specialties include vegan pancakes and an enormous veggie hash brown "omelet." Also, on Tuesday, Sprinkles Cupcakes will make its debut within the most magical downtown district in California. Stop by for one of their vegan red velvet cupcakes or creamy vegan sorbets! For the adults (one is never too old for Disney), UVA Bar is the place to be. Order a drink and the trio of Mediterranean dips for the table. The mouhammara dip—a savory yet sweet blend of red pepper, walnuts, and pomegranate—is a standout among the more traditional accompaniments of hummus and babaganoush. For a truly magical experience, time your dining around 9–10PM for a glimpse of the Disneyland fireworks.

Tanya Flink is a vegan, foodie, and certified Master Personal Trainer based in Orange County, CA.