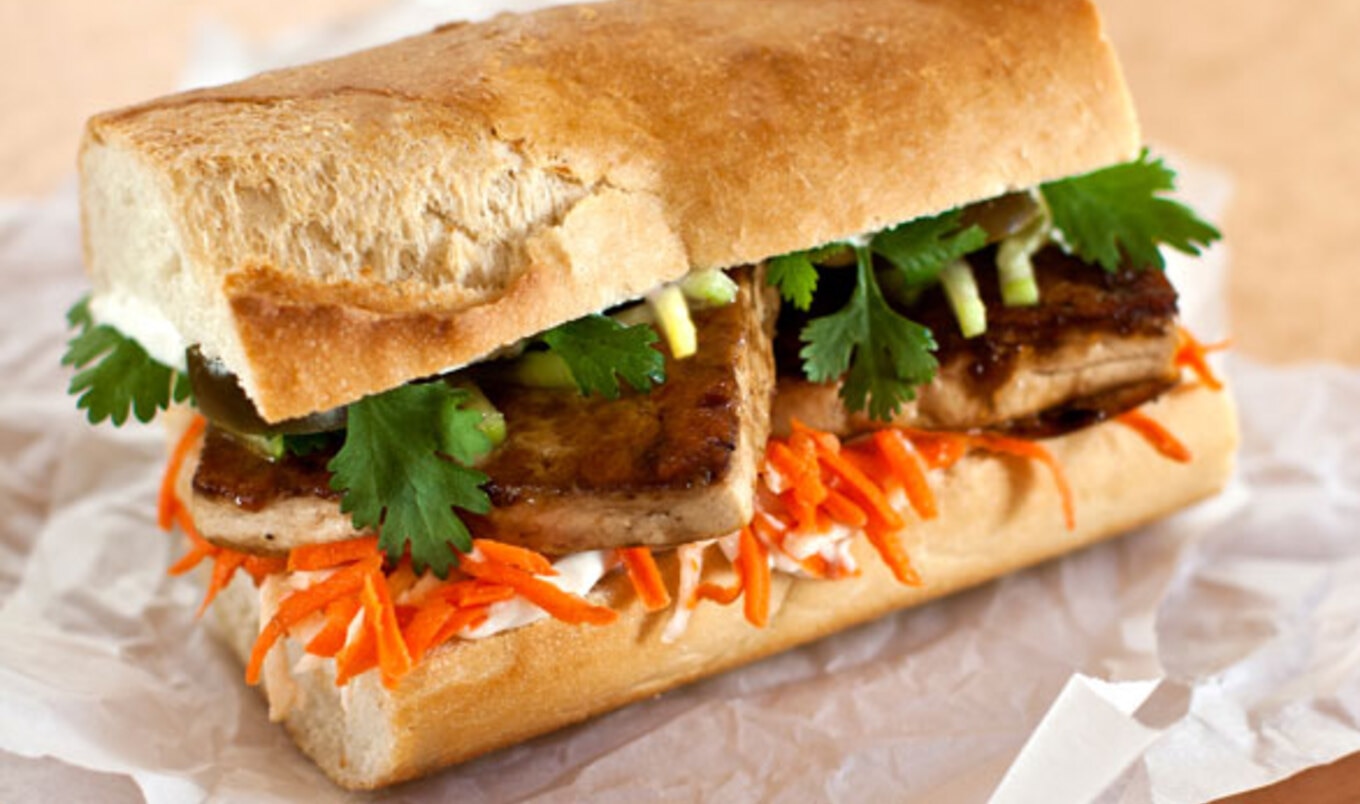 From pho to bánh mì sandwiches, Vietnamese cuisine offers a range of veg-friendly options.
February 10, 2016
---
Reflective of a culture shaped by colonialism, Vietnamese food hints at several other countries' cuisines while being uniquely its own. As a Chinese province for more than a thousand years, the Vietnamese adopted various dishes such as wontons, dumplings, and fried rice. The French empire's establishment from the mid-19th century to mid-20th century certainly left its mark in the food as well. Experiencing this widely varied and delicious cuisine is also incredibly easy as a vegan, with a range of dishes that use only plant-based ingredients. From noodles to sandwiches to dessert, the following options are sure to please your taste buds.
Noodles
Vietnamese noodle soup, also known at pho, is one of the cuisine's most popular dishes. Traditionally made with beef broth, fish sauce, and various types of meat, vegan versions use easy substitutes to achieve that hearty flavor. Soy sauce, mushrooms, and miso can all add umami—the fifth flavor—while plenty of vegetables, tofu, or seitan replace meat. Try out Pho Chay, Vegan Pho, or Vietnamese Faux Pho to experience the invigorating flavors and textures. It's also a great change of pace from your standard comfort foods, especially when you're feeling a bit under the weather.
The summer heat got you wishing for something cooler? Then look no further than Vietnamese cold-noodle dishes, packed with just as much flavor minus the hot broth of pho. Bún chả, a simple yet delicious dish, is vermicelli noodles topped with herbs, sprouts, and veggies, all served over a bed of salad greens. Though it's traditionally topped with ground pork, make your own version with sliced grilled tofu or faux meat. Try out the Firecracker Faux Chicken on Rice Noodle Salad. Roast and grind some peanuts to add some extra flavor, and make your own Faux Fish Sauce to pour over and enjoy.
Bánh mì
Literally translated into flour biscuit or cake, the bánh mì is a Vietnamese baguette sandwich originating from the days of French occupation in Vietnam. By now, the sandwich has traveled to the United States and found a devoted following from coast to coast. The New York Times has written several articles on the culinary starlet, and those who have succumb to the bánh mì's tasty medley of flavors could debate endlessly about where to find the very best one in the country. For less than $6 (if it's more, it's probably not as good!), you'll get a crunchy baguette filled with vegetable slaw, shredded carrot, sliced jalapeños, sprigs of cilantro, and of course, fried-tofu filling. The vegan bánh mì from Dinosaurs in San Francisco, Calif., made it on our list of 7 Best Vegan Sandwiches. Whether you're in SF, LA, NY, or a city that doesn't have a two-letter abbreviation, a great bánh mì sandwich could be very close by. You can always make one at home though—this Vegan Bánh Mì recipe is a tasty option.
Sweets
While Vietnamese meals do not usually tend to end in dessert, there are plenty of sweet treats and snacks available. The majority of these desserts contain no dairy products since many Vietnamese people are lactose-intolerant. Instead, the dishes are heavy in fruits, tapioca, and rice. The most commonly eaten dessert in Vietnam is chè, a sweet, gelatinous soup usually made of coconut milk, various beans, sweet corn, and tapioca pearls. Perfect for vegans, chè comes in a variety of versions, from chè bap (made mainly with sweet corn) or chè Thai, which contrary to its name, is a Vietnamese dessert with mainly tropical fruit and tapioca.
Head to your local Vietnamese restaurant or start cooking up some bowls of pho, bánh mì sandwiches, or sweet chè (or all three!), so you don't miss out on this country's amazingly diverse and tasty food.