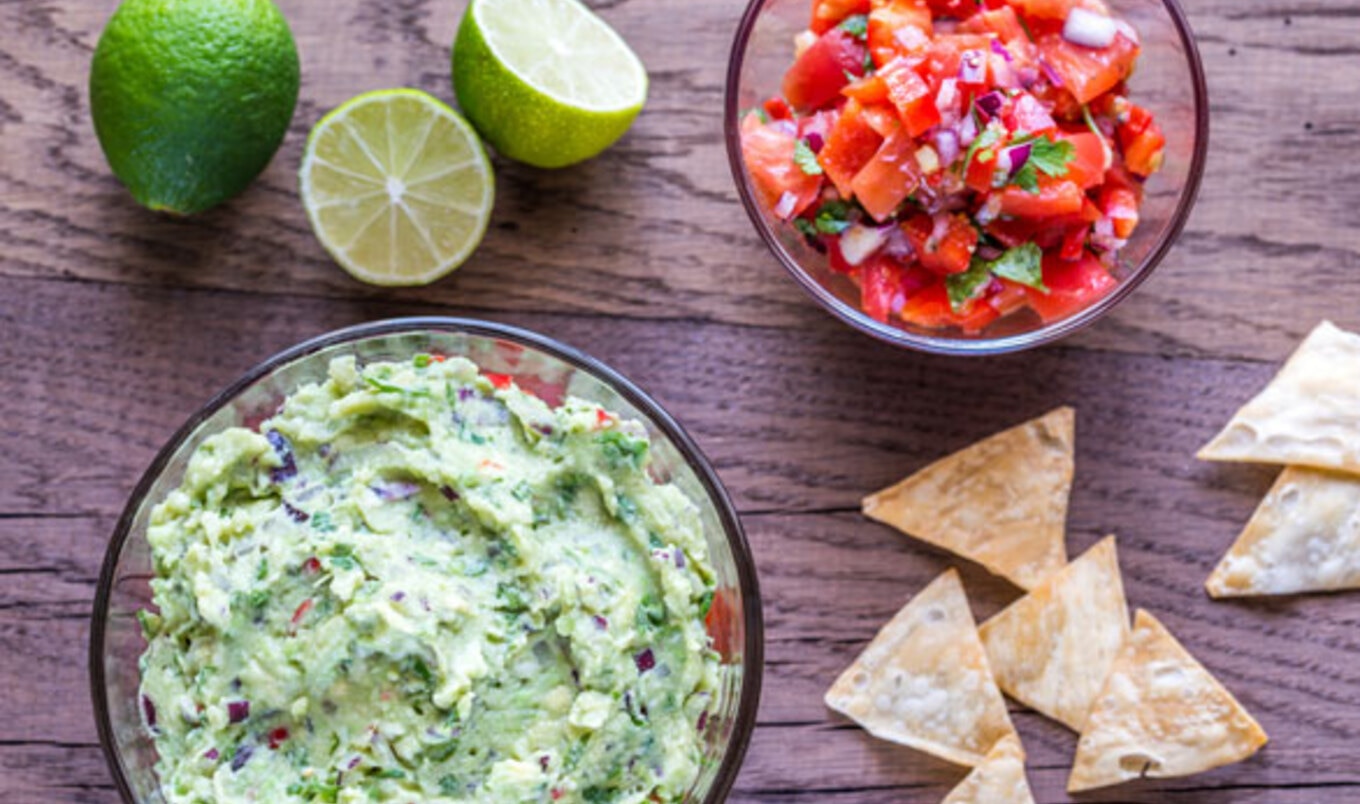 Celebrate March Madness by dunking the best chips on the market into the best dips on the internet.
March 24, 2016
---
This weekend, while basketball fans are frantically hoping their college basketball team makes it to the Final Four, we're focusing on what delicious chip-and-dip combinations we can devour every time we're in front of the TV. Thanks to a plethora of unique chips (some made from ingredients that aren't potatoes) and crafty vegan food bloggers creating salivating dips, we're finally understanding what this whole March Madness thing is really about—the food. If the classic tortilla-chips-and-salsa is a free-throw, then the following 10 snack combinations are a buzzer shot from half court.


1. Avocado Oil Kettle Chip (Hawaiian BBQ) + Thai Layered Dip
While this chip has no prominent avocado flavor, it still packs all the good fats with a hint of zesty ginger salt. Bursting with freshness and spice for a fusion we can't refuse, we're not ashamed to admit that we want to drag the entire bag through the spicy, peanutty layers of Vegan Richa's bold Thai-inspired dip, which features sriracha (or sambal oelek), chopped cilantro, and mung bean sprouts.


2. Simply 7 Lentil Chips + Char Roasted Eggplant Dip
Loaded with roasted eggplant, chilies, and whole cumin seeds, this traditional South Asian Baingan Bharta resembles Middle Eastern Baba Ganoush but features a touch of tang from the addition of puréed tomatoes. Our advice? Scoop them with pillow-like puffed chips from Simply 7.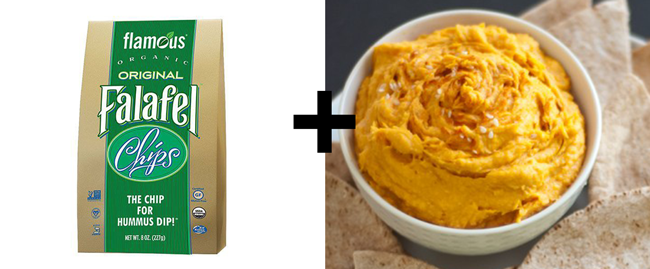 3. Flamous Brand Falafel Chips + Spicy Sweet Potato Hummus
As much as we love plain hummus, we turned up the heat (and nutritional value) by dipping falafel chips (which taste like a flattened falafel) into a bright orange spread spiked with smoked paprika and cayenne.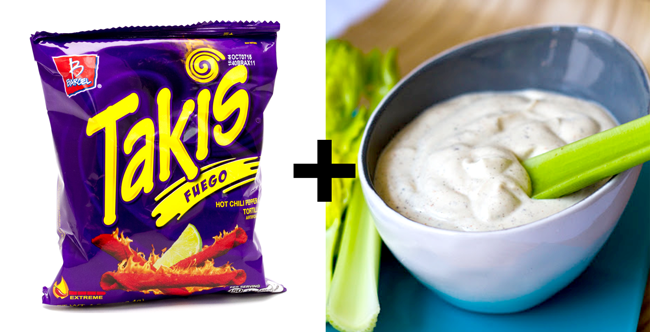 4. Takis + Creamy Cool Ranch
Save your taste buds from the spice found in Taki's red-hot rolled-up tortilla chips—think Mexican hot Cheetos but without dairy—by dunking them into a cool, tofu-based ranch dip. Expect red-tinted finger tips and thoughts of your high school vending machine.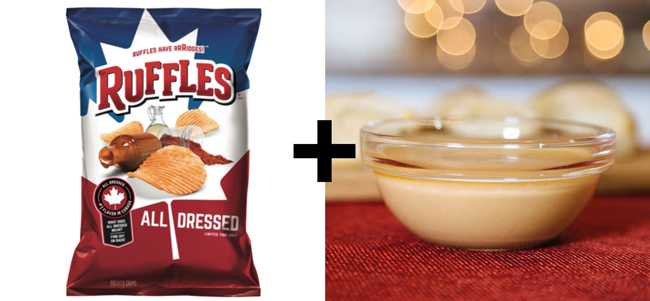 5. Ketchup Ruffles + Spicy "Honey" Mustard Dipping Sauce
This Canadian-fave Ruffles flavor is a piquant contrast to the sweet spiciness of this mustard dipping sauce (made with agave in lieu of honey). Even better is the fact that the flavor combination makes us think of summer barbecues, ballparks, and why Canada gets to try all the weird chip flavors first.


6. Naan Chips + Fava Bean Dip with Caramelized Onions
Reminiscent of the North Indian bread that bears its name, this hearty flame-baked naan chip picks up this thick dip (and the strands of sweet caramelized onions that top it) with ease. Go for the Almost Everything flavor—with toasted poppy seeds, toasted onion, and anise—to experience the sensation of eating a bagel with cream cheese while crunching on chips and dip.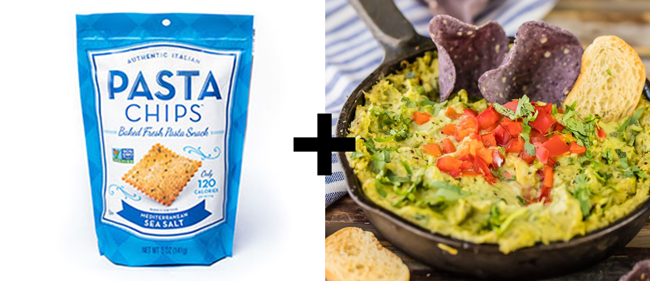 7. Pasta Chips + Spinach Artichoke Dip
Not just shaped like rough-edged ravioli, these chips legitimately taste like pasta thanks to the use of semolina flour, Italian seasonings, and a gentle baking process. All good pasta (even in chip form!) deserves an equally delicious sauce, and this Mediterranean-inspired Spinach Artichoke Dip—loaded with shredded artichokes, water chestnuts, and garlic—will feel like Nona stopped by for a visit.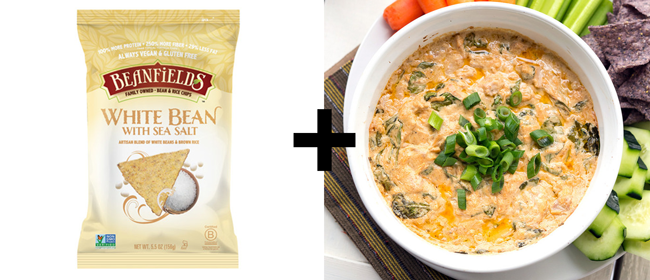 8. Beanfields' White Bean Chips + Buffalo Jackfruit Spinach Dip
Bean chips are great because they bring a little satiating protein to the party. We've seen black bean varieties, but this all-white bean chip is like a blank canvas we're eager to splash with flavor. This indulgent dip features jackfruit mixed into a creamy base with a nice hit of hot sauce that really gets our hearts pumping.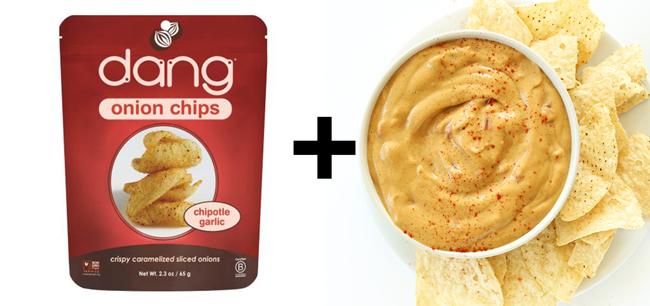 9. Dang Onion Chips + Vegan Queso Dip
Onions and queso are one of our favorite dynamic duos, and this creamy, cheesy concoction forgoes cashews by relying on roasted eggplant whirled in a Vitamix along with plenty of nutritional yeast and spices.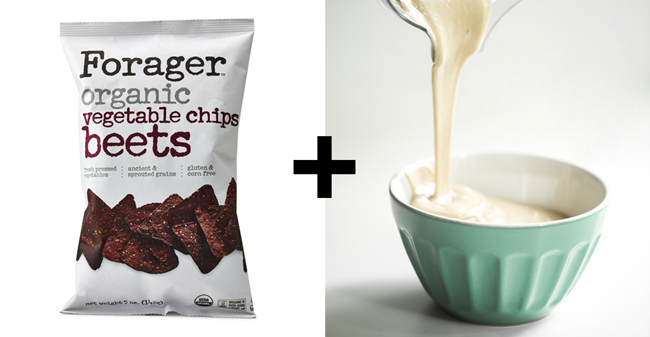 10. Forager Vegetable Chips + Cherry Pie Fruit Dip
These unique chips (and one of our best of show winners at Expo West!) are made from the pulpy by-products leftover from Forager Project's organic, cold-pressed juices. The beet chip variety is the sweetest, and while a little swim in savory salsa will do, these chips were made for dipping into custardy cherry pie dip made with cashews, fresh cherries, and sweetened with coconut nectar.