Recipes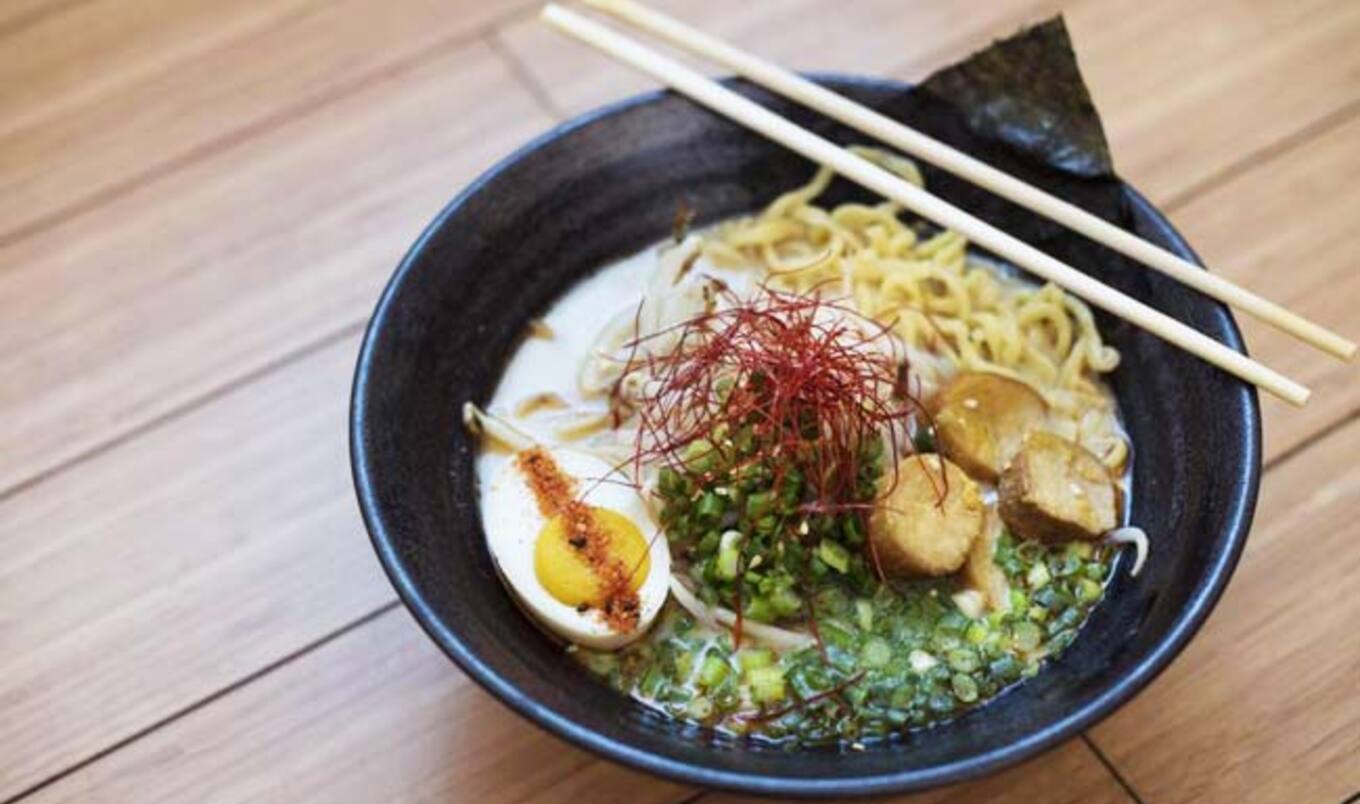 9 Vegan Ramen Options Across America
Chewy noodles swimming in flavorful broth surrounded by succulent veggies is our idea of heaven in a bowl.
May 18, 2016
---
As we step further into spring, the warming breezes remind us that we have just a few short weeks left to eat ramen, a hearty Japanese noodle soup traditionally made with a meat or fish-based broth that is being veganized by many chefs across the country. Recently-opened Ramenhood—with its Top Chef owner and miraculous rendition of a vegan egg—in downtown Los Angeles has gotten plenty of media attention, but there are myriad delicious soups to be slurped across the United States. Here are our nine favorite noodley-noshes that eschew pork and chicken in favor of vegan ingredients such as mushrooms, kombu, and egg-free noodles.
 
One Kombucha >> North Palm Beach, FL
A brewery dedicated to making that funky tea we all know and love, One Kombucha was started by owner Danny Mancini as a kombucha tasting room where guests can enjoy rotating flavors of the fermented beverage on tap. Mancini recently began to experiment with adding vegan ramen to the menu to keep sipping guests satiated. Aside from being vegan, the ramen here has nothing to do with kombucha and comes with homemade noodles that Mancini hand cuts. Currently, there are four options on the menu (all vegan) and vegan add-ins include tofu, fresh bamboo, and chili oil.
 
Shiba Ramen >> Emeryville, CA
A quaint stall in an indoor food marketplace, Shiba Ramen is owned by husband-and-wife team Jake Freed (an attorney) and chef Hiroko Nakamura, who opened the shop to make ramen accessible to the everyman lunch crowd. To cater to vegan customers, the duo offers a sweet and savory soymilk-based ramen loaded with an array of al dente vegetables such as grilled kabocha squash, corn, bean sprouts, bamboo, and springy noodles.
 
Ramenhood >> Los Angeles, CA
Top Chef Season two winner Ilan Hall—known for the now-closed restaurant The Gorbals—opened Grand Central Market vegan food stall Ramenhood last year to much intrigue. Reporters gathered from across Los Angeles to sample his take on ramen, which comes complete with a hearty vegan pork made from mushrooms and an abundance of veggies nestled into a rich sunflower seed broth that's topped with the pièce de résistance—a soft-boiled egg masterfully-crafted using soymilk and nutritional yeast.
 
Ippudo >> New York, NY
At its Midtown Manhattan location, this upscale Japanese joint offers a "Shojin" ramen that follows the tradition of its Zen monk origins. The restaurant allows the natural flavors of the subtle broth, noodles, and vegetables to shine through for a cleansing, healthy experience. To create the optimal zen experience, a refreshing seltzer water is served prior to arrival of the soup as a palate cleanser.
 
Souen >> New York, NY
A macrobiotic New York City mainstay, Souen's East Village location feature several vegan ramens on the dinner meny. Diners first choose the noodle base (wheat, udon, homemade soba, or gluten-free rice noodles, spiralized zucchini, or shredded burdock), then the broth—shoyu or miso—and finally, one of the three vegetable-loaded combinations.
 
Marukin >> Portland, OR
An offshoot from one of Japan's most popular ramen chains, Marukin's two Portland locations always includes at least one vegan option. Each bowl costs $10 and depending on the day of the week, diners can choose a tonyu (soymilk), shio (salt), or shoyu (soy sauce)-based variety punctuated by flavorful shiitake mushrooms. Marukin brought its top Japanese chefs to perfect the recipes served stateside, so these bowls are guaranteed to carry mega authentic flavor.
 
Daruma Ramen >> Austin, TX
Out of the five ramen options, two of Daruma Ramen's soups are made (and clearly marked) vegan thanks to a vegetable broth. While many restaurants use egg-based noodles, Daruma Ramen makes theirs with tapioca. The Veggie Ramen is piled-high with a spring mix of vegetables including carrots, fried onions, grape tomatoes, scallions, sesame seeds, ginger oil, a splash of lime, and avocado. Those looking for a spicier ramen should try the Veggie Miso, which features fried tofu skin, bean sprouts, scallions, chili threads and chili oil.
 
Samurai Noodle >> Seattle, WA
If you're looking for a super casual place to slurp, Samurai Noodle has several locations in Houston, TX and Seattle, WA with a wide delivery range. An entire section of its menu is highlighted in green and several vegan options are marked with a lightening bolt. The three ramen options are Veggie Stir Fry, Miso, and Tounyu—a mushroom-based broth with carrots, daikon, bok choy, cabbage, and thin wheat noodles.
 
Jinya >> Las Vegas, NV
The vegan option mecca in the Wynn Hotel makes it hard to explore other eateries in Sin City, but should you venture out into the wild, Jinya's Spicy Creamy Vegan Ramen will make it worth your while. A (mostly) West Coast chain, Jinya's veg take on the luscious soup bowl includes a combination of tofu, onion, scallions, spinach, crispy onion, sesame, garlic, chili oil, and a heaping bowlful of thick noodles. And because this is Vegas, you can customize your ramen by adding a veritable buffet of toppings such as broccoli, bamboo, corn, and spicy bean sprouts.

Love the plant-based lifestyle as much as we do?
Get the BEST vegan recipes, travel, celebrity interviews, product picks, and so much more inside every issue of VegNews Magazine. Find out why VegNews is the world's #1 plant-based magazine by subscribing today!