Recipes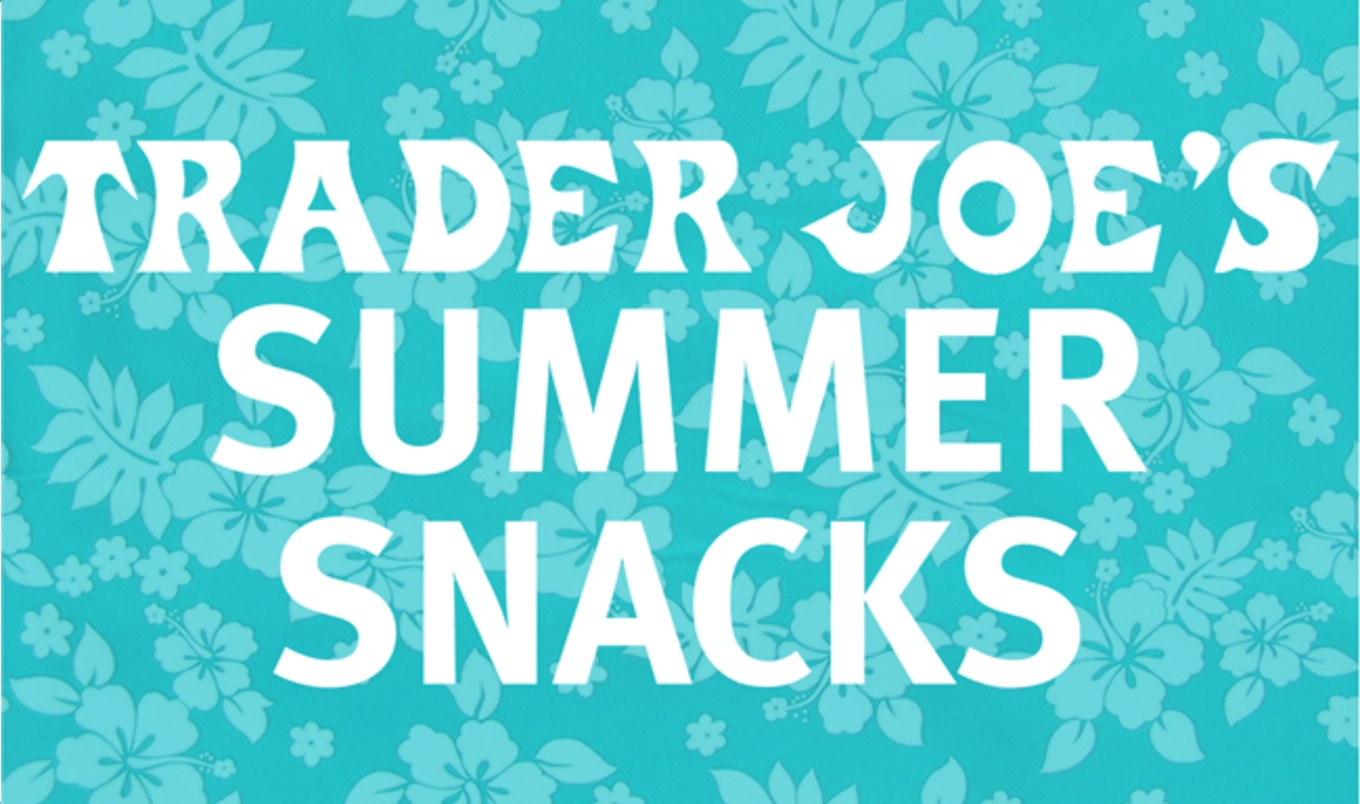 From new vegan marshmallows to mango mochi, our ultimate list of Trader Joe's snacks will get this summer party started.
June 23, 2016
---
Summer has finally arrived, and we're excited to get out from the office and into the great outdoors. To make sure we're fully satiated before hitting the beach, trail, or road, we're stopping at Trader Joe's for a plethora of vegan snacks to keep us full while basking under the summer sun. Mangoes are the go-to seasonal fruit at our favorite quirky grocery store, so it's no surprise that many of TJ's newest snacks have a sweet twist to them. But we aren't stopping there, as new marshmallows that pair perfectly with a summer bonfire as well as energy bars with attitude are just two of our new favorite snacks on store shelves at Trader Joe's.

Trader Joe's Marshmallows
We burst into tears of joy when we spotted these giant white pillowy puffs in the new-item section last month. Our thoughts immediately floated to the beach, sitting near a bonfire with a warm ocean breeze blowing by as we roast marshmallows on a stick before stuffing them between vegan graham crackers and slabs of dark chocolate.

Trader Joe's Mango Sorbet Bon Bons with Chocolate Coating
This summer, you can find us standing in front of the freezer, door open, stuffing our faces with bite-sized bon bons made from Chilean-grown mangoes dipped in a coconut oil-based dark chocolate. That's all there is to say about that.

Trader Joe's Just Beets
Root vegetables might not be the epitome of summer, but these chips bring beets into the season of sizzle with flair. These dehydrated beet slices lack that polarizing earthy flavor while retaining the vegetable's inherent sweetness, making them the ideal snack to pack into our beach bags.

Trader Joe's Blueberry Breakfast Biscuits
Let's be real … these "biscuits" are cookies. However, the box bears the word "breakfast," which gives us reason to start our mornings with a handful and a cup of tea. Made with European blueberries, French ancient grains, and water from the Loire valley, we're getting hungry just thinking about them.

Trader Joe's Organic Chia Bar with Almonds, Cranberries & Pumpkin Seeds
This tasty little bar combines everything—namely, chia seeds, almonds, cranberries, and pumpkin seeds—that we like to put into our overnight oats. Conveniently held together with organic brown rice and agave syrups, this portable summer snack is perfect for munching right before a workout or to take along for a hike.

Trader Joe's Mango Joe Joe's
Trader Joe's makes Joe Joe's for every season, but the mango summer version is our favorite. Fruit filling is nestled between two light cookies that we're hard pressed to share, so get your own because this box belongs to us.

Trader Joe's Popcorn in a Pickle
While this tangy popcorn made its debut in stores last summer, Trader Joe's brought it back this year with the same fierce pickle punch. Think perfectly popped corn with a briny seasoning covering every kernel. Carrying a jar of pickles to the pool is weird—a bag of popcorn, however, will take you to poolside pickle paradise.

Picky Bars
Warmer months bring out the adrenaline junkie in all of us, so we're grabbing a few Picky Bars crafted by a group of athletes. Each unique flavor—Trader Joe's carries Cookie Doughness, Ah Fudge Nuts!, and Smooth Caffeinator—is packed with nutrients, protein, and sweetened only with dry fruit. The wrapper also features a photo of an accomplished athlete and a witty remark.

Trader Joe's Mango Mango Mochi
A Japanese dessert that's insanely delicious, mochi is traditionally made by wrapping ice cream in a glutinous rice wrapper. These rice bites feature mango sorbet and are tangy and slightly chewy, serving as a perfect dessert on a balmy night. The best part? A dollop of mango jam is hidden inside every piece for an added burst of summer's bounty.

Trader Joe's Sea Salt & Turbinado Sugar Dark Chocolate Almonds
These chocolate-coated, sweet-and-salty almonds are delightful during a summer movie marathon. Grab a tub, check everything that's coming to Netflix this month, and settle into hours of chocolatey delight.
Love the plant-based lifestyle as much as we do? Get the BEST vegan recipes, travel, celebrity interviews, product picks, and so much more inside every issue of VegNews Magazine. Find out why VegNews is the world's #1 plant-based magazine by subscribing today!