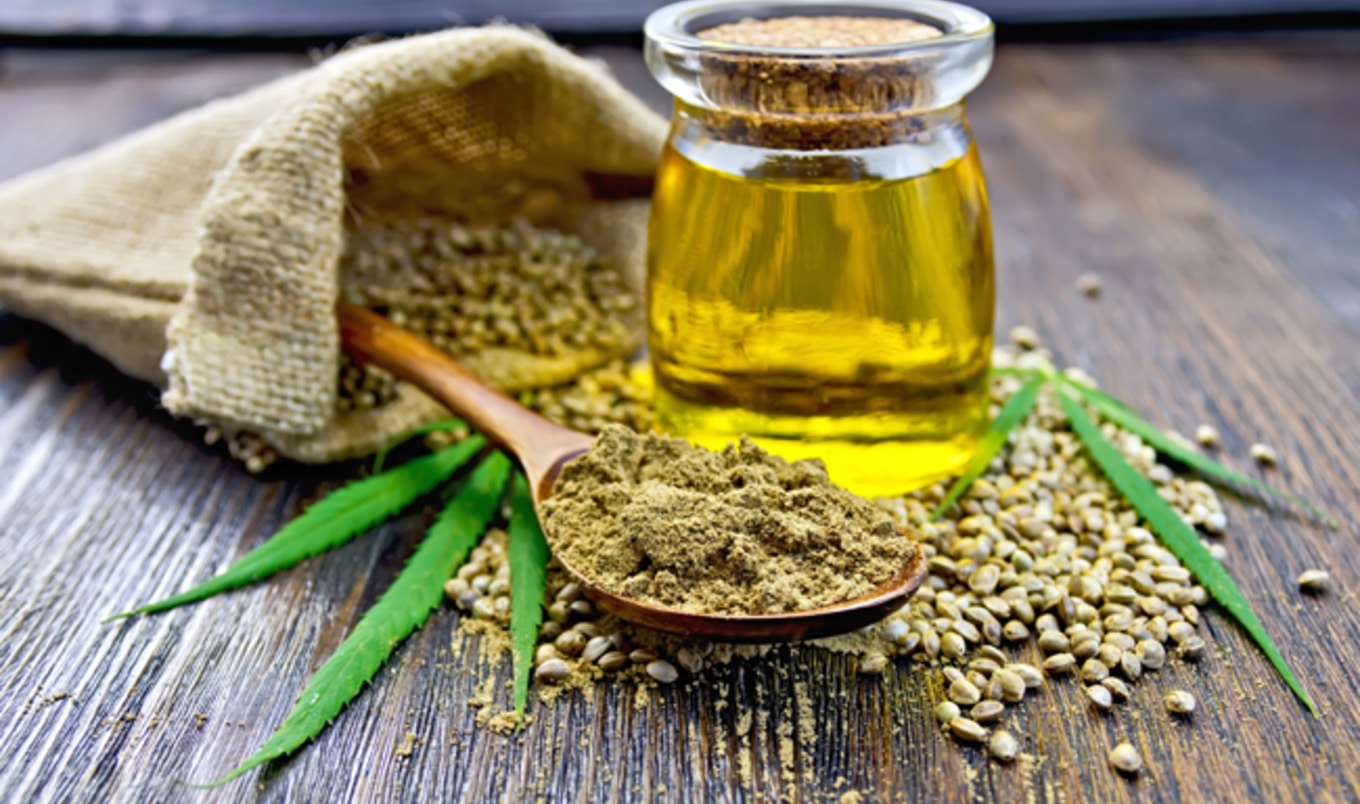 From snacks and smoothie-boosters to yogurts and shoes, hemp is one plant with a variety of uses that won't land you in jail.
June 8, 2016
---
There are many reasons to celebrate summer—4th of July, Labor Day, and perfect sangria weather, to name a few. One more to add to that list is Hemp History Week! Why does this plant need an entire week dedicated to its historical relevance? Good question. Hemp is a versatile, sustainable, highly nutritious plant-based protein that, in 2016, is still getting slack from the federal government (hemp's commercial cultivation is still banned due to outdated drug laws). However, states such as Colorado, Hawaii, and Vermont are successfully (and legally) growing crops to supply producers of hemp-based oils, milk, protein powder, and even fashion finds. No longer a hippie holiday, we love celebrating the 7th Annual Hemp History Week (June 6–12) with 10 of our favorite hemp-infused products.

Tempt Coconut Hempmilk by Living Harvest
From almond to macadamia, we keep a large collection of nut-based milks in our fridge, but this week we're making room for hemp milk. Tempt's milk is carrageenan- and soy-free, packed with omegas, vitamins B12 and D, and great for those with nut allergies. Add a touch of coconut cream to impart a smooth texture to this slightly sweet, earthy, and pleasant milk alternative.

Hemp Oil by Nutiva
Cold-pressed hemp oil is a great alternative to vegetable oils, which contain 2.5 grams of omega-3 and 500 milligrams of omega-6 (good fats) per tablespoon. This particular oil contains no hexane, a dangerous toxin with negative effects such as skin irritation, abdominal pain, and nausea. Hemp oil is best used in salad dressings, drizzled on flatbreads, or any other cold preparation, as heat destroys its optimal fatty acid structures.

HempPro 70 Protein Powder by Manitoba Harvest
Available in Original and Chocolate flavors, HempPro 70 contains 20 grams of protein per serving and tastes great when whirled with greens, ice, a banana, and, yes, hemp milk. This versatile protein powder is great in smoothies but is also tasty in cookies or added to morning oatmeal for a protein boost.

Pure-Castile Soap by Dr. Bronner's
Check any vegan's bathroom cabinet, and you're sure to find an iconic bottle of Dr. Bronner's. But did you know that the brand heavily relies on hemp oil in its formulations to bring the seed's benefits to your skin? Our personal favorite is the 18-in-1 Hemp Rose soap for its floral qualities, but any scent in the company's line—which also includes delightful options such as Lavender, Almond, Peppermint, and Citrus—will do.

Ancient Grain Blueberry Granola by Purely Elizabeth
Granola has come a long way since its humble hippie-munching beginnings. This one includes dried blueberries, organic oats, amaranth, millet, quinoa, hemp seeds, and is sweetened with organic coconut sugar before being baked with coconut oil. Pour this crumbled granola over cold coconut chia pudding or use it as the foundation for your morning cereal (which is our favorite way).

Hemp Seeds by Navitas Naturals
For the purest hit of hemp we can find, we take a spoonful of raw hemp seeds and sprinkle them on salads, cereals, or avocado toast. Grown by family farmers in Canada, Navitas Naturals' seeds come in their untouched state, have the texture of sunflower seeds, and taste slightly like macadamia nuts.

Tempt Hemp Yogurt by Living Harvest
Coconut and almond-based yogurts are all the rage these days, but there's a place for hemp in the cultured, vegan dairy market. Available in four flavors—Plain, Raspberry, Blueberry, and Strawberry—this yogurt is made from shelled hemp seeds, tapioca starch, and fruit concentrates with 10 essential amino acids contained in each tub.

Superfood Spread by Rawmio
We love this company for their raw chocolates, gourmet almond butters, and now this new superfood spread made with a base of stone-ground almonds and hemp seeds accented with goji berries and chia seeds. This is the kind of stuff you'll want to spread thick on your morning toast.

Hemp Bars by Evo
For hemp on the go, we turn to Evo, which crafts its delectable bars from just fruit, nuts, and hemp seeds. Offered in six clean-ingredient flavors such as Cashew Cacao, Cherry Walnut, and Pineapple Almond, we're hard-pressed to pick our favorite, as each variety tastes almost like dessert, but with enough nutrition to eat as a filling post-workout snack.

Hemp Bali SF by Vans
As you might remember from '90s bracelets, hemp can be woven together to create a wearable material. Shoe company Vans took advantage of hemp's durability in this new loafer made from hemp textile that uses water-based inks and glues with reggae-inspired details. You can find us slipping these on at the beach right before hitting the hemp-hammock with our hemp energy bars in hand.