Veganized versions of everything from Southern-fried favorites and cauliflower creations prove that plant-based eating is clucking delicious.
July 5, 2016
---
Until recently, vegans might have celebrated National Fried Chicken Day with sarcastic and/or scornful Facebook posts, but those days are over because nowadays, anything meat eaters can do, vegans can do better—including fried chicken. VegNews scoured the nation for some of the juiciest, crispiest, piping-hot chickenless chicken out there, and we're confident that we've found six picks so good that they'll win over even the most ardent carnivore.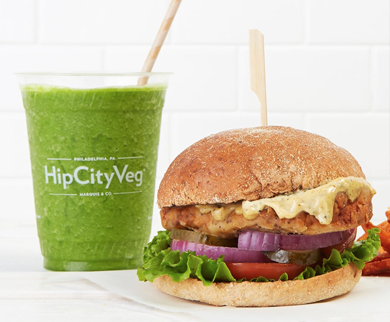 1. Crispy Hip City Ranch at HipCityVeg
The Philadelphia eatery is famous for this signature sammy made with battered chick'n, lettuce, tomato, onion, pickle, and peppercorn ranch. Complement it with a side Asian Salad, and wash it down with a Carrot Ginger Lemonade sweetened with organic agave. Washington, DC's 7th St location is a favorite of Senator Elizabeth Warren, who regularly poses for photos when dining there.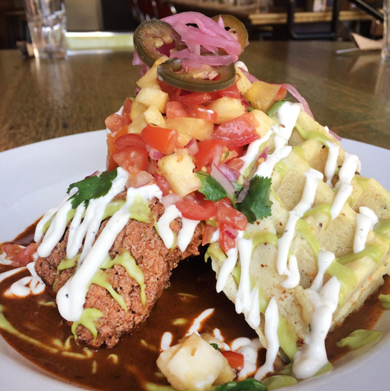 2. Cauliflower Chicken & Waffles at City, O' City
At this Denver hotspot, bourbon-brined chicken-fried cauliflower atop crispy waffles is served traditional style (with bourbon maple syrup, chive crème fraîche, and carrot bacon) or Southwestern style (with chipotle chili sauce, vegan sour cream, sliced avocado, pineapple pico de gallo, and pickled red onions). Enough said.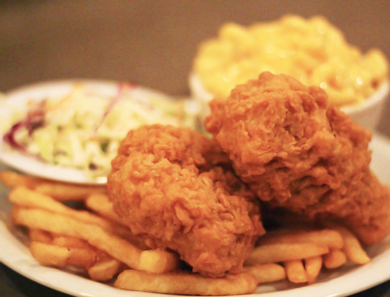 3. Fried Chicken Basket at Doomie's Home Cookin'
This vegan Hollywood staple is known for its over-the-top, indulgent, comfort food (the deep-fried Oreos and avocados are downright amazing), but it's the Fried Chicken Basket served with mac and cheese, slaw fries, and two drumsticks that help Doomie's make its mark in the glitzy town of açai bowls and juice cleanses.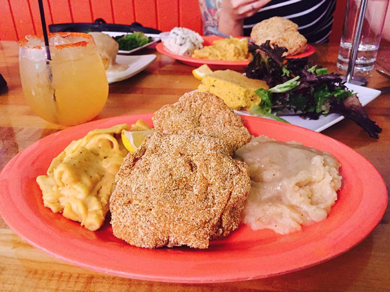 4. Southern Fried Tofu by Souley Vegan
Oakland, CA's favorite down-home, plant-based eatery is able to transform a humble block of tofu into a succulent masterpiece with the help of a secret family recipe (and a healthy serving of soul). Tender and juicy with a crisp, traditional breading, the Southern Fried Tofu is available as an option for the restaurant's gigantic combination plates (as are red beans and rice, black-eyed peas, vegan mac and cheese, and barbecued tofu), in minis for an appetizer, as a burger, or in a bowl served atop grits and smothered in okra gumbo.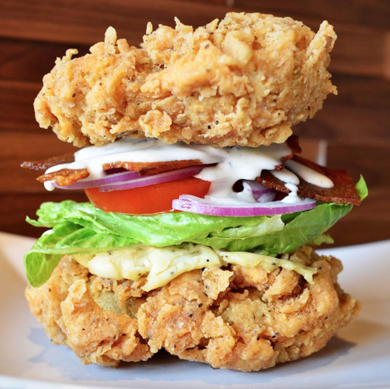 5. THB Doubles Down by The Herbivorous Butcher
Sibling-duo Kale and Aubry Welch's KFC-inspired concoction includes garlic pepper Havarti, bacon, ranch, lettuce, tomato, and onion stacked between two breaded vegan chicken filets. The "butchers" serve this decked-out, decadent sandwich as a festival special, so be sure to get your hands on it when you can.