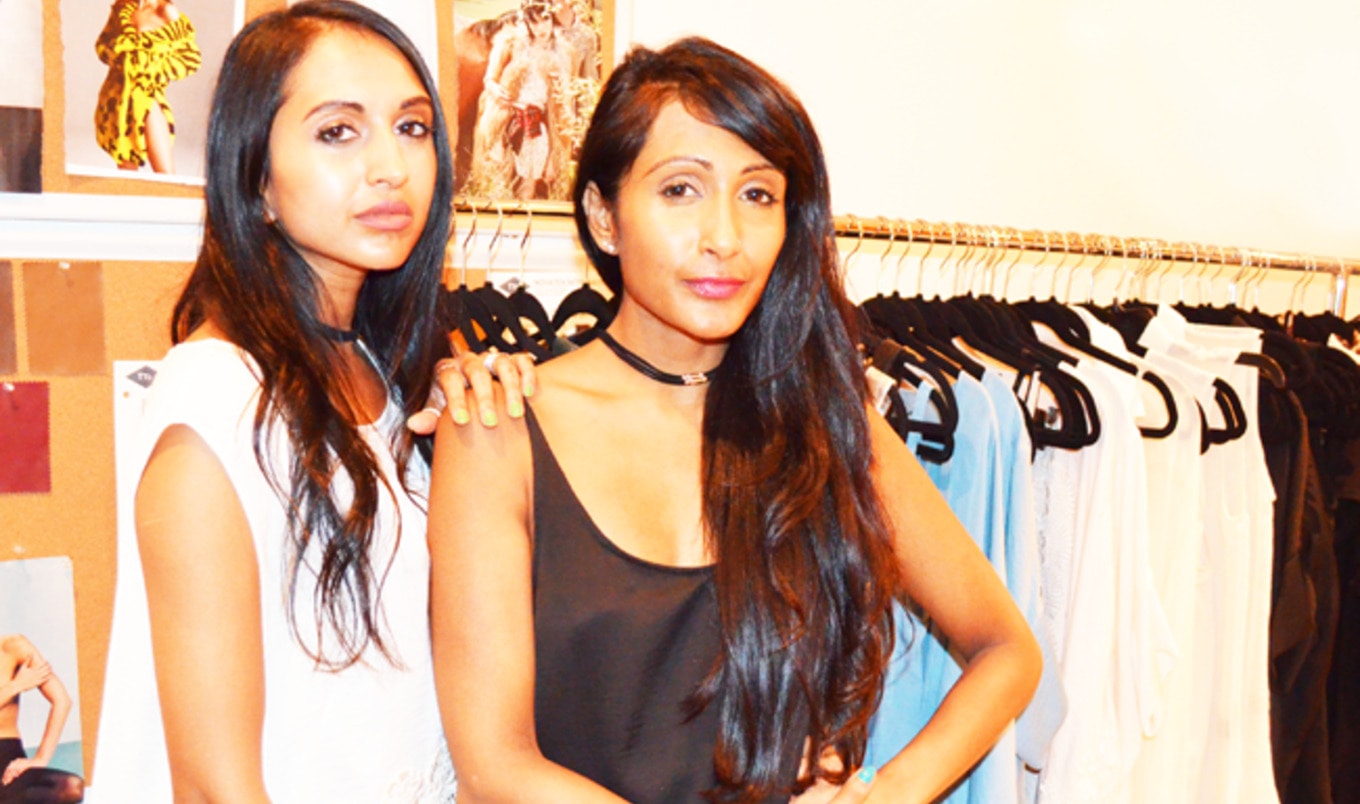 Sister-duo behind LA vegan fashion label Delikate Rayne share their top tips for summer style trends, ethical shopping, and more.
August 4, 2016
---
Unobstructed by hefty layers and coats, warm weather is prime time to let your style shine. That's why we turned to vegan sister style duo Meg and Komie Vora—owners of Los Angeles-based cruelty-free fashion brand Delikate Rayne—for the scoop on their favorite summer styles. The duo started the luxury cruelty-free brand in 2013 to create contemporary clothing for eco-conscious women, featuring materials such as PVC-free polyurethane leather and materials sourced from the United States to ensure fair labor practices. Delikate Rayne is growing, thanks to appearances on E! Online, The Zoe Report, and StyleCaster, so we decided to check in with the sisters for a summer makeover.

VegNews: Why did you start a vegan fashion company?
Meg and Komie Vora: Simply put, we want people to see that compassion can be cool because it is cool. When did caring become uncool? Many struggle to walk that fine line between fashion and compassion. The idea of cruelty-free dressing and what that means in relation to your wardrobe is still a pretty foreign concept to a lot of people.

VN: What are your goals at Delikate Rayne?
M+K Vora: We want to help create an awareness and change the mindset in relation to animal-friendly clothing. There are so many misconceptions when it comes to vegan fashion. The majority of the stuff out before we started was very limiting, as it spoke to a very specific customer base, was poorly made, or embodied a particular aesthetic. We want it to be known that contemporary vegan fashion can be synonymous with luxury. It's important to us that people become aware that wearing something that matters really is a thing.

VN: Why is it important to buy clothing made in the United States?
M+K Vora: For us, buying USA-made products means we know where it came from. The US has better quality control and labor practices in place to ensure that items have been made with the highest ethical standards in place. Most people don't make the connection to how fast fashion plays a pivotal role in the destruction of not just the environment but human lives as well. When you are able to ask questions and see the facts that actually back up the answers you are being given, you can feel better about your purchases.

VN: What are the best ways to begin building a vegan wardrobe?
M+K Vora: The two most important things are learning how to read labels and remembering that a vegan wardrobe isn't going to happen overnight. Just like when you decide to change your eating habits or diet, it happens over time as you continue to build toward making a full transition to a new lifestyle. It's all about labels, as they tell you what the content of your pieces are composed of.

VN: What materials should we avoid in order to make this change?
M+K Vora: The obvious ones to steer clear of are leather and fur—the not-so-obvious ones include silk, wool, mohair, and angora. Then there are even more obscure materials such as grogram, cashmere, down, aba, camlet, shearling, Grosgrain, Moire, paisley, pongee, samite, sarcenet, shantung, and vicuna.

VN: What are the hottest trends this summer? And how can our readers wear them ethically?
M+K Vora: Anything with micro pleats, especially on dresses and skirts, are big right now. The pleating creates an unstructured piece which makes the draping of it flattering for all body types. The most popular versions are constructed in silk, most specifically crepe—organza, or georgette—but there are just as stylish alternatives out there such as satin, Batiste, or sateen. Also, pieces that embody an off-the-shoulder component is having an "it" moment as well. Organic cotton, seersucker, lace, or crochet pieces are easy-to-wear silhouettes that create the perfect combination of animal friendliness, coolness, and sleekness. Soft romantic touches like ruffles are also a pretty update to the dresses, blouses, and separates that people will be wearing this summer. Look for garments made out of laundered chiffon, ninon, or rayon, as they lend a nice blend of polished-yet-feminine vibes.

VN: Shoes and accessories can be a challenge when it comes to finding stylish, cruelty-free options. What can our readers look for?
M+K Vora: For shoes, you must also pay attention to the sole, inside, and upper. If something is truly cruelty-free, it will say "man-made materials including upper." Key words to look for when determining whether your "leather" option is cruelty-free include "synthetic," "man-made," "faux," and "polyurethane."

VN: So what materials can you recommend that are vegan and will make us look good?
M+K Vora: Even though it's animal-friendly, try to avoid PVC because it's extremely harmful to the environment by emitting unnecessary toxins into our air. It's also not biodegradable, which contributes to the already large, alarming problem of global warming. Another very stylish and ideal option is velvet, a crushed suede, or ultra suede—which is a synthetic microfiber fabric perfect to use in place of real leather suede or velvet. All of these textiles are often overlooked but provide a fresh, updated take on the normal go-to leather. There are some fantastic platforms, pumps, wedges, and boots out right now utilizing these materials. Also, coated or waxed canvas is a great option instead of leather when it comes to shoes and accessories, particularity belts. Other choices include hemp, cork, and moleskin (even though the name says "skin," it's actually a durable cotton fabric with a velvety finish making it almost leather like).