News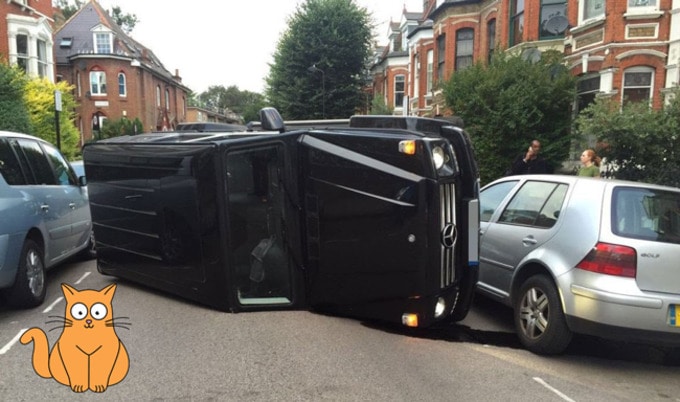 X Factor Judge Flips $100,000 Car to Avoid Hitting Cat
Nick Grimshaw spared a stray cat's life by rolling his Mercedes G-Wagon while driving 15 mph.
August 24, 2016
---
Popular BBC Radio 1 DJ Nick Grimshaw is unharmed and in good spirits after flipping his car to avoid running over a cat. The 32-year-old former judge on The X Factor was driving from his London home to work when a "ginger cat" ran out in front of him, causing Grimshaw to swerve and topple his $105,000 Mercedes Benz. "The car went upside down, I'm absolutely fine," Grimshaw said. "I came out of my street, turned right, saw quite a large ginger cat. I was like, 'Oh no, a cat.' … People were like, 'You can't have been doing 15 miles per hour.' I was, that's how embarrassing this was." The Brit says he swerved into another vehicle, which made his own tip over, but that all parties involved are fine—including the cat. "It sat there for the full two hours while I was out in the street," Grimshaw said. "The cat met the police, the cat met the fire brigade, the cat watched me make a call to insurance to organize someone to pick the car up."
Let's get FABULOUS! Order your copy of the hot-off-the-press VegNews Guide to Being a Fabulous Vegan — filled with everything you need to know to live a super-fabulous vegan life (including our all-time favorite recipes)!
Order Now