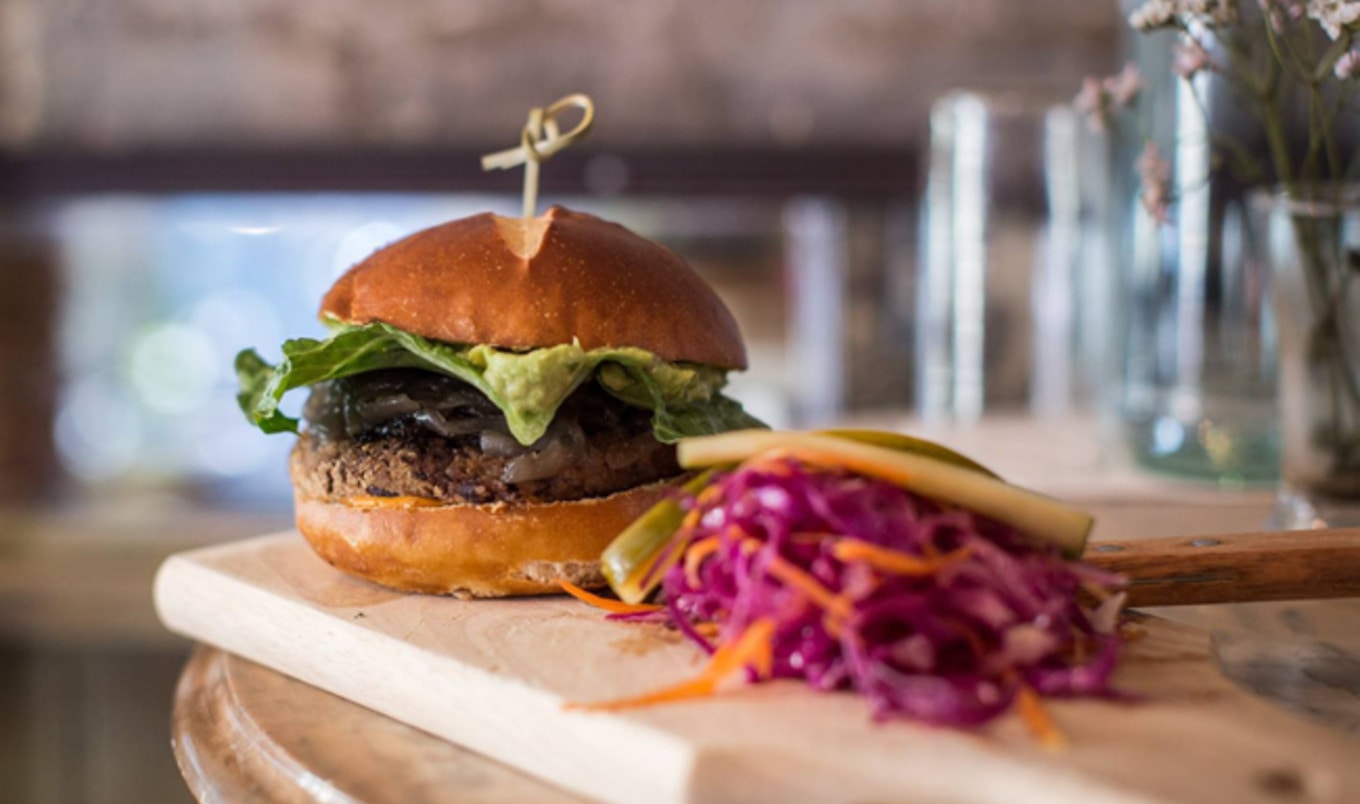 These under-the-radar plant-based eateries are great for breaking bread between vegans and carnivores.
March 2, 2017
---
We love restaurants that proudly wave their vegan flags on their menus. However, a slew of just-as-tasty vegan establishments have taken a different approach to attracting customers. While these places have nothing to hide, the word "vegan" rarely appears on their menus and marketing materials. They're not shying away from the label nor are they trying to trick anyone—although, some of their dishes would make you do a double-take. They are simply standing behind their food as the kind of finger-lickin', rib-stickin', raving-Yelp-reviews-getting cuisine anyone—vegan or not—can enjoy.

VegNews left no stone unturned to discover these five "secretly" vegan eateries, and what we found is an abundance of plant-based delights and key insight into some clever advertising techniques.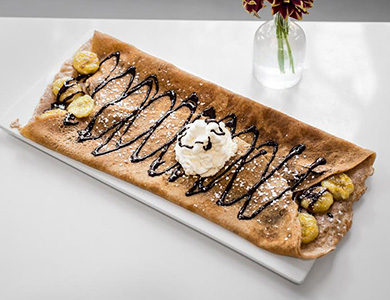 Delice & Sarrasin, New York City, NY
Garlic slathered escargot, buttery foie gras, and wine-bathed boeuf bourguignon are the components of a cruel vegan nightmare. However, at Delice & Sarrasin—a family-owned French bistro in the heart of Manhattan—these animal-centric dishes get a totally vegan makeover thanks to the handywork of Christophe Caron Soriano (a male model, because New York) and his mother. The place opened quietly in 2014 with no mention of the word "vegan" on their in-house menu—just a long list of traditional French dishes, with very 'francophillic" names. The duo uses traditional French cooking methods to replicate the tastes of home—such as salmon made from carrot slices; beef tartare constructed from pea protein, coconut oil and beets; and crab cakes made from lemon peels and bell peppers—that pass the test with most discerning of French palettes. "At the end of the day, we prepare the dishes the same way as the non-vegan version; we just substitute the meat or fish," Soriano says. "Everything is homemade, and I think that's what make the difference."
 
Must order: Undoubtedly, the crepes (or "galettes") here are king—and savory varieties come filled with housemade meats and cheeses, while sweet ones are stuffed with fruit, topped with fluffy whipped cream, and some are drizzled with Grand Marnier.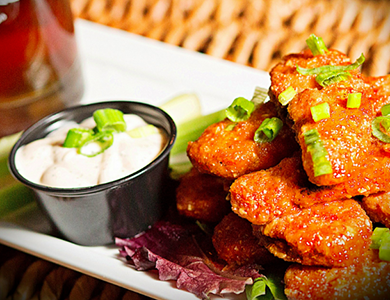 Pig Minds Brewing, Rockford, IL
The brains behind Pig Minds Brewing, co-founder Brian Endl, knew that he would have to keep the fact that his beer pub was fully vegan under wraps if he were to succeed in slinging plant-based foods to a blue collar midwestern community. "There are many omnivores that feel threatened by the word vegan," Endl says. "So when we opened our doors, we were a brewpub with a food menu … that just happened to be vegan. Most of our customers have grown to appreciate our menu. Those who struggle with it will order an appetizer or two, at the least." What are these craveable appetizers? Well, for starters, there's the tempura cauliflower—accented by a sweet and (capital letters) SPICY drizzle and scallions. "Many have said that the beer is what brought them in," Endl elaborates, "but they discovered that the food is equally good, and have now become regular diners." Endl's concept has been successful for five years—so much so that he plans to expand the 74-seater establishment to hold many more initial naysayers .
 
Must order: Korean BBQ Tacos with several Southy Bitch Slap beers.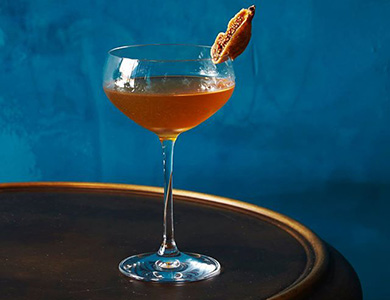 Charlie was a sinner., Philadelphia, PA
A boozy concept plucked from HipCityVeg founder Nicole Marquis' wild imagination, Charlie was a sinner is a vegan bar with no remorse. Marquis focuses on drinks made with exotic elixirs and fresh-squeezed juices in a space that used to house a brothel. "We are proud to be 100 percent vegan," Marquis exclaims, "but we want to be compared to any other restaurant, not just the vegan ones. We want vegan food to be mainstream and we want to compete on the basis of taste, because our food is that good." The menu changes seasonally (perhaps according to Charlie's whims) and features small plates (such as fried artichokes with saffron ratatouille and crispy lemon) and a wild mushroom paella that'll make your head spin. Charlie was indeed a sinner, but was he a vegan? Marquis won't say, but invites all with wayward intentions to visit her bar to explore their own sinful indulgences.
 
Must order: Potato Gnocchi made with English pea, cipollini onion and smoked tomato butter paired with a "Women In Love" cocktail made with Bluecoat Gin, celery juice, jasmine, chamomile syrup, lime, and basil.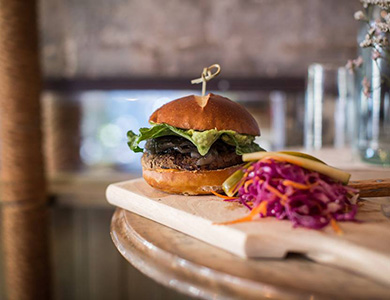 Bar Velo, Brooklyn, NY
John McCormick and Vanessa Shanks opened this bicycle-themed eatery in 2016—in the former space of celebrated, but very meaty eatery, Bar Moto—for the sole purpose of bringing more good food to Brooklyn's South Williamsburg neighborhood. "We didn't want to make a big deal about eliminating animal products in our food—we feel like people unconsciously eat vegan or vegetarian for a large part of their diets," the founders say. "But if you draw attention to the food being vegan, it often comes with negative connotations." Their mostly organic offerings include lentil-based paté with truffled toast, a tangy BBQ eggplant sandwich, and panna cotta with aged balsamic vinegar, paired with a strong line-up of herb-infused cocktails that convince patrons that vegan food is not all granola and green juices. Shanks and McCormick say that most omnivores come to Bar Velo for the booze first and once they're feeling snacky, it's only a matter of time before they fall in love with their food.
 
Must order: Portobello black bean burger with avocado, caramelized onions and chipotle aioli and a stiff No. 1 cocktail made with muddled sage, gin, and ginger rinsed in allspice.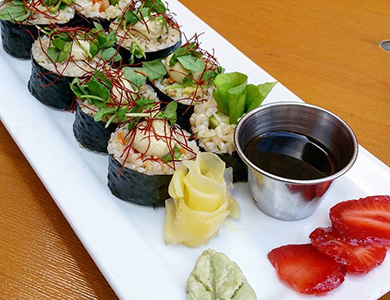 The Lunch Room, Ann Arbor, MI
Two vegan foodie friends, Philis Engelbert and Joel Panozzo, first launched The Lunch Room concept in 2010 as a dinner party series. It eventually went through several iterations—including a food cart in 2013, a single brick-and mortar in 2014, and currently, a two-location restaurant and bakery mini-empire ready to take the vegan scene by storm. Not enough accomplishments for you? The Lunch Room staff started a vegetable garden in 2016 to bring their diners fresh-from-the-farm kale, heirloom tomatoes, lemongrass, rhubarb, and more. Panozzo says he has been pushing the "plant-based" phrase since the beginning—not because he's not proud that the place is totally vegan, but because he wants to let the food speak for itself. When they started out, Panozzo explains, "Our cart was surrounded by BBQ places that relied heavily on meat and dairy, and we found folks might be less inclined to try something unique, strange, or different." However, customers kept coming back. "I remember this gentleman back from the food cart days who came back after eating a BBQ Tofu Slider and said 'that was the most tender pork I have ever eaten.'" Early customers followed The Lunch Room into the cozy confines of its permanent eateries, which now serve a menu of hearty internationally inspired dishes such as Pad Thai, Chili Mac, and themed dinner specials—$2 taco Tuesdays here we come!
 
Must order: Go for brunch and get a Bad Axe sandwich that's built on a house-baked biscuit loaded with tempeh bacon, cashew cheese, baby greens, red onions, apple slices, and a maple-dijon sauce. To drink? A bottle of Beviamo Prosecco Extra Dry with an order of orange juice, then mix into a dozen strong mimosas.