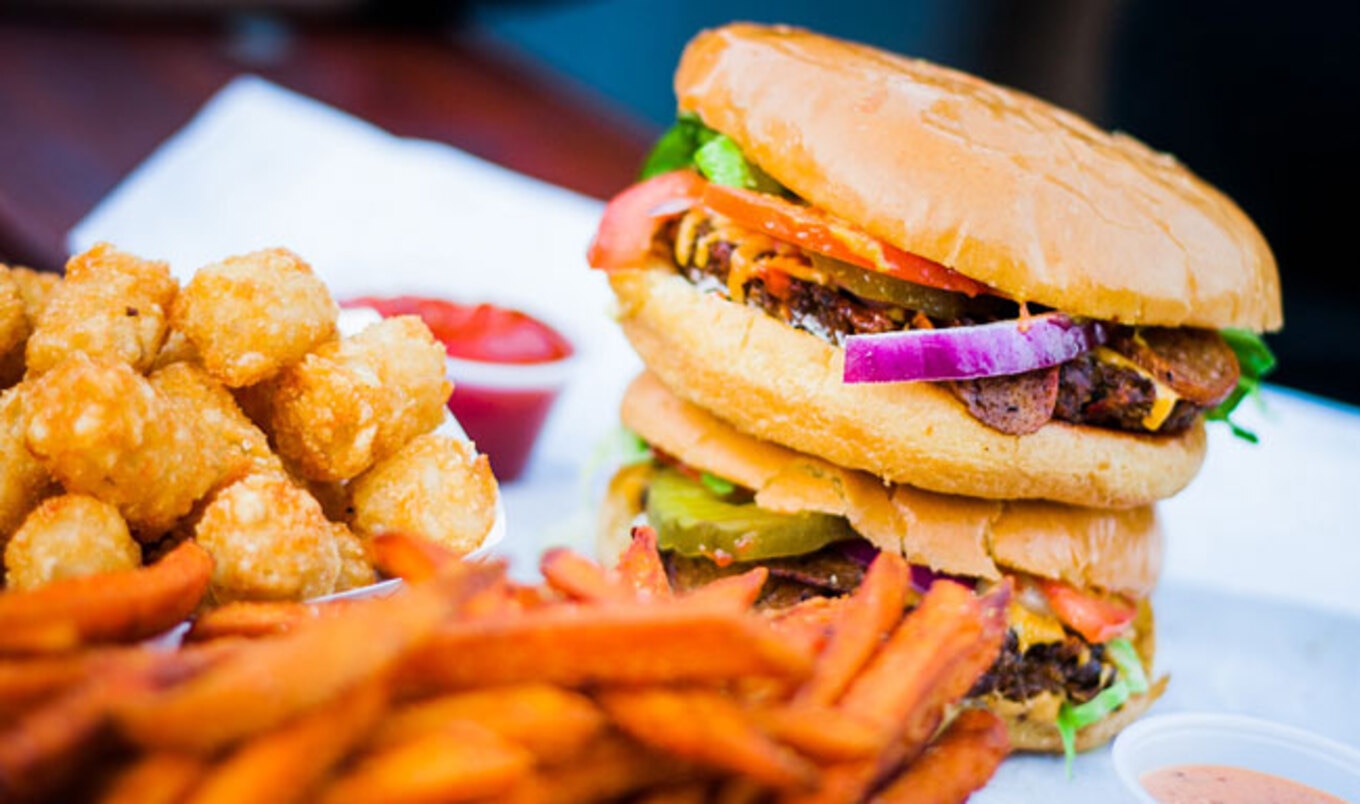 Relocating to Texas has shown me the amazing things you can do when vegan food meets Southern culture.
March 6, 2017
---
Recently I moved from my cozy apartment in Los Angeles—land of vegan artisanal cheese stores, rice bowls with lemon kale, and more raw Pad Thai dishes than you can count—to Austin, TX, a world of fried everything and alcohol anywhere, anytime. In fact, when my husband and I took one of our first walks down South Congress Avenue, watching all the evening happy hour-revelers, he turned and said to me, "Wow, people here go hard." Instantly I knew he meant that as a compliment, as people of all ages in the Texas capital indulge in the finer corporeal pleasures to the fullest … specifically by eating whatever they want. Even though I fully admit to loving those lemon kale rice bowls, I dove into my Austin exploration through its burgeoning vegan food scene. Here are the six most insane vegan things I've eaten since moving to Texas.
 
1. Frito pie
I might still be an Austin newbie, but this little dish doesn't seem so crazy to me anymore. In fact, I can easily consume the city's seemingly favorite dish—chili, pico de gallo, cheese, and guacamole stuffed into a personal-sized bag of Fritos, then eaten out of said bag by the forkful—without feeling full or heavy the next day. There's something incredibly satisfying about digging in and emerging with a gooey, salty mass—perhaps it's addressing some latent, childhood desire to thwart my parents' authority and eat processed food with abandon. Nothing makes me feel more like an Austinite, and nothing makes me feel more ridiculously unequipped to make healthy adult decisions.
 
2. Mac and cheese burgers
Unlike Frito pie, which is ubiquitous around the city and easily veganized with a cooperative server, macaroni and cheese burgers can be found only (as far as I know) as a special at Arlo's food truck. Often deemed the best burger in the city by omnivores and vegans alike, Arlo's standard vegan burger is topped with housemade vegan macaroni and cheese, pickles, and lettuce, and then sandwiched between a bun. The truck is attached to local music venue Cheer Up Charlies, which gives me the chance to eat a burger, see a show, and feel authentically Austin.
 
3. Deep-fried red beans and rice balls
While the menu at San Antonio's La Botanika features a variety of Tex-Mex items, the restaurant's deep-fried red beans and rice balls—a variation of Cajun- and Louisiana-style red beans and rice—are something I haven't been able to find anywhere else. Fried to crispy perfection with just a little char, they're the perfect addition to make a happy hour even happier. And after a day of putzing around the river and drinking in an unseasonably warm, sunlit day, I came to this restaurant to sip a mojito and dig in, because apparently that's the kind of person I am in Texas.
 
4. Vegan Twinkies
One day, whilst staring up at a (I am hoping) non-judgmental man behind the register at a local vegan taco truck, I noticed a box reading "Vegan Twinkies" and decided, "Hey, what the heck, nobody's watching!" and ordered one because I imagined them to be heavenly, moist, cream-filled bites of vanilla goodness. Except for the fact that my husband, my server, and a couple dining on normal-sized portions of food at the table next to us were all watching, I was right: these vegan twinkies were magic. The incredibly moist desserts come from Zucchini Kill bakery, a currently storefront-less vegan bakery that pops up around town with a variety of vegan twists on iconic baked goods. The Texas vegan Twinkie is the perfect companion to the vegan Frito pie, as they satisfy your junk food cravings with a defiant rock 'n' roll twist. How very Texan.
 
5. Unicorn Poop ice cream with chunks of cookie dough
In the gleaming case of ice creams at local scoop shop Sweet Ritual, you will find it all: marshmallow-speckled Rocky Road, rich chocolate olive oil, warm peanut butter cup, roasty sunflower chocolate chip … and Unicorn Poop. Made from coconut milk, beet juice, skittles, lemon, and tapioca syrup, this strange little scoop tastes exactly like it sounds and is served in a large, gluten free waffle cone that tastes like floating on a cloud of lollipops and roses. Naturally, I had to top it with chunks of rich cookie dough. At Sweet Ritual, however, that's not aberrant behavior. In fact, the quality and quantity of ice cream flavors and toppings presented at this shop have vegans ordering nutty combinations all the time. Just ask my sister, who ordered cookie dough batter topped with caramelized banana and lavender simple syrup, or my mother, who ordered a cone of the sunflower and fig flavors and finished it all (which, if you know my mother, is a rare compliment).
 
Emily Hunt Kivel is a writer from Austin, TX whose work has appeared in Austin Monthly, Los Angeles Review of Books, Flaunt Magazine, Molossus, Los Angeles Magazine, and more.