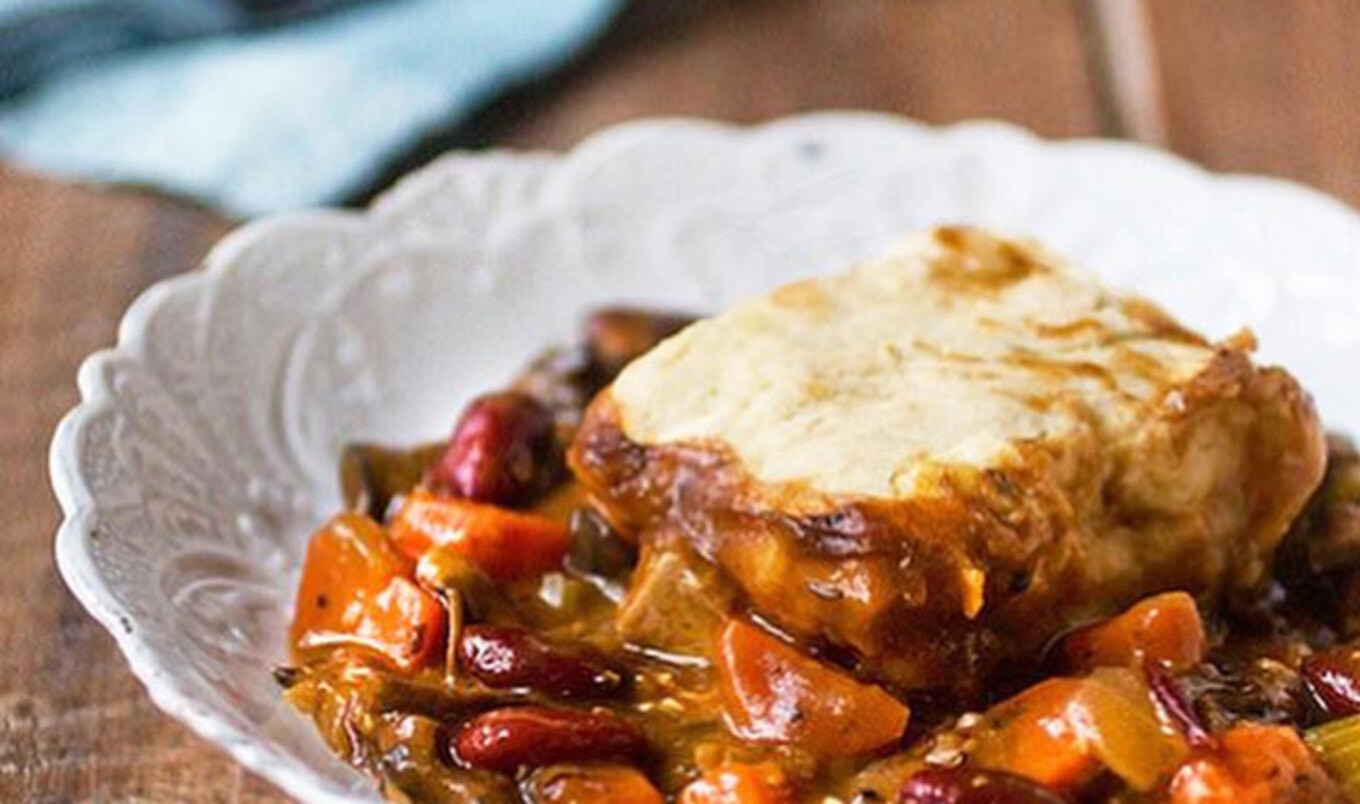 This veganized version of a traditional Irish dish will have everyone saying "Erin go bragh."
March 16, 2017
St. Patrick's Day is a festive occasion, and festive occasions call for indelible feasts, which is why we're bringing you a veganized Irish Stout Stew from beloved cookbook author Isa Chandra Moskowitz. The dish—featured in The Superfun Times Vegan Holiday Cookbook—uses a fluffy potato biscuit to soak up the savory gravy, while kidney beans and porcini and cremini mushrooms create a heartiness often associated with Irish cuisine. There's also some stout because every St. Patrick's Day party needs beer. May the taste of the Irish be with you!

Serves 8
What you need:
For the stew:
1 ounce dried porcini mushrooms
3 cups vegetable broth
2 tablespoons olive oil
1 large onion, diced
1¼ teaspoons salt, plus a pinch
4 garlic cloves, minced
8 ounces cremini mushrooms, thinly sliced
2 celery ribs, thinly sliced
2 teaspoons dried thyme
1 teaspoon dried rosemary
8 ounces carrots, peeled and cut into thin half-moons
1¼ cups stout beer
2 tablespoons tomato paste
Freshly ground black pepper
⅓ cup all-purpose flour
1 cup cold water
2 (15-ounce) cans kidney beans, rinsed and drained

For the biscuits:
1½ cups all-purpose flour
2 tablespoons sugar
1 tablespoon baking powder
1 teaspoon salt
1 cup leftover mashed potatoes
½ cup cold water
3 tablespoons olive oil
Chopped fresh parsley, for garnish

What you do:

1. For the stew, place porcinis in a large bowl (if porcinis are large, tear into bite-size pieces). Bring vegetable broth to a boil in a saucepan and pour over porcinis. Cover bowl with a plate to soften porcinis.

2. Preheat a Dutch oven over medium heat. Heat oil, and then sauté onion and a pinch of salt for six minutes (or until translucent). Add garlic and cook until fragrant (approximately one minute).

3. Add sliced cremini mushrooms, celery, thyme, and rosemary, and sauté until mushrooms release their moisture and brown slightly (approximately five minutes). Add carrots, stout, tomato paste, remaining 1¼ teaspoons salt, and black pepper, and bring to a boil. The liquid should reduce in approximately three minutes.

4. Add porcinis and vegetable broth, cover, and bring to a full boil to soften porcinis. In a measuring cup, whisk flour into cold water with a fork until no lumps are left. Slowly add slurry to pot, mixing well as you go. Let soup thicken for five minutes.

5. Add kidney beans, turn off heat, and cover pot to keep soup warm.

6. For the biscuits, preheat oven to 425 degrees. In a large mixing bowl, sift flour, sugar, baking powder, and salt. In a separate bowl, use a fork to mix mashed potatoes, water, and olive oil. Mixture should be very loose and mushy.

7. Make a well in center of flour, and add potato mixture. Mix with fork until a stiff dough starts to form, then turn out dough onto a clean surface and knead a few times to smoothen.

8. Flatten dough into a disk that is two inches smaller than the pot with the stew in it. Cut disk like a tic-tac-toe board into nine pieces and arrange on top of cooked stew.

9. Bake uncovered until the biscuits are lightly browned on top and the stew bubbles thickly around them (approximately 20 minutes). Let stew sit for 15 minutes, then garnish with parsley and serve.

Photo courtesy of Isa Chandra Moskowitz