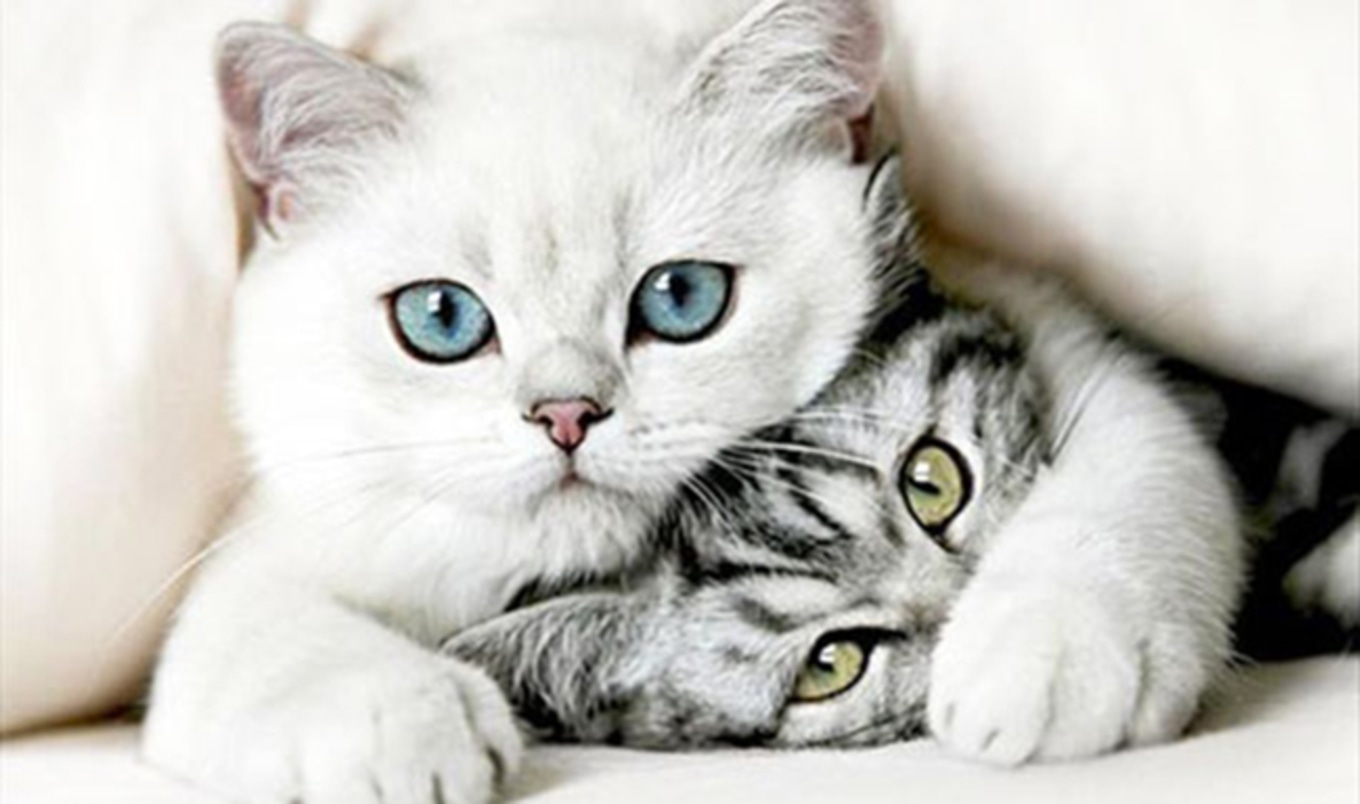 A massage, a new couch, and a new copy of My Aim is True sure would be nice.
April 24, 2017
---
Today is National Pet Parent's Day, and while we here at VegNews prefer the term "companion animal" to "pet," I'm not going to let something like semantics get in the way of what I think is a great idea. That idea, of course, is my two cats—Chatter and Whisper (they're real-life brother and sister)—buying me presents. Before you think this is outlandish, consider this: every day at 6pm, these two furry felines shadow me around the house until I give them dinner. But have these kitties ever asked each other what they've done to deserve dinner? I doubt it, which is why this year I won't be disappointed if they don't get me anything. Still, I sure would love to wake up to these seven gifts under my National Pet Parent's Day tree.

1. A massage gift certificate
I'm just guessing here, but I don't think my cats know how heavy that box of litter is. And I'm not talking about only carrying 20-pound boxes from the store to my car, or from my car to inside the house. That thing also destroys my back whenever I have to stand over their litter boxes and refill, which is why I deserve a spa from The Garden Spa'T in Los Angeles. And, yes, I would like a mimosa while I wait in my bathrobe.

2. An agent
In no way am I in favor of animal exploitation, but whenever my cats are doing something cute (which is most of the time), I think to myself, "This cuteness should be making me money." This is why I think my cats need an agent. However, this agent needs to understand one thing: in order for us to ensure my cats won't be exploited, all filming and photo shoots have to be done at my house and in my cats' natural state. Basically, this means someone with a nice camera can come over to take pictures when they're sleeping, and then we all get rich.

3. New furniture
Similar to everything I own, my cats have claimed my couch. Not only do the top cushions have permanent cat-shaped indents from where they sleep but the bottom section has become the most expensive scratching post I'll ever buy. What I'm trying to say is that I need a new couch, and this Spirit Lake Sleeper Loveseat from All Modern would be great. There is assembly required, which might cause an issue for my cats because—as we all know—1. You don't give an unassembled gift, and 2. Cats are lazy.

4. New records
What do Ramones' End of the Century, Elvis Costello's My Aim is True, Devo's Duty Now for the Future, The Gospel Soul of Aretha Franklin, Chet Atkins' Finger Pickin' Good, and the first Red Cross EP have in common? They've all vinyl albums in my collection whose covers have been destroyed by cat claws.

5. A motorcycle helmet
Whisper wakes me up every morning at approximately 6am because she's hungry. To accomplish this, she stands three inches away from my nose, then extends one of her paws until it reaches my face. There's no ill-will intended, but still—being awoken with a cat's nails on your eyelid is not fun. Because of this, I need protection in the form of a motorcycle helmet. According to a quick Google search of "vegan motorcycle helmet," the Arai Signet-Q Pro-Tour Scheme should work just fine. It might take me a few months to adjust to sleeping in said helmet, but I'm willing to try.

6. A robot vacuum
According to BestBuy.com, the Dyson 360 Eye robot "has a complex 360-degree vision system that observes and interprets its surroundings, ensuring your floors are thoroughly cleaned." That sounds fine and all, but does it collect dust bunnies?

7. A catnip tree
Not a bush—a tree—because that's how much my felines enjoy this cat-crack. I used to buy tiny packages of this stuff, but then I switched to the larger size (similar to this 1.25-ounce jar from Cosmic Catnip) thinking that buying in bulk would save me money. Naturally, I was wrong because all buying in bulk did was turn me into a sucker who would give his cats catnip anytime I walked past the container. What can I say? I like to spoil my cats.

Ryan Ritchie is VegNews' digital editor who loves his cats very much … except at 6am.