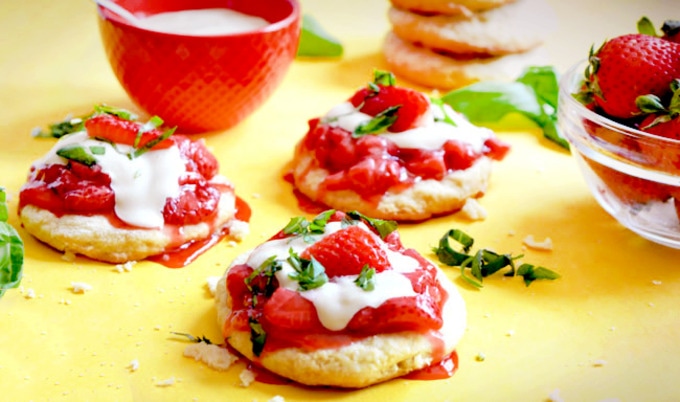 If the sun is out, that means it's time for strawberries.
May 5, 2017
There's no better way to celebrate spring than with strawberries. Unless, of course, you're celebrating spring with a strawberry shortcake with cashew whipped cream. We've given this traditional dessert a refreshing—and vegan—upgrade with the delightful addition of basil. Add our homemade cashew whipped cream, and you'll wish spring was a year-long season.

Serves 8

What you need:
For the shortcakes:
¼ cup organic sugar
1 tablespoon baking powder
½ teaspoon kosher salt
2 cups all-purpose flour, plus more for surface
6 tablespoons chilled vegan butter
1 cup vegan coffee creamer, plain or vanilla (or non-dairy milk as substitute)
2 tablespoons melted vegan butter for brushing

For the strawberry-basil compote and garnish:
3 cups fresh strawberries, hulled and quartered, divided
3 tablespoons sugar, divided
4 sprigs basil, plus more for garnish
1 teaspoon cornstarch or arrowroot
1 tablespoon water

For the cashew whipped cream:
2 cups raw cashews, soaked overnight
1 cup apple juice
¼ cup sugar
¾ teaspoon vanilla extract
⅛ salt

What you do:
Preheat oven to 400 degrees. Line baking sheet with parchment paper. For the shortcakes, in a large bowl, whisk sugar, baking powder, salt, and 2 cups flour. Using a pastry cutter, cut butter into flour until mixture has a crumbly consistency. Add creamer and mix until dough just comes together (it will be fairly sticky).
Turn out dough onto a lightly floured surface and pat into a 12 x 5-inch rectangle approximately ¾-inch thick. Cut out rounds with a 2½-inch biscuit cutter, re-rolling scraps as needed to make 8 rounds. Transfer rounds to prepared baking sheet and brush tops with melted butter. Bake until tops are golden brown and shortcakes are cooked through, approximately 15 minutes.
For the strawberry-basil compote, in a medium saucepan, add strawberries, 2 tablespoons sugar, and 2 sprigs basil. Bring to a boil while stirring, reduce, and let simmer for 5 minutes. Create slurry with cornstarch and water, add to saucepan, and let simmer another 5 minutes, stirring occasionally until thick. Remove from heat and let cool.
In a medium bowl, add remaining 2 sprigs of basil, 1 cup fresh strawberries, and 1 tablespoon of sugar together in a medium bowl. Cover and let sit in refrigerator for approximately 20 minutes for strawberries to absorb basil flavor (or longer if you have time). Chop remaining basil and set aside for garnish.
For the cashew whipped cream, into a blender, add cashews, apple juice, sugar, and vanilla, and blend until smooth. For assembly, split shortcakes and top with berry compote, cashew whipped cream, fresh strawberries, and chopped basil.

Photo courtesy of Dustin Harder
Love vegan food and cooking as much as we do?
Get the BEST, editor-tested recipes inside every issue of VegNews Magazine. Find out why VegNews is the world's #1 plant-based magazine by subscribing today!