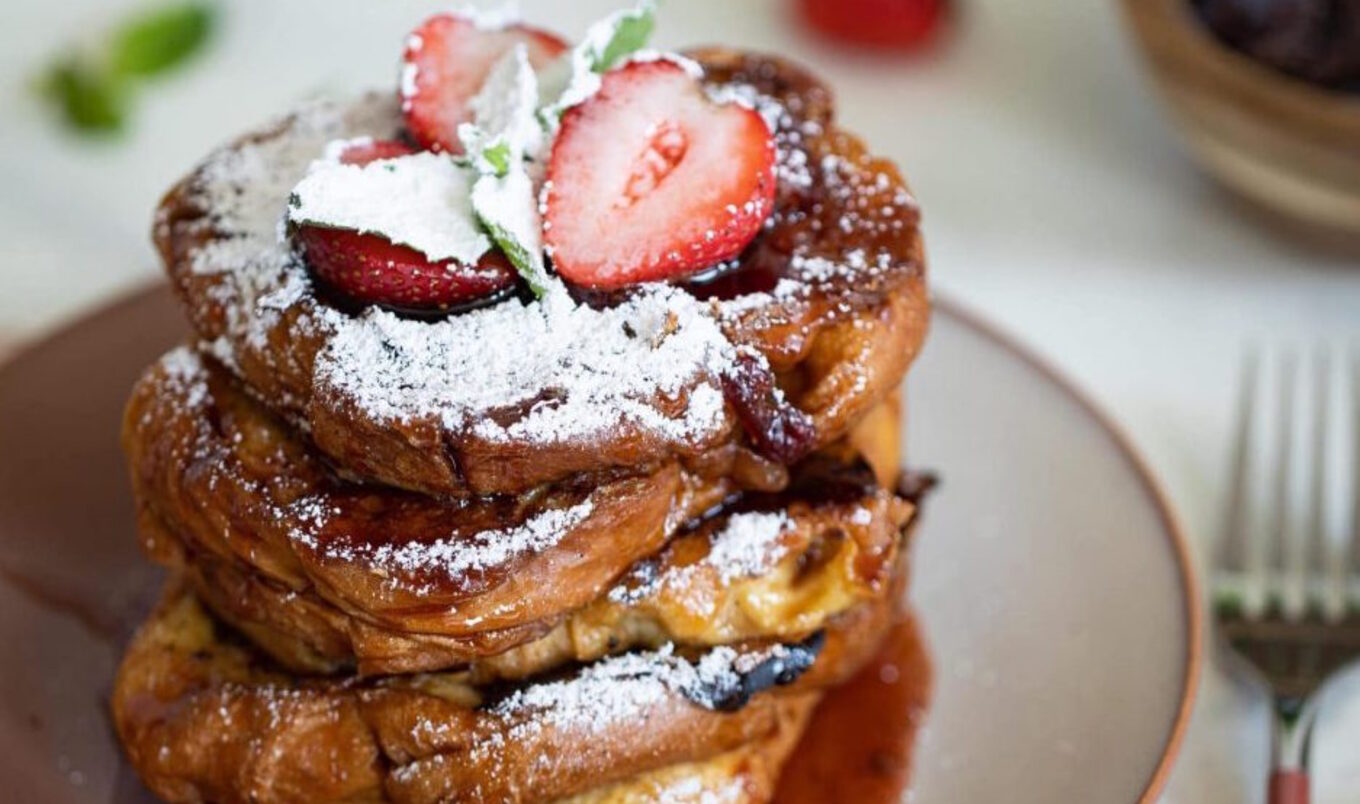 Fluffy brioche bread lends a beautiful, lightness to this tangy-sweet brunch.
February 17, 2023
You can swap out the brioche for vegan challah or rustic sourdough bread in this recipe from the One Green Planet cookbook. Drizzle with maple syrup or peanut butter for added decadence.
What you need:
Balsamic strawberry compote:
2 cups fresh strawberries, sliced
½ cup sugar
2 tablespoons balsamic vinegar
1 teaspoon vanilla
For the French toast:
1 cup unsweetened almond milk, unsweetened
1 teaspoon vanilla
1 tablespoon flaxseed meal
2 tablespoons arrowroot starch
1 teaspoon ground cinnamon
¼ teaspoon salt
2 tablespoons vegan butter, melted, divided
1 loaf day-old vegan brioche bread
What you do:
For the compote, into a medium-sized pot over medium-high heat, add all ingredients. Let simmer until sugar dissolves, stirring occasionally. After 4 to 5 minutes, remove from heat and let cool until sauce thickens. Set aside.
For the French toast, into a large bowl, add milk, vanilla, flaxseed, arrowroot starch, cinnamon, salt, and 1 tablespoon butter, and whisk. Set aside for 5 minutes.
Preheat griddle to medium-high heat and add remaining butter.
Preheat oven to 400 degrees and line a large baking sheet with parchment paper.
Dip 1 slice of bread into milk mixture, soaking for a few seconds on each side. Place slice on heated griddle, cooking on each side for about 3 to 4 minutes until golden brown. Repeat with remaining bread.
Once done cooking, add all French toast onto baking sheet in a single layer and bake for 10 to 15 minutes until crisp on edges. Remove from oven.
To serve, stack French toast on top of each other and spoon a generous amount of compote over top.