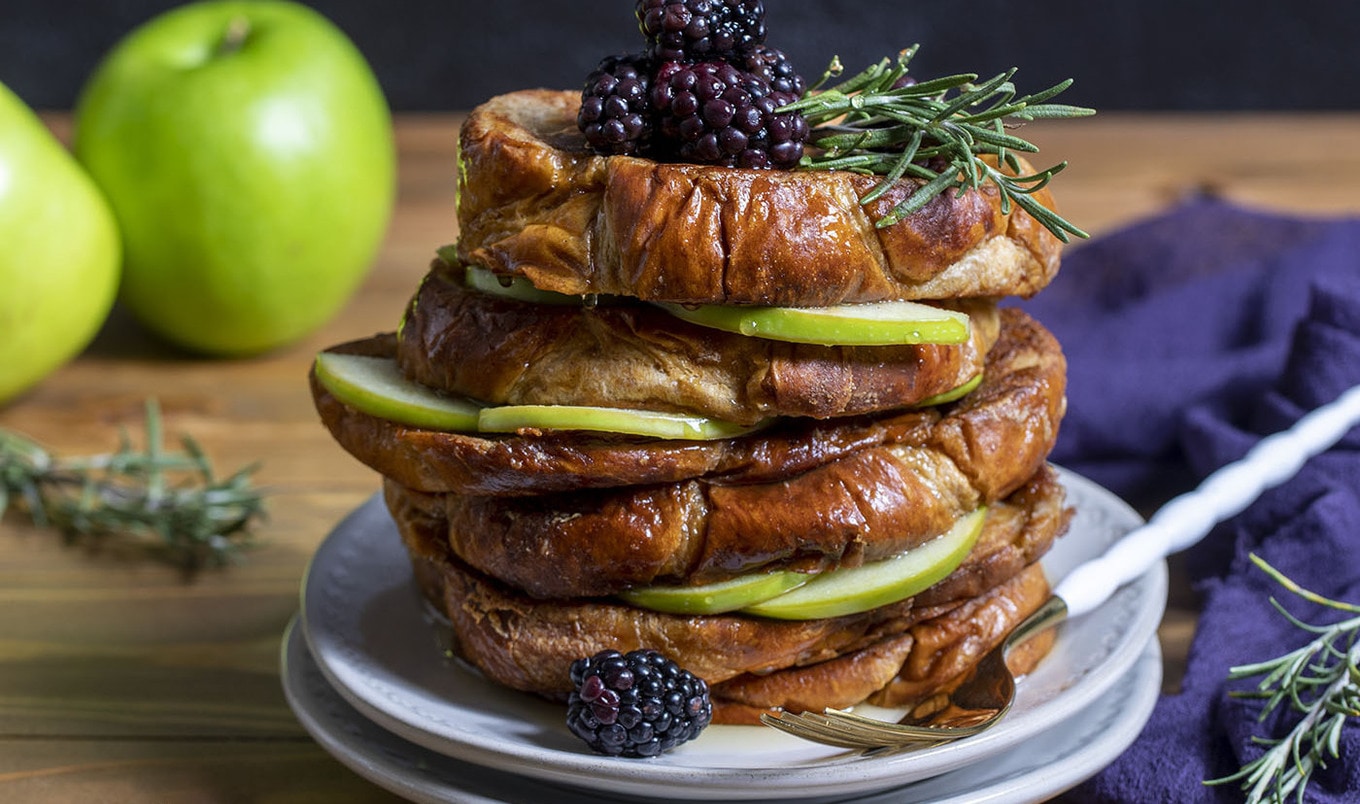 Lightly sweet, fluffy, golden-brown brioche makes for thick slices of fried-to-perfection French toast.
July 29, 2023
Level up your Sunday brunch by using fluffy slices of brioche as the bready component in your French toast with this recipe from the Orchids + Sweet Tea: Plant-Forward Recipes with Jamaican Flavor & Southern Charm cookbook.
What you need:
For the French toast:
1 cup room temperature unsweetened almond milk
1 teaspoon vanilla extract
2 tablespoons arrowroot starch
1 tablespoon flaxseed meal
1 teaspoon ground cinnamon
¼ teaspoon salt
1 loaf vegan brioche bread (about 15 ounces)
1 tablespoon unsalted vegan butter, for cooking
1 Granny Smith apple, thinly sliced
For topping:
Fresh blackberries
Maple syrup
Fresh rosemary leaves
What you do:
In a large bowl, whisk almond milk, vanilla, arrowroot starch, flaxseed, cinnamon, and salt. Set batter aside to thicken slightly, about 5 minutes.
Cut loaf of bread into 8 slices, ¾- to 1-inch thick, depending on loaf size.
Preheat a griddle over medium-high heat. Once hot, add butter and let melt.
Dip a slice of bread into batter, getting both sides, and let soak for 1 to 2 seconds. Place on greased griddle and cook until golden brown with crisp edges and fully cooked through, 3 to 4 minutes on each side. Repeat with remaining ingredients.
To serve, stack two pieces of French toast on a plate, layering 1 or 2 slices of apples between them. Top each stack with blackberries, a drizzle of maple syrup, and fresh rosemary.
For more recipes like this, check out: