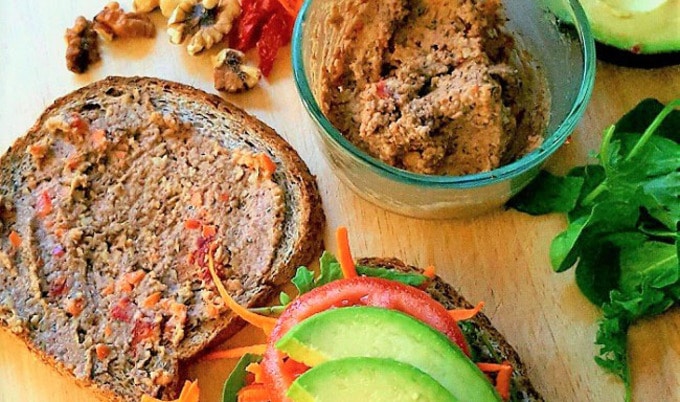 Sometimes, you just want a sandwich.
May 20, 2017
We've all used hummus, mayonnaise, aioli, and mustard to add extra flavor to sandwiches, but this Walnut Veggie Spread will have you rethinking the way you view your lunchtime meals. By adding fresh, seasonal vegetables such as baby greens, shredded carrots, vine-ripened tomatoes, and avocado, we've made you the envy of your home, office, or spring-time picnic.

Serves 4

What you need:

For the walnut veggie spread:
1 cup walnuts
¼ cup water
2 tablespoons fresh lemon juice
2 tablespoons nutritional yeast
¼ teaspoon sea salt
⅛ teaspoon black pepper
1 garlic clove, minced
2 tablespoons finely chopped sun-dried tomatoes
2 tablespoons minced red bell pepper
2 tablespoons minced carrot
¼ teaspoon dried dill

For the sandwich:
8 slices sprouted grain bread
2 cups mixed baby greens
1 cup shredded carrot
1 large tomato, sliced
1 large avocado, sliced

What you do:

1. For the walnut spread, into a food processor, place walnuts, water, lemon juice, nutritional yeast, salt, and pepper and process until smooth. Add more water (1 tablespoon at a time) if necessary to reach the desired consistency. Transfer to bowl and stir in remaining ingredients.

2. For the sandwiches, spread each piece of bread with approximately 2 tablespoons of walnut veggie spread. Evenly distribute greens, carrots, tomatoes, and avocado slices on 4 pieces of bread, then top with remaining bread slices.

Photo courtesy of Carrie Weldy
Love vegan food and cooking as much as we do?
Get the BEST, editor-tested recipes inside every issue of VegNews Magazine. Find out why VegNews is the world's #1 plant-based magazine by subscribing today!