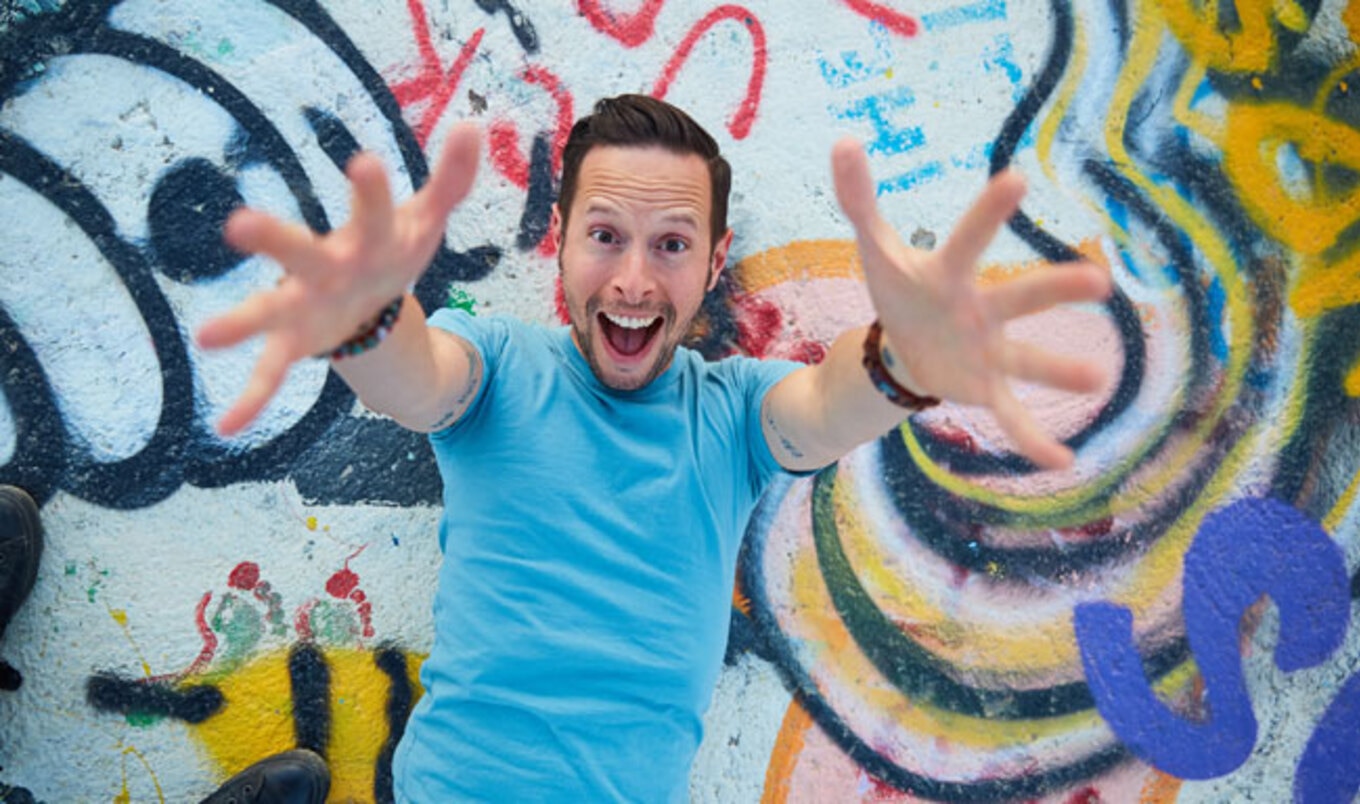 The beloved TV personality and cookbook author spreads the plant-based lifestyle through culinary entertainment.
June 18, 2017
---
Celebrity vegan chef, cookbook author, musician, comedian, superfood nerd, meditation guru: Jason Wrobel seems to do it all. In addition to those titles, Wrobel is also a familiar presence on social media, sharing everything from his food adventures and mindfulness practice to snippets from his daily life. But what is he like in "real" life? VegNews sat down with him for a dynamic conversation on his current projects, personal hobbies, and endearing quirks.

1. How he got here
Wrobel graduated from the Living Light Culinary Arts Institute and quickly launched his wellness career by becoming a nationally certified raw-food chef. After working his way through many established plant-based restaurants and running his own catering company, Wrobel hosted the first-ever primetime vegan cooking show, How to Live to 100, on The Cooking Channel. Today, reruns still air on Mondays at 8am (or check out some videos on the show's website).

2. What he's up to
Wrobel will be featured in Find Your True Fork by Wanderlust founder Jeff Krasno. The book—which will be released July 18—highlights 10 popular ways to eat, and Wrobel is included as the vegan expert. As part of this collaboration, Wanderlust is hosting a series of pop-up dinners and chef demonstrations nationwide to showcase the featured chefs. Wrobel recently held his own pop-up dinner for 100 guests at the Wanderlust studio in Hollywood. The five-course menu relied heavily on Asian influences—Wrobel's favorite cuisine—with dishes such as black-garlic tempeh with sweet-mustard kale and roasted kabocha squash with miso-turmeric-tangerine ramen.

3. He still makes cooking mistakes
Although Wrobel presents an upbeat and positive personality, he admits he is not perfect. For instance, when preparing for his pop-up dinner, Wrobel cut his finger. Also, despite his immense social media following, only 23 pre-sale tickets had been purchased a week before the event. This low number rattled his confidence, but Wrobel committed to treating the attendees "like royalty" regardless of how many people attended (the event eventually sold out). Finally, Wrobel admits that he allows himself some indulgences. His rule of thumb: eat clean 99 percent of the time, but if there is a vegan chicken doughnut sandwich at an event, he'll eat it.

4. He's multi-talented
When he's not working inside a kitchen, Wrobel enjoys car and motorcycle racing, comedy, and music. In fact, he loves the fast lane so much that he's buying himself a Ducati for his birthday in July. Furthermore, Wrobel can play the ukulele and loves listening to the unique musical performances at the Hollywood Farmers' Market. And as if being a well-known chef doesn't keep him busy enough, Wrobel has also begun a standup comedy career. Two of his favorite jokes are, "Baby, if you were a fruit, you'd be a fine apple," and "Baby, are you a fruit? Because honeydew you look so fine right now."

5. He loves waffles and toast
The decision between waffles and pancakes can be extremely polarizing. Wrobel's preference? A sweet, Belgian-style waffle. And in a world of overpriced avocado toast, Wrobel's creation is a masterpiece well worth the cost: Ridiculous Baking Company's gluten-free bread topped with a mashed Bacon avocado, micro shiso sprouts, Sir Kensington's Vegan Chipotle Mayo, shichimi togarashi, a pinch of nori flakes, a sprinkle of nutritional yeast, garlic salt, a squeeze of lemon juice, and thinly-sliced watermelon radishes.

6. He's still a food fan
Wrobel enjoys watching all types of cooking shows, especially those hosted by Alton Brown. This makes sense, as Wrobel is the vegan superfood equivalent to Brown. Both infuse their work with comedy and have a passion for science—Wrobel is a self-proclaimed nutrition nerd who is constantly researching the origin of foods and their effects on our bodies.

Tanya Flink is a certified Master Personal Trainer based in Orange County, CA, and host of "The Vegan Potluck" podcast.

Photo courtesy of Jeff Skeirik
The VegNews Mega Birthday Sale ends July 31 at midnight! Get the BEST vegan recipes, travel, celebrity interviews, product picks, and so much more inside every issue of VegNews Magazine—at a special birthday price. Find out why VegNews is the world's #1 plant-based magazine by subscribing today!