Food + Recipes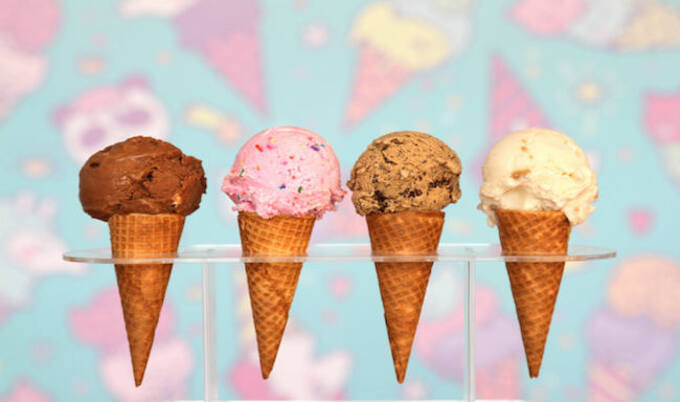 8 Outrageous Vegan Scoops at Ice Cream Shops Nationwide
These plant-based ice creams offered at scoop shops prove that dairy-free can be just as decadent, creamy, and delicious.
---
Summer is fast-approaching, and that means ice cream season is here! Finding vegan scoops can be a bit of a challenge, but dairy-free options are quickly expanding, with many 100 percent vegan shops opening, as well as non-vegan shops offering dairy-free options. Here are eight vegan scoops you need to try before they melt.
1. The Vegan Honeycomb at Van Leeuwen (several locations in NY)
Coconut cream and cashews give this Australian inspired ice cream a rich, creamy base and Van Leeuwen's house-made crunchy, caramely vegan honeycomb is studded throughout each scoop, making for a mouthwatering frozen treat. Among their other, more standard vegan flavors, you can find Salted Caramel, Caramelized Banana Nut, and Matcha Tea. They serve up scoops of dairy-free decadence at multiple New York based shops and from their roving ice cream trucks.
2. Kahlua Almond Fudge at Cashew Cow (Tucson, AZ)
This 100 percent plant-based ice cream shop serves up cashew-based scoops Tuesday through Sunday in a city where many are looking for ways to beat the summer heat. Their Kahlua Almond Fudge swirls rich housemade fudge with vanilla bean ice cream for a truly drool-worthy sweet treat. Their flavors change often to incorporate seasonal and local ingredients, but you can often find Lemon Poppyseed, Chocolate Chip Cookie Dough, Cookies & Cream, and Banana Chocolate Curl.
3. Unicorn Magic at Cocobella Creamery (Los Angeles, CA)
It's almost impossible to pick a favorite flavor at Cocobella Creamery when they offer inventive flavors like Blueberry Cheesecake, Toasted S'mores, and Snickerdoodle, but we are particularly taken with their super fun Unicorn Magic scoop. Pink vanilla ice cream swirled with marshmallows, gluten-free animal crackers, and rainbow sprinkles make for a truly magical ice cream scoop.
4. Frooty Mylk breakfast cereal at Sweet Ritual (Austin, TX)
Sweet Ritual is the one stop shop for all things vegan ice cream, offering everything from sundaes to banana splits, and with over 15 different toppings to choose from—such as edible glitter and toasted marshmallows—we're pretty much in heaven. There is an ever rotating menu of flavors, such as Cinnamonkey Elephantastic, Unicorn Poop, and Strawberry Passionfruit, but we had to go with their super fun Frooty Mylk breakfast cereal scoop, topped with rainbow sprinkles, as our top choice.
5. Salty Caramel Ash at Frankie & Jo's (Seattle, WA)
Goth ice cream is a thing, and Frankie & Jo's vegan ice cream shop is making sure there's a vegan option included in the trend. Their Salty Caramel Ash is reportedly their most popular flavor made with their specialty activated charcoal caramel sauce to achieve a pitch black color. This flavor is lightly salty, perfectly sweet, and creamy thanks to its coconut and cashew base.
6. Thai Iced Tea at Like No Udder (Providence, RI)
Soft serve, shakes, floats, and Unicorns—the shop's plant-based take on Blizzards—ensure you can enjoy ice cream in many forms at the quaint Like No Udder Rhode Island location. Their flavors cover the basics on all the classics like Chocolate, Mint Chip, and Cookies and Cream, but they're unique flavors are what really make them stand out. You can find inventive scoops such as Maple Grapenut and The Kitchen Sink, but we love the delicate flavor of their Thai Iced Tea.
7. Meyer Lemon Meringue Pie at FoMu (Watertown, MA)
Small-batch vegan ice cream is the speciality at FoMu Alternative Ice Cream and Cafe, as everything is made seasonally, from scratch, and with a precise churning method to produce super creamy frozen treats. Their Meyer Lemon Meringue Pie flavor is rich, with housemade graham crackers and toasted marshmallows studded throughout the meyer lemon ice cream base.
8. Pistachio Sunflower Milk at The Hop Ice Creamery (Asheville, NC)
Though not everything is vegan, The Hop Ice Creamery makes sure vegan customers have plenty of options, even serving up vegan whipped cream to top off their seasonal offerings. Flavors rotate often here but their pistachio milk option is so delicious with homemade sunflower milk, pistachio extract, and chopped pistachios.
Sarah McLaughlin is an editorial assistant at VegNews whose all-time favorite dessert is ice cream.
Want more of today's best plant-based news, recipes, and lifestyle?
Get our award-winning magazine!
Subscribe