Today's Top Stories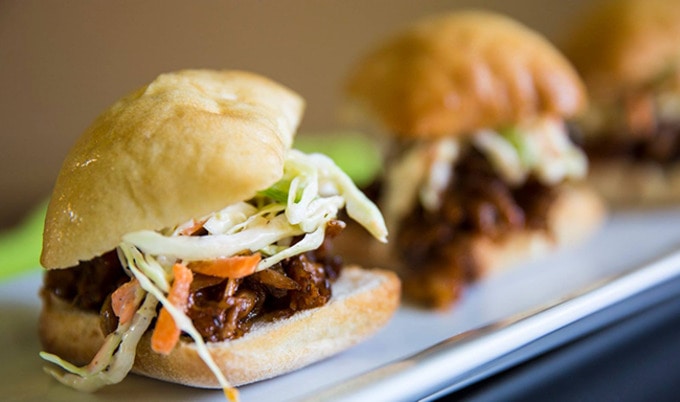 Vegan Jamaican Café Opens in Florida Gas Station
DaJen Eats is serving vegan breakfast, plant-based jerk chicken, and dairy-free "irie" cream to commuters looking for a quick bite.
July 9, 2017
---
Vegan eatery DaJen Eats Café & Creamery has recently taken permanent residence at a Lee Citgo gas station in Orlando, FL. The Jamaican-inspired café is open six days a week and serves breakfast, lunch, and dinner, including dishes such as Crispy Chick'n Biscuit Sammiches, Buffalo Po' Boys, Spicy Jerk Chicken Sandwiches (served on Jamaican Hard Dough bread the eatery prepares daily), and the Irie Cristo—a vegan take on the traditional Monte Cristo sandwich. Founder Jenn Ross—who told VegNews she is obsessed with vegan ice cream—initially launched the vegan business as a blog that evolved into cooking classes, and a meal plan and delivery service. Ross parlayed DaJen Eats into a pop-up restaurant in 2015 before permanently landing at the gas station. "Veganism can sometimes be seen as 'other' and 'difficult,'" Ross said. "I think being ingrained in something as ordinary as a gas station will get people thinking that perhaps veganism isn't so different." As for the "Creamery" portion, the café serves nine flavors of "Irie Cream" in creative flavors such as Red Velvet Cheesecake, Rum Raisin the Roof, and (Sour) Sop The Madness. DaJen Eats is currently in a "soft-opening" stage while Ross works on solidifying business hours and ascertaining customer demand. "Vegan dining doesn't have to be a destination spot," Ross said. "You can grab delicious vegan food on a gas run. It doesn't get more mundanely convenient than that!"
Want more of today's best plant-based news, recipes, and lifestyle?
Get our award-winning magazine!
Subscribe