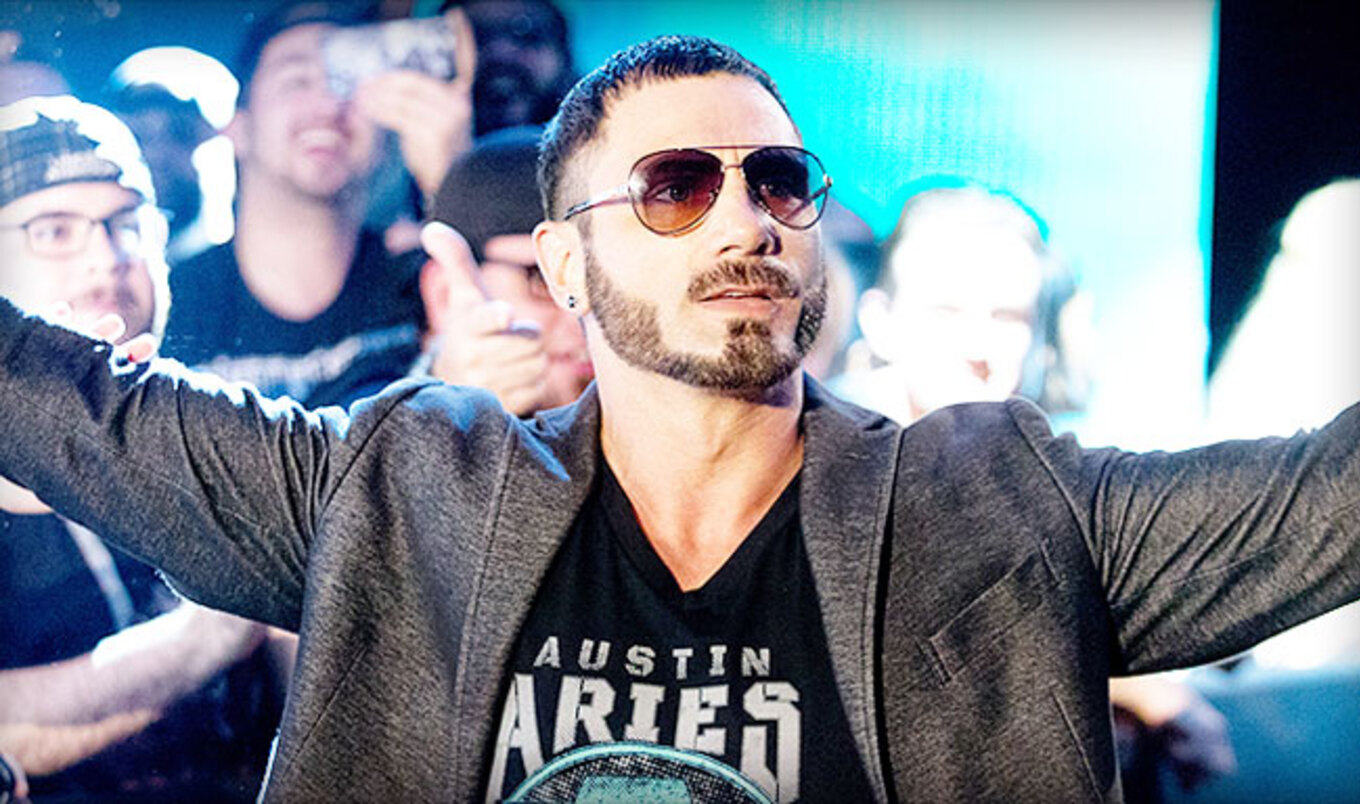 What does a 200-pound vegan wrestler eat to maintain his size and strength? Plant-based food, of course!
August 16, 2017
---
Former World Wrestling Entertainment wrestler Austin Aries has been vegan since 2012 and does not miss his meat-eating ways. Prior to wrestling for WWE, the self-proclaimed "Greatest man that ever lived" was the first two-time Ring of Honor World Champion, former Total Nonstop Action Wrestling World Heavyweight Champion, and was ranked No. 12 of the top 500 wrestlers in the Pro Wrestling Illustrated 500 in 2013. We spoke to the decorated wrestler about his new book Food Fight: My Plant Powered Journey from the Bingo Halls to the Big Time and discovered that drop-kicking meat is a growing trend with Aries' pile-driving colleagues.
VegNews: How did you get the idea to write a book?
Austin Aries: I wanted to share my story, and throughout the years I've been asked the same questions when people find out about my diet choices, so I thought, "Well, let's write this all down, and I'll answer some of these of these questions and share my journey."
VN: What's the most common question you're asked?
AA: "Where do you get your protein?"
VN: Since you mentioned it, where do you get your protein?
AA: Food! Lentils, beans, nuts, plant-based protein powder supplements, and tofu.
VN: When it became public you were a vegan, what was the fan feedback like?
AA: It wasn't necessarily feedback. They had the same questions my family and friends had. That is one of the reasons I wrote my book, to help answer those questions most people have when they learn about my plant-based lifestyle.
VN: And what about your wrestling colleagues?
AA: They were inquisitive. People asked a lot of questions.
VN: As science continues to show the negative health effects a meat-eating diet can have, do you think there will be a change in the wrestling business to adopt a more plant-based diet?
AA: I am already seeing a switch in the wrestling industry, as well as professional athletes as a whole. I have already seen colleges, musicians, and celebrities start switching to a more plant-based diet—if not a full vegan diet. They realize they can achieve the same short-term goals while positioning themselves better in the long term.
VN: What was hardest about your vegan transition?
AA: We are not really raised to understand nutritional labels or to read ingredient lists before we put them in our shopping cart. We aren't taught these things; we aren't given this information. The initial step was realizing this is something important enough to care about. They don't tell you when you are a kid. They don't tell you in grade school. They don't teach you this in high school. They don't tell you in college.
VN: How do you plan your meals with all the traveling you do as a wrestler?
AA: I try to seek out a little cool place to eat for whatever town I am at.
VN: As someone who travels frequently, what place do you find to be the most vegan friendly?
AA: I wouldn't say it was the easiest, but Rome surprised me the most. Almost every place I went to in Rome had a dairy-free, vegan pizza on the menu. They didn't treat it like a specialty item. They already had the items on their menus and were very accommodating to plant-based diets. I even found a great upstart deli named iPhame that had vegan faux meat and cheese sandwiches. I had lunch there almost every day.
VN: What's the best advice you can give to someone who wants to make a transition in their diet?
AA: You always want to give yourself the tools and knowledge to succeed in anything you do, and I think this is no different. I always encourage people. Unless you have that "aha!" moment or a strong conviction or that lightbulb goes on and you say, 'I'm never going to do this again," I think most people start slow and build. Start with one meal a day and maybe change it to make it vegan, or pick one day a week like a Meatless Monday and build it from there. With social media and the internet at your fingertips, you can find other people living that type of lifestyle.
Andrew Benjamin is a long-time wrestling fan who enjoys a tofu hot dog while watching pro wrestling.