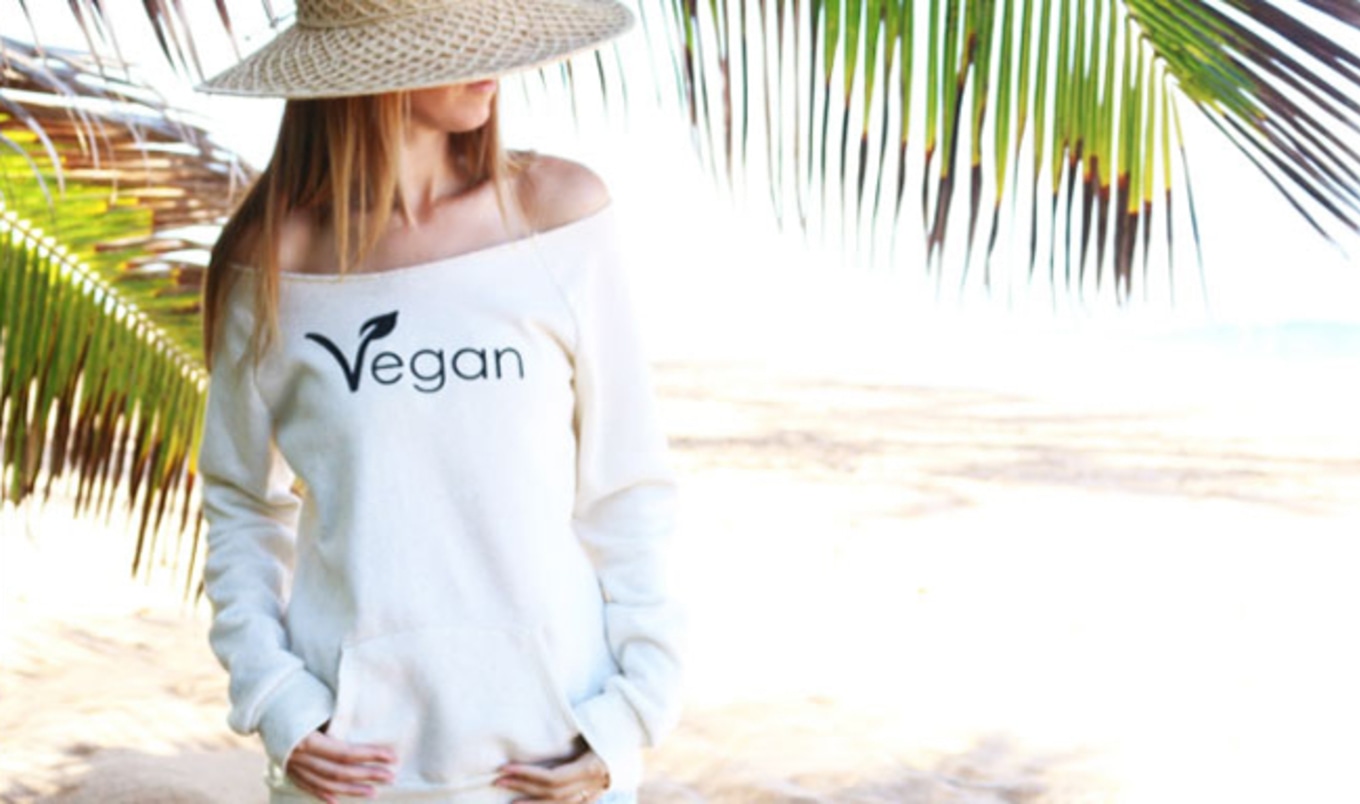 Fair-trade fashion and the plant-based movement tackle similar challenges to create a more ethical world.
August 13, 2017
---
On July 29, models, influencers, philanthropists, and media congregated at the CTRL Collective in Los Angeles for the third-annual Fair Trade Fashion Show. The 100-percent vegan event—which was co-hosted by non-profit organization Free the Slaves and online ethical boutique Bead & Reel—was held to inform the community, inspire action, and raise funds toward eliminating corruption in the fashion industry. Prior to the show, guests snacked on homemade bread and vegan cheese from Plant Alchemy and raw flatbreads from Au Lac. Besides nibbling on all the vegan eats and admiring the gorgeous cruelty-free outfits that graced the runway, we actually learned a few things. Here are five similarities we never noticed between the fashion and food industries.
1. Food and fashion make a bold statement
As consumers, we have a voice, and what we choose to purchase makes a statement within that industry. If we continue to purchase "fast fashion" items, we are reinforcing an industry that relies heavily on sweatshops as a means to cheap, efficient production. The same is true for fast food and animal agriculture—if you buy the product, you support the corruption. Choosing what we put on and into our bodies are powerful decisions, and we can second-handedly contribute to the status quo or create change toward a more ethical and humane world.
2. The consumer is removed from the product
If people saw their hamburgers or their t-shirts being made, they would more than likely be convinced to go vegan and purchase fair-trade products. Similar to the animal-agriculture industry, shoppers do not see the atrocities that go into the creation of their clothing. They do not see the tedious, 14-hour work days that result in mere dollars per day, nor do they see the cramped cages and blatant suffering that occurs daily in the animal-product business. If they did, perhaps they'd go vegan on the spot.
3. "Local" doesn't mean "humane"
Consumers are often comforted by a tag that says "Made in the USA." The same comforting justification can be said for animal products that are produced locally—think of the "happy cows come from California" slogan and the "California-raised" Foster Farms chickens. Unfortunately, the Golden State does not have the shiny reputation as these advertisements might suggest. According to the EcoSessions panel moderator Kestrel Jenkins, Los Angeles is the nation's sweatshop capital. We often think of worker abuse as a developing-world issue; however, these injustices occur everywhere, and the United States is a major contributor. In terms of the animal industry, those "hormone-free" Foster Farms chickens have sparked numerous lawsuits and investigations relating to food poisoning and animal cruelty. The hidden history includes an 18-month outbreak of antibiotic-resistant salmonella in 2014 that affected more than 600 people, as well as live-shackling slaughter methods and animal-cruelty charges against its Fresno, CA employees.
4. Food and clothing are devalued in Western society
Basic needs such as food and clothing have become a simple commodity in Western society, and their accessibility through fast food and fast fashion devalues these products. According to Business Insider, the average American spends 12.5 percent of their disposable income on food, and Forbes calculates a mere 3.5 percent on clothing. Consumers are often turned away from Fair Trade brands due to sticker shock, just as many may scoff at menu prices at a vegan restaurant or the cost of fresh produce at a farmers' market. The fair-trade industry faces the challenge of communicating the true cost of fashion, just as the plant-based movement must convince skeptics of the true cost of food production. We must take into consideration the cost of materials/ingredients, labor, and the impact on the environment to determine the real value of our everyday purchases.
5. We cannot buy a revolution
Purchasing Fair Trade and plant-based products is a step in the right direction, but we cannot be complacent. Panelist Hoda Katebi reminded the audience, "A 'no' is just as powerful—or more so—than a 'yes.'" The panelists at the show urged the attendees to shop the runway and spread the word of Fair Trade fashion. When someone compliments your outfit, capitalize on the opportunity to bring up Fair Trade. The same tip can be used in regards to food. Allow someone to sample a delicious vegan product or recipe, then inform them that it is cruelty-free. These small actions will not begin a revolution on their own, and shifting perspectives and practices will take time.
Tanya Flink is a certified Master Personal Trainer and host of The Vegan Potluck podcast.