Today's Top Stories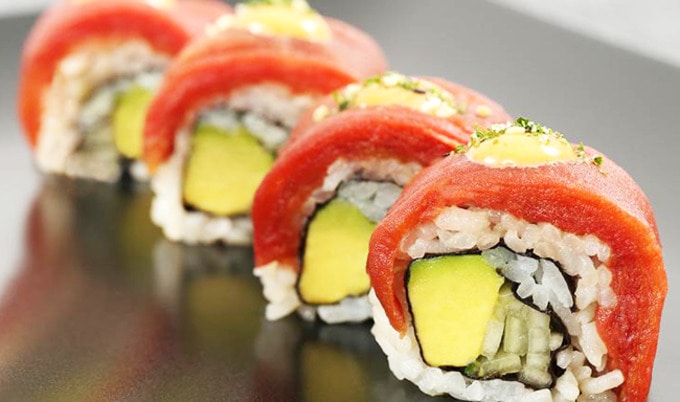 Whole Foods' Sushi Case Adds Vegan Tomato Tuna
Vegan brand Ocean Hugger will expand distribution of its tomato-based Ahimi tuna to the fish-filled sushi cases of Los Angeles and New York Whole Foods Markets.
September 12, 2017
---
Select Whole Foods Markets in Los Angeles and New York will add vegan seafood company Ocean Hugger Foods' vegan tuna to its sushi cases this week. Ocean Hugger founder James Corwell created "Ahimi" (a tomato-based substitute for raw tuna) after visiting a fish market in Tokyo and witnessing the mass scale in which tuna are killed. The company's CEO David Benzaquen says that Ahimi can be used much like raw tuna in sashimi and poke bowls. Last year, New York City-based eatery Fresh and Co. became the first company to prepare dishes with the tomato-based sushi, which is now also available through vegan meal delivery service Veestro—which uses the product in its Ahimi Poke Bowl. Early next year, the brand plans to debut new products such as "Sakimi" (a carrot-based salmon) and "Unami" (an eggplant-based eel).
Let's get FABULOUS! Order your copy of the hot-off-the-press VegNews Guide to Being a Fabulous Vegan - filled with everything you need to know to live a super-fabulous vegan life (including our all-time favorite recipes)!
Order Now