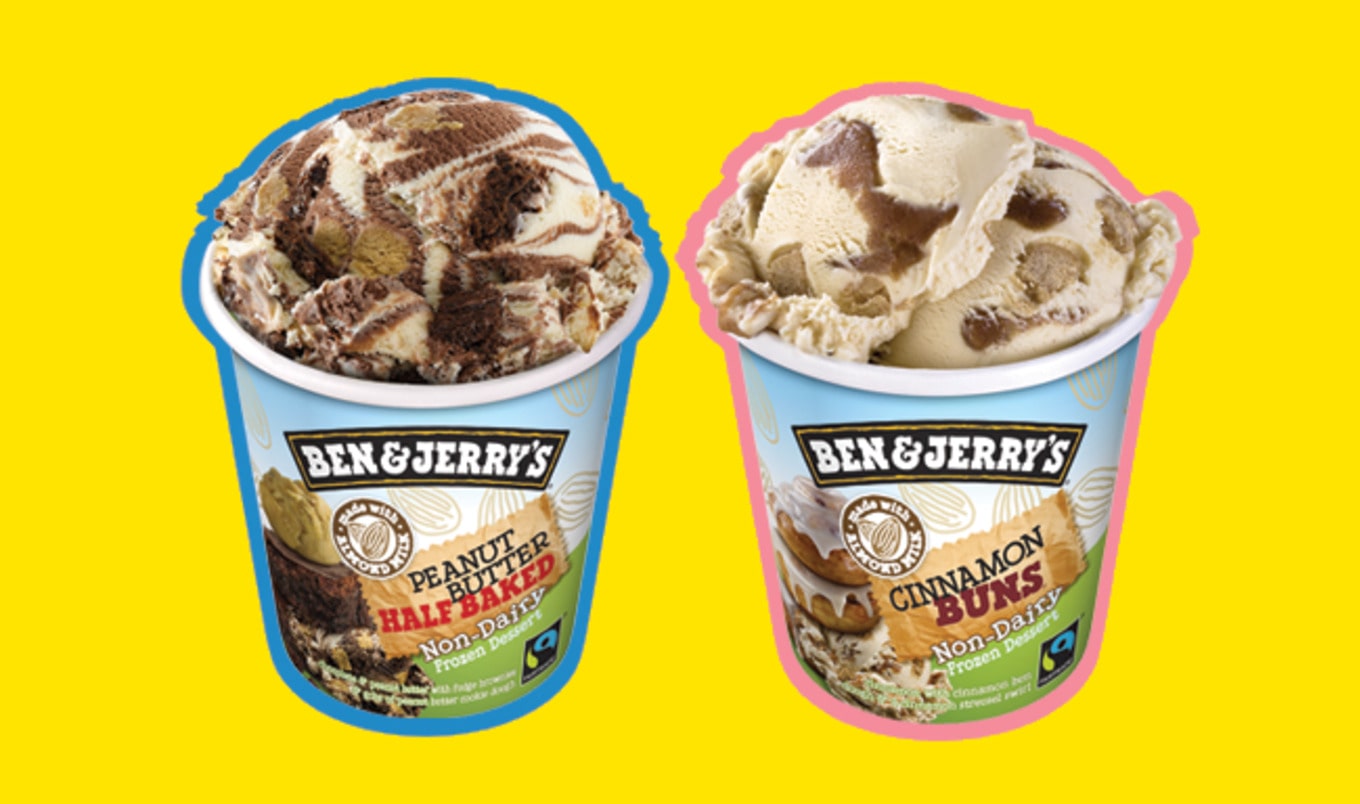 Non-dairy pints now comprise 20 percent of the iconic ice cream brand's products thanks to the addition of two vegan versions of fan-favorite flavors.
January 16, 2018
---
Ice cream brand Ben & Jerry's added two new non-dairy flavors today to its growing line of vegan options. Both flavors are made with an almond milk base and are vegan versions of the brand's best-selling flavors. Peanut Butter Half Baked features chocolate and peanut butter with fudge brownies and pieces of peanut butter cookie dough, while Cinnamon Buns is made with cinnamon-spiced ice cream and features cinnamon bun dough and a cinnamon streusel swirl. "When our fans asked for non-dairy," Ben & Jerry's assistant brand manager Nelia Horikawa told VegNews, "we listened. We're always working to bring Ben & Jerry's fans the latest and greatest flavors." Ben & Jerry's first debuted its non-dairy line in 2016 with four flavors—PB & Cookies, Coffee Caramel Fudge, Chunky Monkey, and Chocolate Fudge Brownie. In 2017, the ice cream brand added three more flavors to its non-dairy line, including Cherry Garcia, Coconut Seven Layer Bar, and Caramel Almond Brittle. "With two new flavors," Horikawa said, "20 percent of our total product line-up is now non-dairy based." Last year, the brand asked fans on social media for insight regarding which vegan flavors they wanted Ben & Jerry's to develop next, and, according to Horikawa, some of the brand's most popular flavors have been fan suggestions. "In general, we have been very pleased with this product line and our fans' response and excitement around the offering," Horikawa said. Last year, a number of non-vegan ice cream brands—such as Breyers, Häagen-Dazs, and Halo Top—debuted non-dairy flavors. Starting today, the new Ben & Jerry's pints will be available for purchase at scoop shops and retailers nationwide.
JUST LAUNCHED! Get our 10 Easy Vegan Summer Meals recipe book as a FREE instant download.
JUST LAUNCHED! Get our 10 Easy Vegan Summer Meals recipe book as a FREE instant download.