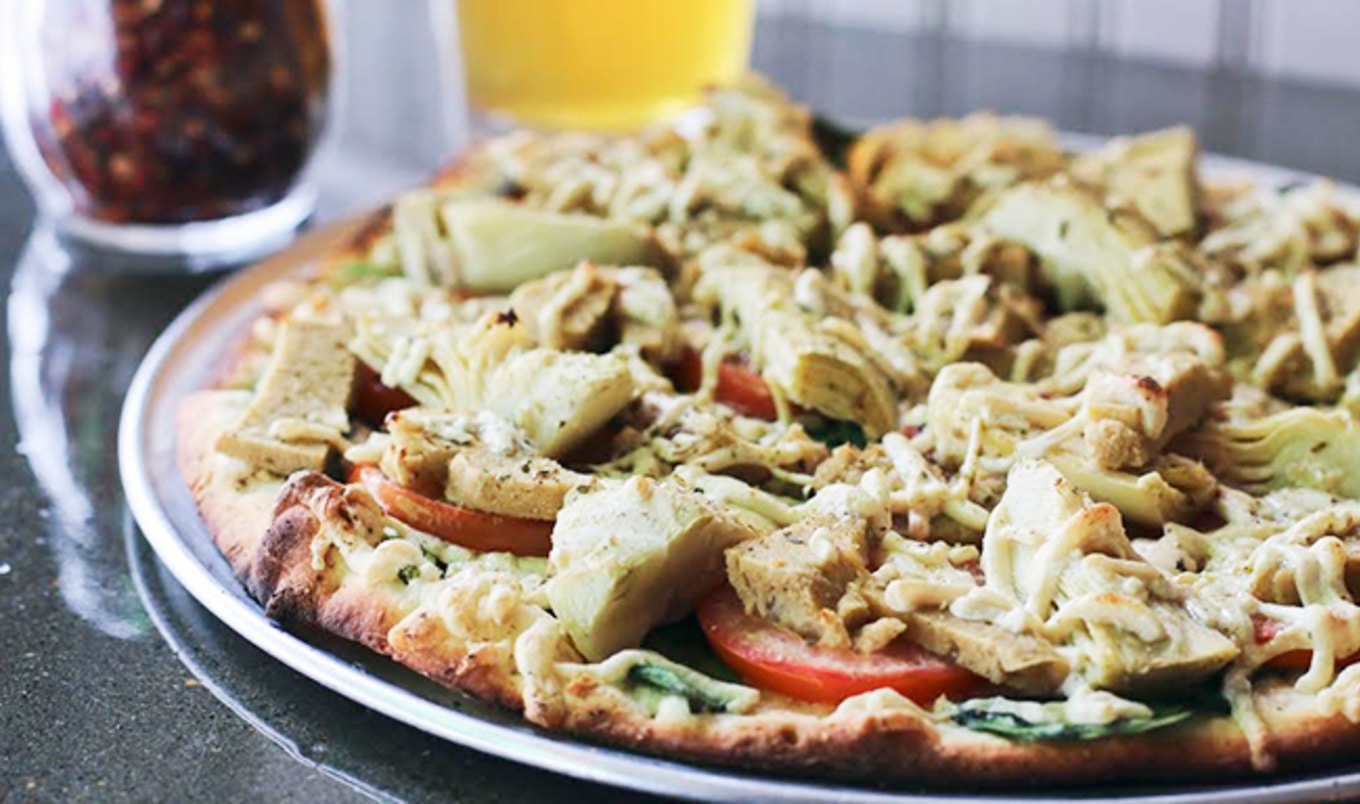 Parkway Pizza partners with vegan shop The Herbivorous Butcher to create a full vegan menu that features pepperoni, chicken, cheesy toast, and meatball hoagies.
January 30, 2018
---
Minneapolis-based chain Parkway Pizza partnered with local vegan shop The Herbivorous Butcher to develop a fully vegan menu, which is now available at its three locations. The family-owned chain now serves a separate vegan menu that features two prepared pizzas: the "Vegavore" (topped with pepperoni, sausage, hamburger, and cheese) and the "Artichicken" (topped with an oil and garlic sauce, chicken, tomatoes, artichokes, spinach, and cheese). The menu also includes vegan hoagies and pasta dishes that come with a side of garlic bread and red sauce. "We've offered some popular vegan options in the past, like vegan cheese and mock duck," Parkway Pizza owner Sam Nestingen told VegNews, "but decided to be fully inclusive of our vegan customers by expanding our vegan offerings." Nestingen decided to partner with The Herbivorous Butcher because he says its vegan products are of superior quality and choosing the Minneapolis-based business is aligned with the chain's mission to support its surrounding community. In recent months, Pizza Hut and Domino's added vegan options to its locations in the United Kingdom and Australia, respectively, but have yet to introduce similar options in the United States. "When a small local pizza shop can believe in putting something like vegan cheese or meat on their product, and more and more of them start to do it," The Herbivorous Butcher co-founder Kale Walch told VegNews, "then the big dogs start to pay attention. We see it happening everywhere bit by bit, and this is just another piece of the puzzle." Nestingen is currently working on introducing more vegan options (such as artichoke dip) and promoting the new vegan menu to Parkway Pizza's existing customers.
JUST LAUNCHED! Get our 10 Easy Vegan Summer Meals recipe book as a FREE instant download.
JUST LAUNCHED! Get our 10 Easy Vegan Summer Meals recipe book as a FREE instant download.