Products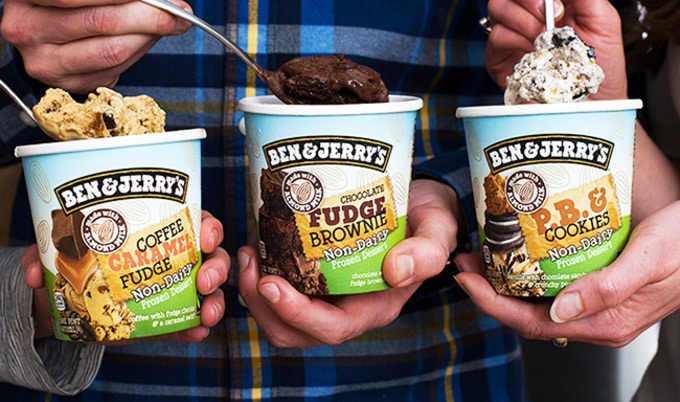 Ben & Jerry's Gives Away Vegan Scoops on Free Cone Day
This year, the iconic ice cream brand's 40th annual Free Cone Day is a must-visit for the dairy-free crowd.
March 25, 2018
---
Ben & Jerry's scoop-shop locations will feature the brand's vegan flavors during its annual Free Cone Day on April 10. The company debuted the worldwide event 40 years ago as a way to show customers its appreciation. This year, Ben & Jerry's added two new dairy-free flavors—Peanut Butter Half Baked and Cinnamon Buns—to its vegan pint selection, which, at nine almond milk-based flavors, comprises 20 percent of the brand's product line. Eric Fredette, Ben & Jerry's "Flavor Guru," explained to VegNews why it is important to the business to include dairy-free options in its event. "Free Cone Day is a Ben & Jerry's annual tradition where we take time to give back to all of our fans," Fredette said. "It is the Ben & Jerriest day of the year and, true to our values, it's inclusive of all. We are happy to provide non-dairy options for our fans and are proud to serve them on Free Cone Day, and every other day of the year." Ice-cream lovers can get a free scoop of vegan ice cream (flavors vary by location) from 12pm to 8pm at participating Ben & Jerry's scoop shops worldwide.
Let's get FABULOUS! Order your copy of the hot-off-the-press VegNews Guide to Being a Fabulous Vegan — filled with everything you need to know to live a super-fabulous vegan life (including our all-time favorite recipes)!
Order Now