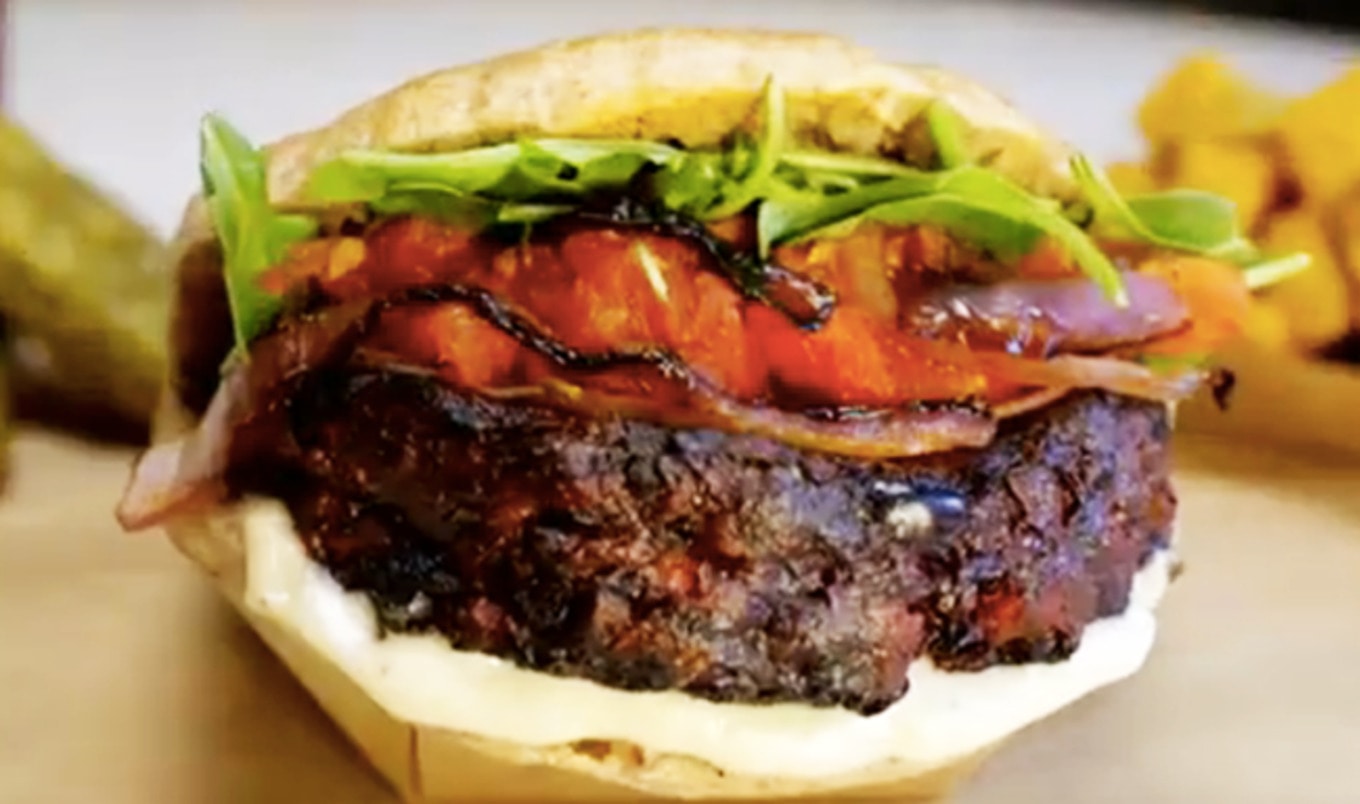 Top Chef contestant Carla Hall can't stop thinking about Washington DC-based eatery Shouk's flavorful vegan burger.
March 21, 2018
---
A recent episode of Food Network's "Best Thing I Ever Ate" —which airs on sister station Cooking Channel—featured a vegan burger. The long-running series highlights memorable foods that television personalities describe as the best they have ever eaten. The segment focused on Top Chef contestant Carla Hall, who revealed that one of her favorite meals was a vegan burger from Washington DC-based vegan eatery Shouk. "When I tasted the Shouk burger," Hall recalled, "it was so flavorful and delicious. I was two bites in, and I knew this was the best dang burger I have ever tasted … and there wasn't even any beef in there." Hall said that she is neither vegan nor vegetarian but described the vegan burger as "mind-blowing." The Shouk burger features a spiced patty (made with legumes, seared mushrooms, and beets) that is layered with roasted tomatoes, pickled turnips, arugula, and charred onions, before being stuffed into a tahini-slathered pita bread. At the end of the segment, Hall phoned her husband to request that he order a Shouk burger so she could consume it after the show was done filming. "Our mission has always been to serve crave-able plant-based food that satisfies instead of restricts," Shouk founder Ran Nussbacher told VegNews. "The Shouk burger being featured alongside non-plant based burgers as one of the best things Carla Hall has ever eaten reaffirms for us that we are doing something right." The vegan eatery opened in 2016 and, in addition to its now-famous burger, serves "modern Israeli fast-food" such as breakfast pita sandwiches, polenta fries, a cashew-based labneh yogurt dip, and wine on tap.
JUST LAUNCHED! Get our 10 Easy Vegan Summer Meals recipe book as a FREE instant download.
JUST LAUNCHED! Get our 10 Easy Vegan Summer Meals recipe book as a FREE instant download.