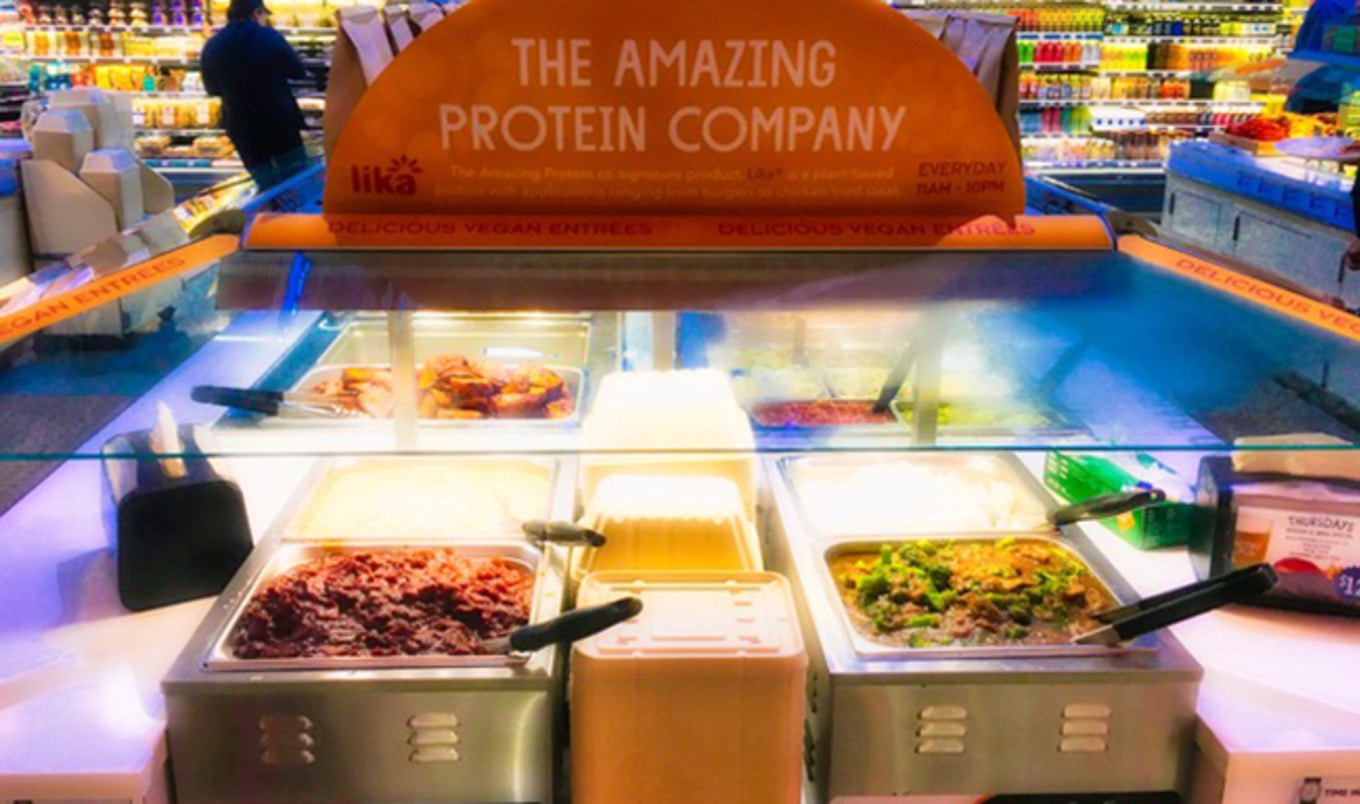 The Amazing Protein Company's plant-based Lika protein is now available in the prepared foods section across the Southwest Pacific region of the grocery chain.
April 23, 2018
---
Vegan dishes made with Lika—a meat alternative produced by California-based brand The Amazing Protein Company—debuted this month in the prepared dishes section of Whole Foods Markets throughout the Southwest Pacific region. Shoppers can purchase four dishes made with the proprietary meat alternative: Chinese-style Beef & Broccoli, Classic BBQ Beef, Lika with Coconut Curry, and Lika with Masala Curry. Lika is made from five ingredients (mushrooms, wheat, yeast, barley, and water), absorbs spices better than animal protein, and can be prepared with a variety of cooking techniques, including grilling, braising, and barbecuing. Whole Foods first introduced customers to Lika earlier this year at select locations in Southern California, and The Amazing Protein Company CEO Swami Nathan told VegNews that the test-launch proved successful. "Since mid-January, over 28,000 Southern California Whole Foods customers have purchased Lika in [Whole Foods'] top nine stores, many of them not vegans or vegetarians," Nathan said. "The outstanding performance of Lika has shown Whole Foods it has a much bigger audience for vegan food than it realized, even in stores with the highest-grossing meat departments." Following the success of the brand's test-launch, Whole Foods' Playa Vista location installed a dedicated hot-food bar where customers can purchase prepared vegan dishes made with Lika. Last week, the same region of Whole Foods—which spans California, Arizona, Southern California, and Hawaii—added vegan macaroni and cheese ("Mac & Yease"), which vegan chef/creator Ayindé Howell hopes will serve as a compliment to existing plant-based protein options.
JUST LAUNCHED! Get our 10 Easy Vegan Summer Meals recipe book as a FREE instant download.
JUST LAUNCHED! Get our 10 Easy Vegan Summer Meals recipe book as a FREE instant download.