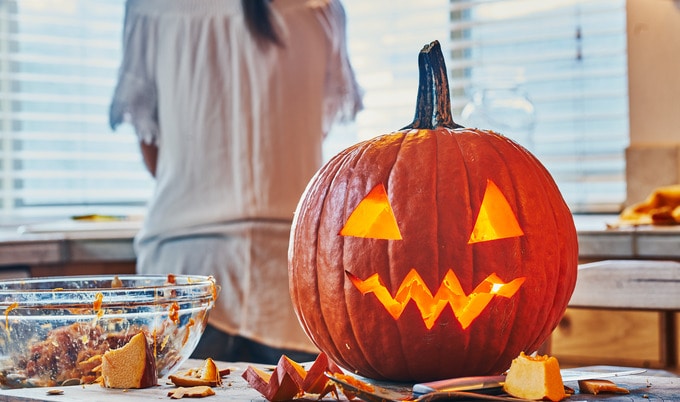 The VegNews Guide to Perfect Halloween Pumpkins
Carving pumpkins is the perfect pre-Halloween activity. VegNews shows you how.
Aside from the mountains of vegan candy, pumpkins are probably our favorite part of Halloween. And carving them is the perfect outlet for our creativity. Here are five tips for perfecting your pumpkin artistry!
1. Use a real pumpkin. Plastic or resin pumpkins sold as decorations are problematic.
2. Procrastinators beware—pumpkins rot. Pumpkin carving is not something you can leave unfinished and go back to in a few weeks.
3. Use the proper tools. X-acto knife is too small, chainsaw is too big.
4. Save the insides of the pumpkin. They can be used as a terrific Halloween fright wig.
5. Whenever using sharp objects, have a tourniquet nearby.
Seriously, there are no simple tips for carving a good pumpkin. Get a kit from the craft store, follow the directions, use the tools, and have fun.
Of course, there's no reason to discard the seeds after your art project is done. Here's our favorite recipe for slightly spicy seeds. These are perfect straight out of the oven, but if you can restrain yourself, toss them over a salad or top your favorite fall soup with them for an element of crunch.
Spooky Spiced Pumpkin Seeds
Serves 2
What you need:
1 tablespoon vegan butter
1 teaspoon Cajun seasoning
½ teaspoon sugar
Seeds from one medium pumpkin, washed and dried
What you do:
1. Preheat oven to 300 degrees, and line a baking sheet with parchment paper. In a medium sauté pan over medium heat, melt butter. Add cajun seasoning and sugar, stir, and cook for 1 minute.
2. In a mixing bowl, toss pumpkin seeds and seasoning mixture. Spread seeds onto prepared baking sheet in a single layer and roast in oven for 20 to 25 minutes until golden brown.
Want more of today's best plant-based news, recipes, and lifestyle?
Get our award-winning magazine!
Subscribe