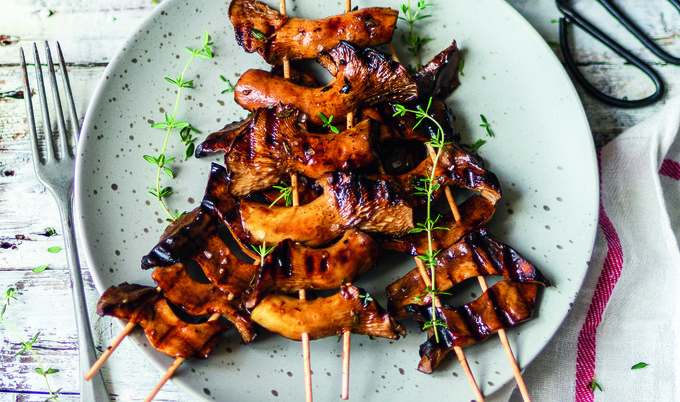 Vegan Grilled King Oyster Mushrooms
Mushrooms! They're so versatile and meaty! This simple, grilled recipe features juicy oyster mushrooms in a flavorful marinade.
These tender grilled king oyster mushrooms from VBQ: The Ultimate Vegan Barbecue Cookbook are packed with flavor thanks to tangy balsamic vinegar and fresh thyme.
What you need:
9 ounces king oyster mushrooms
3 garlic cloves, minced
¼ cup balsamic vinegar
¼ cup olive oil
1 tablespoon fresh thyme
½ teaspoon salt
What you do:
Clean mushrooms with a damp cloth and halve lengthwise.
For the marinade, in a small bowl, mix garlic, balsamic vinegar, oil, thyme, and salt. Add mushrooms to marinade, stir well and let sit for 30 minutes in refrigerator.
Remove mushrooms from marinade and thread onto bamboo skewers. Cook over indirect heat on grill for 8 minutes each side, then serve hot.
Photo credit: Nadine Horn and Jörg Mayer
Let's get FABULOUS! Order your copy of the hot-off-the-press VegNews Guide to Being a Fabulous Vegan — filled with everything you need to know to live a super-fabulous vegan life (including our all-time favorite recipes)!
Order Now