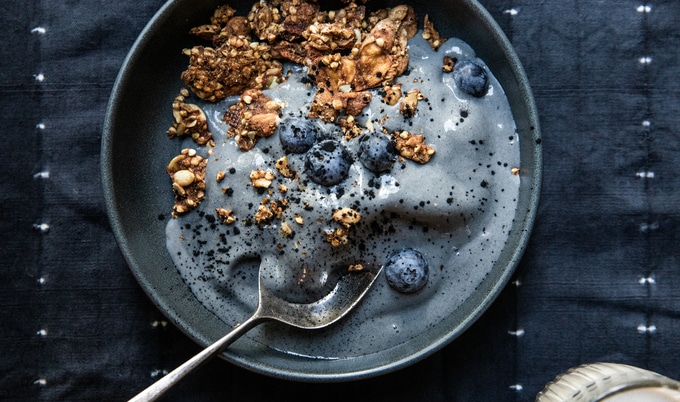 Vegan Cosmic Smoothie Bowl
Power up with this antioxidant-packed breakfast bowl that will leave you ready to take on the day.
This charcoal-infused smoothie bowl from the Wild Recipes cookbook is helpful for aiding digestion and makes a beautiful base for dressing up with your favorite smoothie bowl toppings for an Instagram-ready meal.
What you need:
For the smoothie bowl:
1 banana, peeled, sliced, and frozen
1 teaspoon food-grade activated charcoal powder
1 teaspoon fennel seeds
1 teaspoon ground vanilla bean
4 tablespoons almond milk

To serve:
¼ cup granola
⅓ cup fresh blueberries


What you do:
For the smoothie bowl, into a high-speed blender, add all ingredients and blend until smooth and creamy.
Pour into a serving bowl and sprinkle with granola and berries.
Photo credit: Greta Rybus
Let's get FABULOUS! Order your copy of the hot-off-the-press VegNews Guide to Being a Fabulous Vegan - filled with everything you need to know to live a super-fabulous vegan life (including our all-time favorite recipes)!
Order Now