Vegan couple Joaquin Phoenix and Rooney Mara will be part of Countdown Global Livestream this weekend and they're bringing a vegan message to the climate conference. Hosted by Latif Nasser, co-host of Radiolab, from the TED World Theater in New York, the multi-media TED event was created in partnership with the UN Climate Change Conference (COP26) and is hosted by YouTube Originals. Focusing on solutions to the climate crisis, the virtual event will bring together climate experts, activists, and business and government leaders, along with celebrity guests such as Don Cheadle, Rainn Wilson, Regina Hall, Mark Ruffalo, Mayim Bialik (who is also a longtime vegan), and musical guests Valerie June, Dave Matthews, and Charlie Puth.
"We know we're in a global crisis, yet we spend too little time focused on the solutions," Lindsay Levin, Countdown founding partner and CEO of Leaders' Quest, said in a statement. "The Countdown Global Livestream will showcase examples of positive changes already underway and how we can scale them to build a better future for everyone."
The event will livestream on TED's YouTube Channel from 12pm to 2:30pm ET on October 30—the eve of the official opening of COP26 in Glasgow, Scotland. The Countdown Global Livestream wraps a week of sustainability focused YouTube Originals and follows TED's in-person climate conference in Edinburgh, where an entirely plant-based, climate-friendly menu was served.
"We believe that all of us must play a role in addressing climate change," Chris Anderson, Countdown founding partner and Head of TED, said in a statement. "While global leaders start to gather in Glasgow, we created the Countdown Global Livestream as a place for family and friends across the globe to come together to take action on climate change."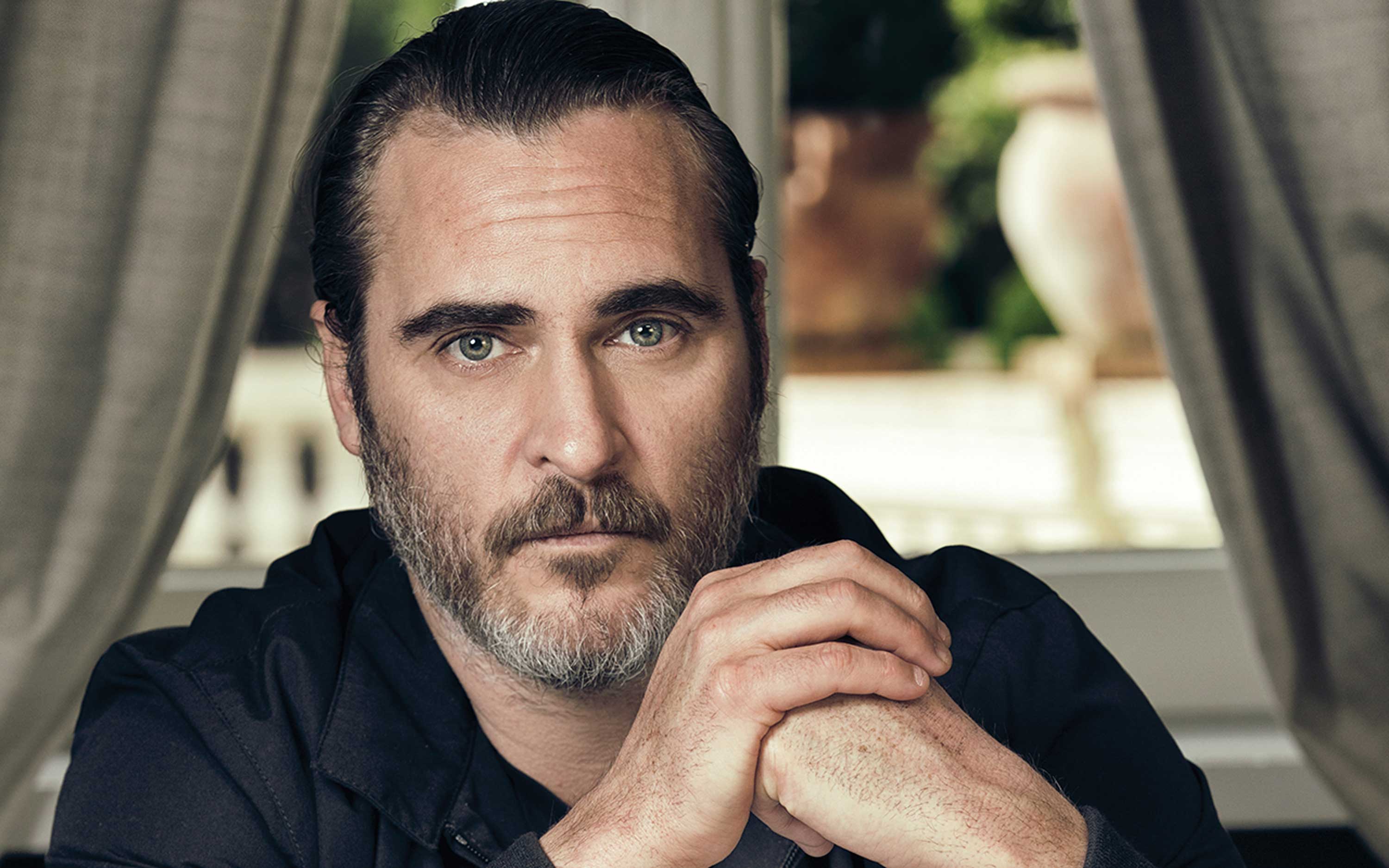 Joaquin Phoenix and Rooney Mara's vegan message
Animal agriculture—which contributes 14.5 to 16.5 percent of all anthropogenic greenhouse gas (GHG) emissions globally—has been widely ignored as a topic of discussion at previous climate talks and Phoenix and Mara hope that the COP26 is different.
Phoenix and Mara will be appearing via video at the event and their message will be squarely focused on how the climate crisis is fueled by animal agriculture. "We are in a true planetary emergency and most people don't know that the number one contributing factor to increasing global temperatures is the way we fuel our homes, our businesses, our modes of transportation, and our bodies," Phoenix said in a video statement. "Now, we're going to have to transform these systems in a massive way, and soon."
Sitting at his side, Mara spoke about the individual choices people can make to fight the climate crisis, starting with ditching animal products. "All of that can feel very overwhelming but for us, being vegan is a privileged choice we get to make every day, multiple times a day, that we know will make a huge impact," Mara said. "There are so many decisions that are outside of our control that affect our lives and the planet. But this is one thing that we do have control over that we know will make a difference."
To further help change the narrative, last month, Phoenix, along with a group of fellow vegan celebrities such as Billie Eilish, Moby, Alan Cumming, Evanna Lynch, and Alicia Silverstone, joined the Humane Society International's #CowIntheRoom campaign. Together, the celebrity activists sent an urgent demand letter to COP26 President Rt. Hon. Alok Sharma, demanding that he include the role of animal agriculture in all discussions about the climate crisis.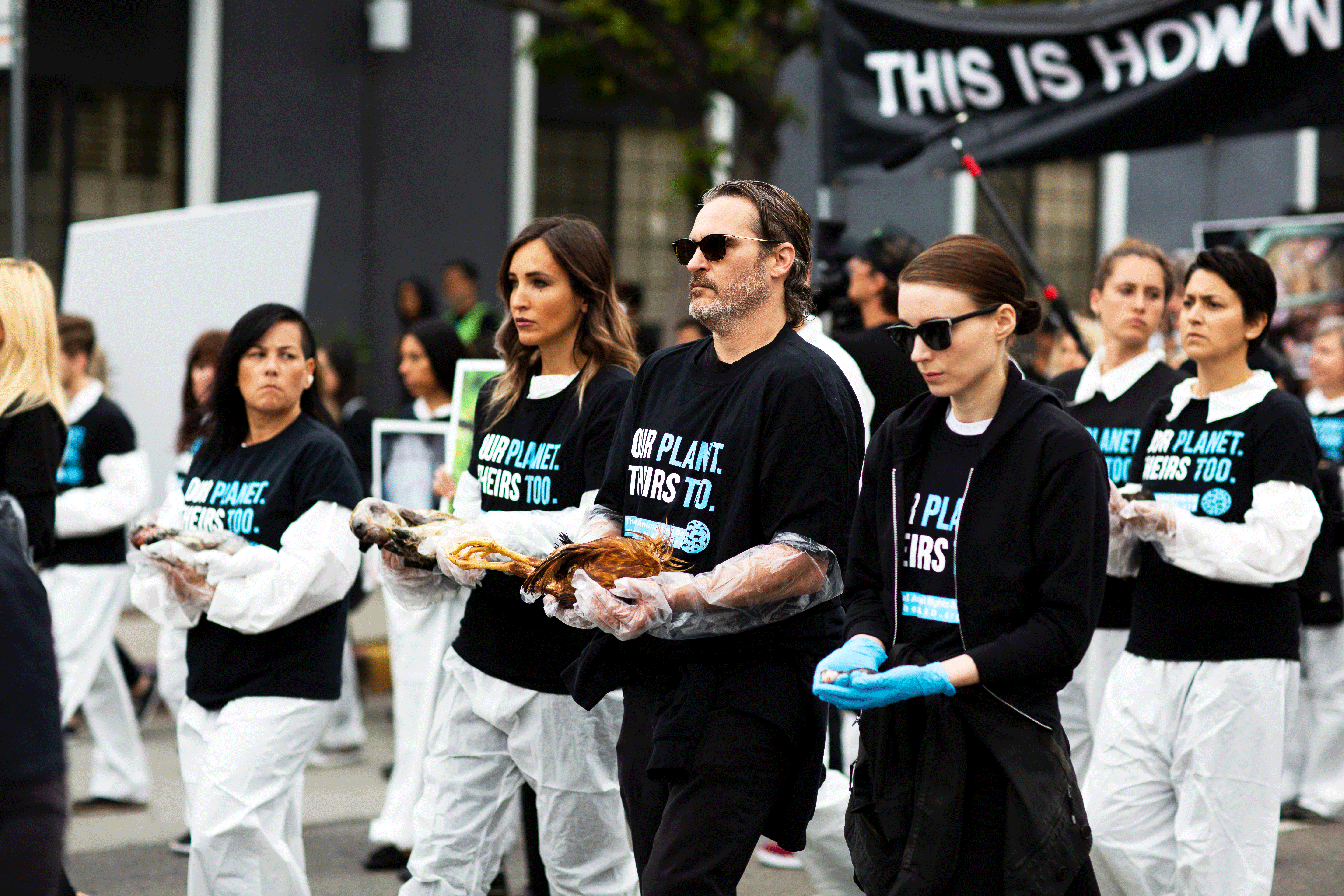 Joaquin Phoenix and Rooney Mara are vegan for good
Phoenix and Mara—who recently welcomed their first child, River, named after Phoenix's late brother—are longtime vegan activists and have used their respective platforms to promote animal-rights issues. One such instance was during last year's 92nd Annual Academy Awards. After accepting his best actor award for his starring role in Joker, Phoenix—who helped many award shows during last year's cycle go plant-based—delivered a moving speech about the intersections of injustice, placing emphasis on the exploitative nature of animal agriculture, particularly the dairy industry.
"We've become very disconnected from the natural world. We feel entitled to artificially inseminate a cow and when she gives birth we steal her baby, even though her cries of anguish are unmistakable. And then we take her milk that's intended for her calf and we put it in our coffee and cereal," Phoenix said during his speech. "I think when we use love and compassion as our guiding principles, we can create and develop and implement systems of change that are beneficial to all sentient beings and the environment."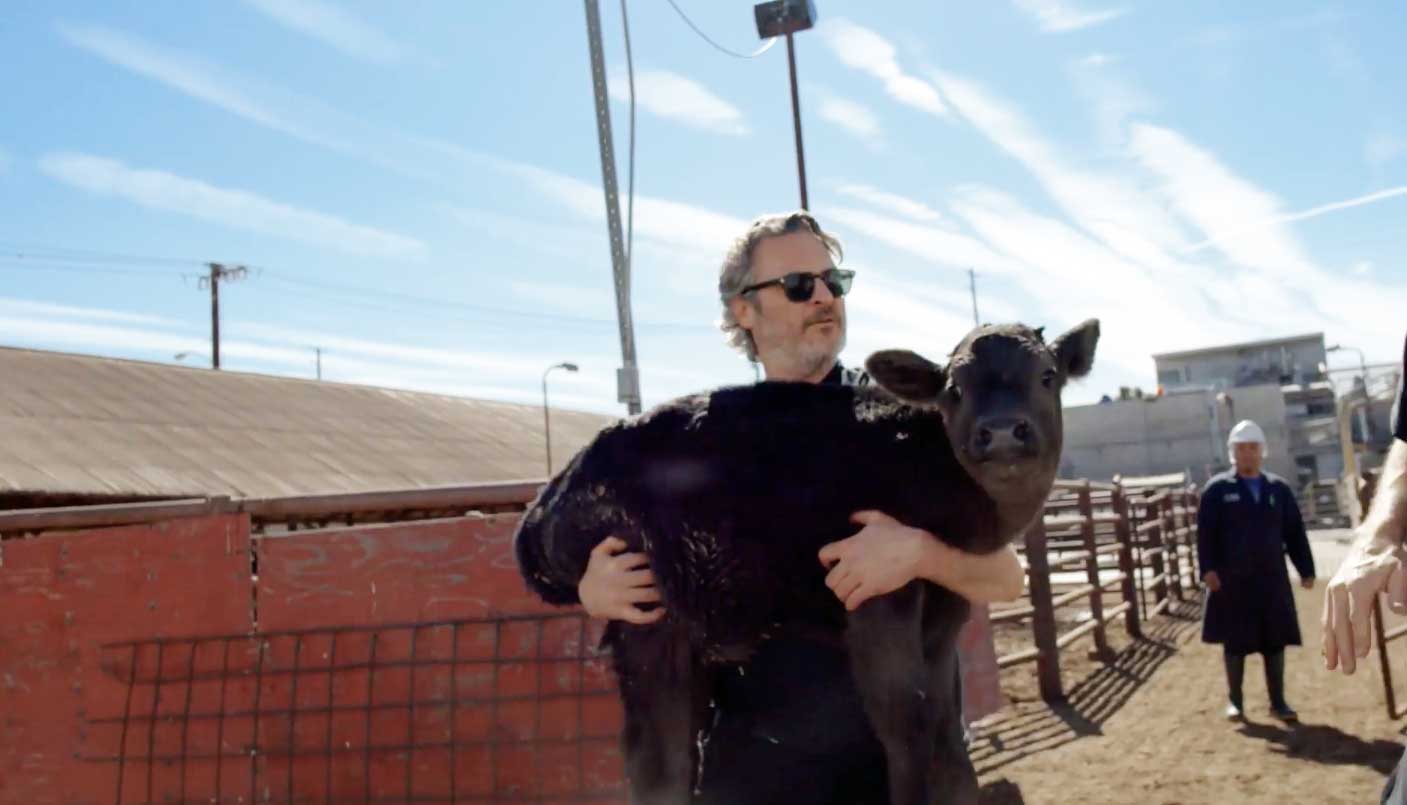 After the Oscars, as the media continued to focus on Phoenix after he swept the awards season, he and Mara diverted the attention to animal-rights issues. Instead of schmoozing with the other stars at after-parties serving beef burgers, the duo dined at vegan fast-food chain Monty's Good Burger. Then, the couple headed out to local Los Angeles area slaughterhouse Manning Beef to rescue a mother cow and her calf. The cows, mother Liberty and daughter Indigo, are now living out their natural lives at Farm Sanctuary in Acton, CA, where they are frequently visited by Phoenix and Mara.
For more about Joaquin Phoenix and Rooney Mara, read:
Joaquin Phoenix and Rooney Mara March for Animal Rights
Joaquin Phoenix and Rooney Mara Welcome First Child Named River
Joaquin Phoenix Shares Story of Rescuing Cows From "Factory of Death"
Photo credit: TED Countdown