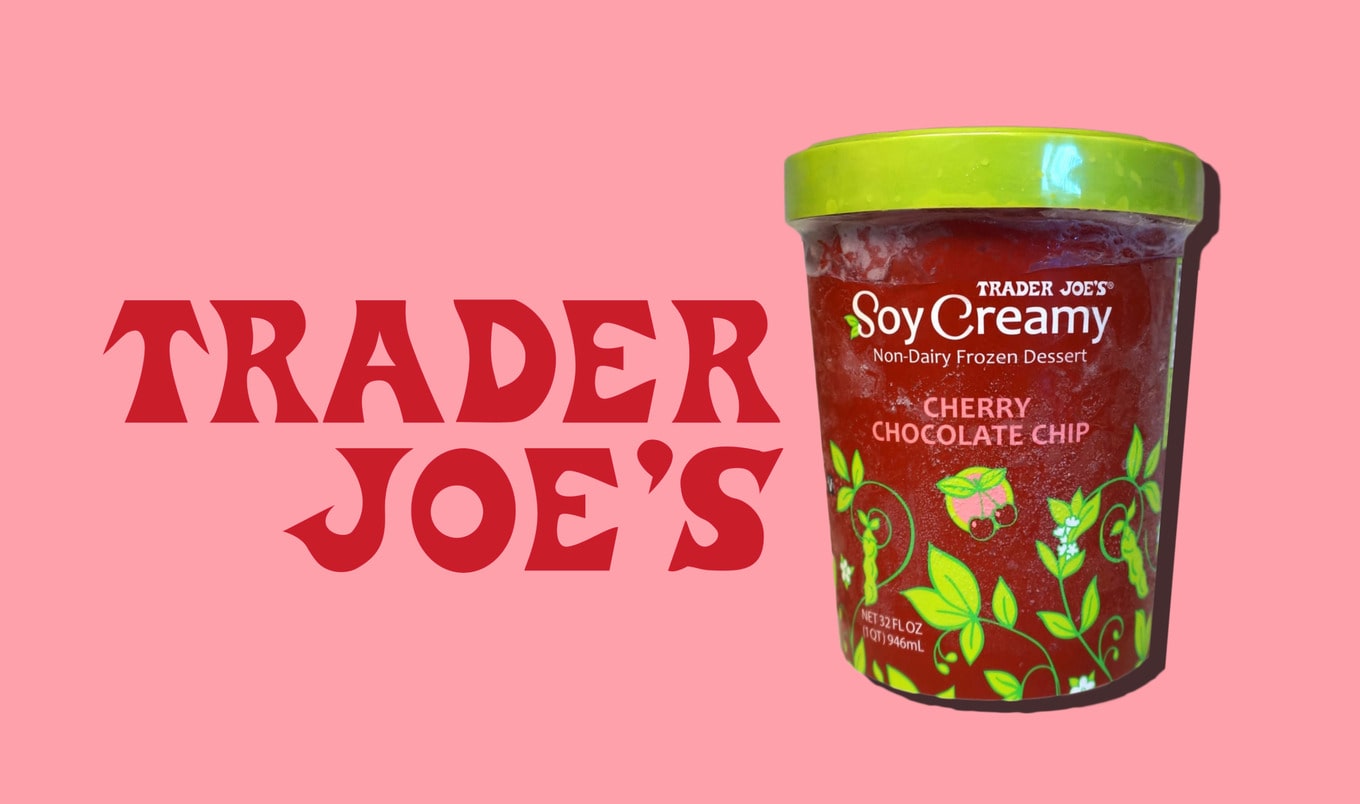 We are completely obsessed with these sweet treats, and you're about to be, too.
March 14, 2021
---
Trader Joe's is consistently changing the game with innovative new vegan twists on classic eats. Plant-based ice cream, mochi, cookies, and more are keeping our sweet tooth satisfied, and at budget-friendly prices, our wallets happy. Here are 12 desserts at TJ's we can't live without.
View this post on Instagram
1. Dark Chocolate Sunflower Seed Butter Cups
Who needs Reese's? We're so here for these peanut-free dark chocolate sweets, conveniently located by the registers, for a grab-and-go sweet tooth fix.
View this post on Instagram
2. Organic Almond Beverage Chocolate Bar
The name is a bit confusing here. What Trader Joe's is trying to say is "vegan milk chocolate." That's right. Run, don't walk, to your nearest location now.
View this post on Instagram
3. Soy Creamy Cherry Chocolate Chip Ice Cream
Make the ultimate ice cream sundae with giant scoops of this ice cream studded with Oregon-grown Bing cherries and dairy-free dark chocolate chunks, all for under $4!
View this post on Instagram
4. Créme Sandwich Cookies
Whether you prefer lemon or chocolate, TJ's has you covered. We highly recommend trying one of each flavor of these vegan soft-baked sandwich cookies. The Lemon Créme has a wonderful pucker and the Chocolate Brownie & Vanilla Créme is deliciously decadent.
View this post on Instagram
5. Vegan Marshmallows
We load up our steamy mugs of soy hot cocoa with these fluffy treats in the winter and roast them over campfires in the summer, but no matter the season, we'll always keep a bag of these gelatin-free marshmallows on hand.
View this post on Instagram
6. Dark Chocolate Orange Sticks
Once you pick up a bag of these, they'll become a staple! The jelly-like orange sticks are coated in a thick layer of dairy-free chocolate and totally addictive.
View this post on Instagram
7. Non-Dairy Oat Frozen Dessert in Strawberry
Don't pass up this pint assuming it's plain strawberry—the super-smooth ice cream is packed with delightfully crunchy almond brittle and sweet candied strawberries that pump up the flavor and texture. This creamy treat will make a strawberry ice cream lover out of anyone.
View this post on Instagram
8. Cheese-Less "Cheesecake"
Two mini vegan cheesecakes come in a package, and the nutrition facts suggest two servings, but we easily polished off both in one indulgent sitting. The only downside: they require two to three hours to thaw. Don't even bother putting them in the freezer when you get them home from the store.
View this post on Instagram
9. Vanilla Non-Dairy Frozen Dessert
This almond-milk-based ice cream tastes like cake batter. If this is what true vanilla tastes like, we've been missing out for years.
View this post on Instagram
10. Jumbo Cinnamon Rolls
Let's be honest, cinnamon rolls are more of a dessert than a breakfast. But there's absolutely nothing stopping us from gobbling down these ready-to-bake accidentally vegan treats in the morning. Plus, don't miss the pumpkin variety during the fall months.
View this post on Instagram
11. Chocolate Hummus
Explore the sweeter side of hummus with this creamy cocoa-packed spread. Scoop it up with TJ's Vegan Chocolate Chip Cookies, slather it on a banana, scoop it into hollowed-out strawberries, or simply spoon it into your mouth.
View this post on Instagram
12. Joe-Joe's
And last but not least … who could forget these classic Trader Joe's créme-filled cookies? Buyer beware: the gluten-free Joe-Joe's are not vegan (they contain dairy). Thankfully, the various seasonal flavors such as Matcha, Mango, and Candy Cane provide vegans with plenty of tasty options.
Sarah McLaughlin is the New Products Editor at VegNews who can often be found wandering the aisles at her local Trader Joe's.