California-based vegan eatery Honeybee Burger is aiming to become the next big fast-food chain, taking on the likes of Shake Shack and McDonald's, but with an entirely vegan menu and sustainable approach. Honeybee Founder Adam Weiss is a longtime financial professional who launched the vegan concept in 2019 with the goal of taking it national and becoming the de facto plant-based chain in places such as airports, sports arenas, business districts, and malls.
Through its colorful branding and informative messaging, Honeybee—named after the hard-working food pollinator—aims to educate consumers about the benefits of eating plant-based for animals, health, and the planet. Its menu features vegan versions of American classics, including burgers (made with a choice of Beyond Burger or Impossible Burger patties), chicken sandwiches (in Original, Buffalo, and Nashville Hot styles), and breakfast options (such as sandwiches, burritos, and bagels stuffed with JUST Egg). Honeybee also offers the Sea Bee Burger which features a patty made from kelp, mushrooms, and other superfoods; creamy vegan mac and cheese; and a variety of milkshakes.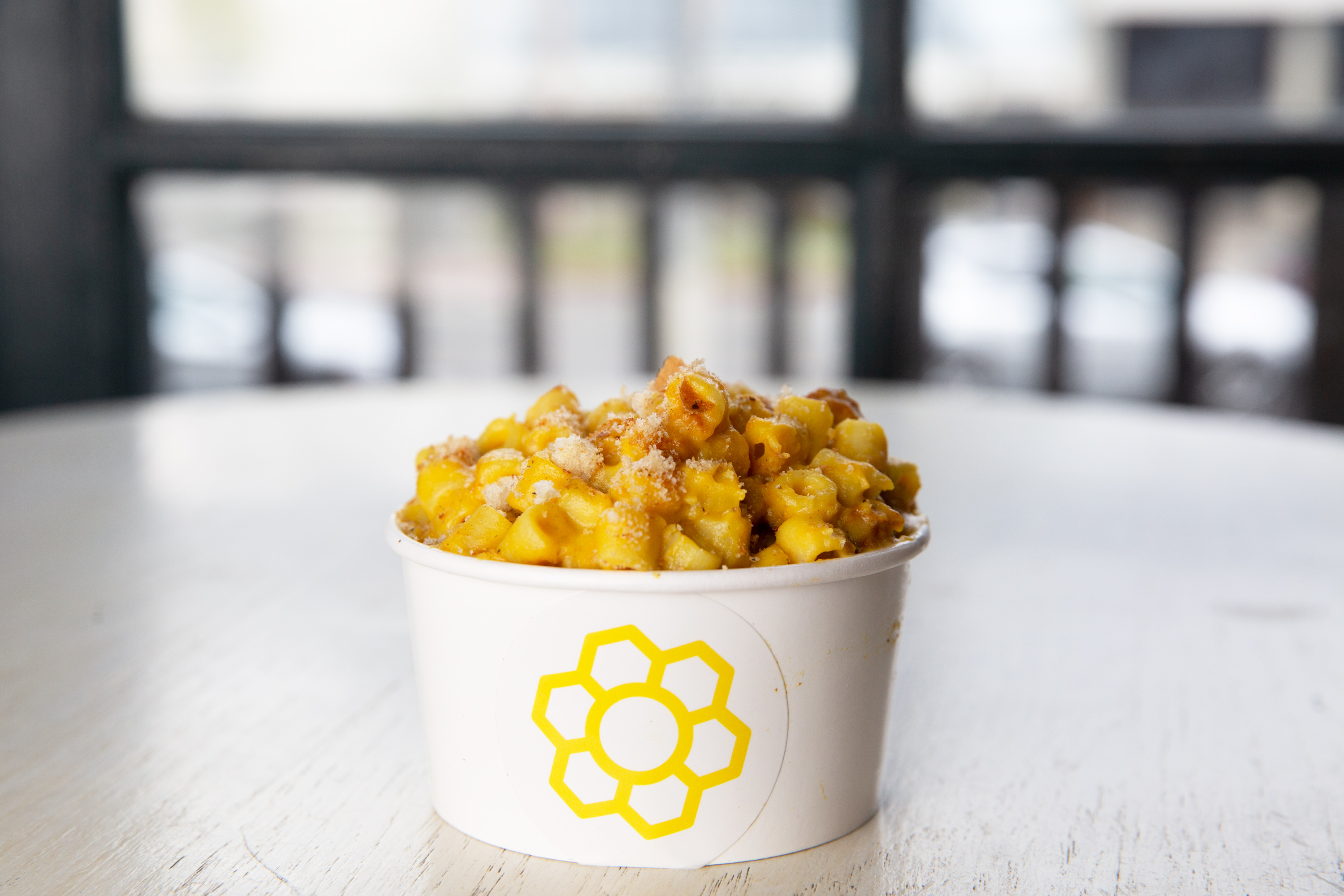 Through its menu, customers are able to discover branded vegan products (such as those made by Beyond Meat, Oatly, and kelp company Akua) while learning about the benefits of a plant-based lifestyle. Honeybee's sustainability mission also expands to other areas as the business avoids single-use plastics, containers with waxed coating (which render packaging non-compostable), and glossy advertising materials whenever possible.
"From store designs to menu names, we have created a distinctive and somewhat unique presence in a very crowded market," Weiss told VegNews. "Our branding appeals to who we refer to as the decision makers of tomorrow: millennials, young families, women, and children."
Million dollar vegan burgers
In February 2021, Honeybee launched a campaign on crowdfunding platform StartEngine and raised more than $1 million in the first six weeks (a goal it planned to hit within six months) from more than 1,400 individual investors. While the funding could have been accomplished through other channels, Weiss chose to go through StartEngine to give like-minded individual investors an opportunity to support Honeybee's bold mission on the ground floor.
"I could have pursued that capital base for Honeybee's expansion, which probably could have been accomplished with just a handful of investors, if not a single one. That certainly would have been the more typical way to finance a business at this stage," Weiss said. "Instead, I wanted investors in Honeybee to be as passionate about our mission as we are. Unfortunately, most professional investors don't think that way." Honeybee's oversubscribed funding round now has a waitlist for investments starting at $240.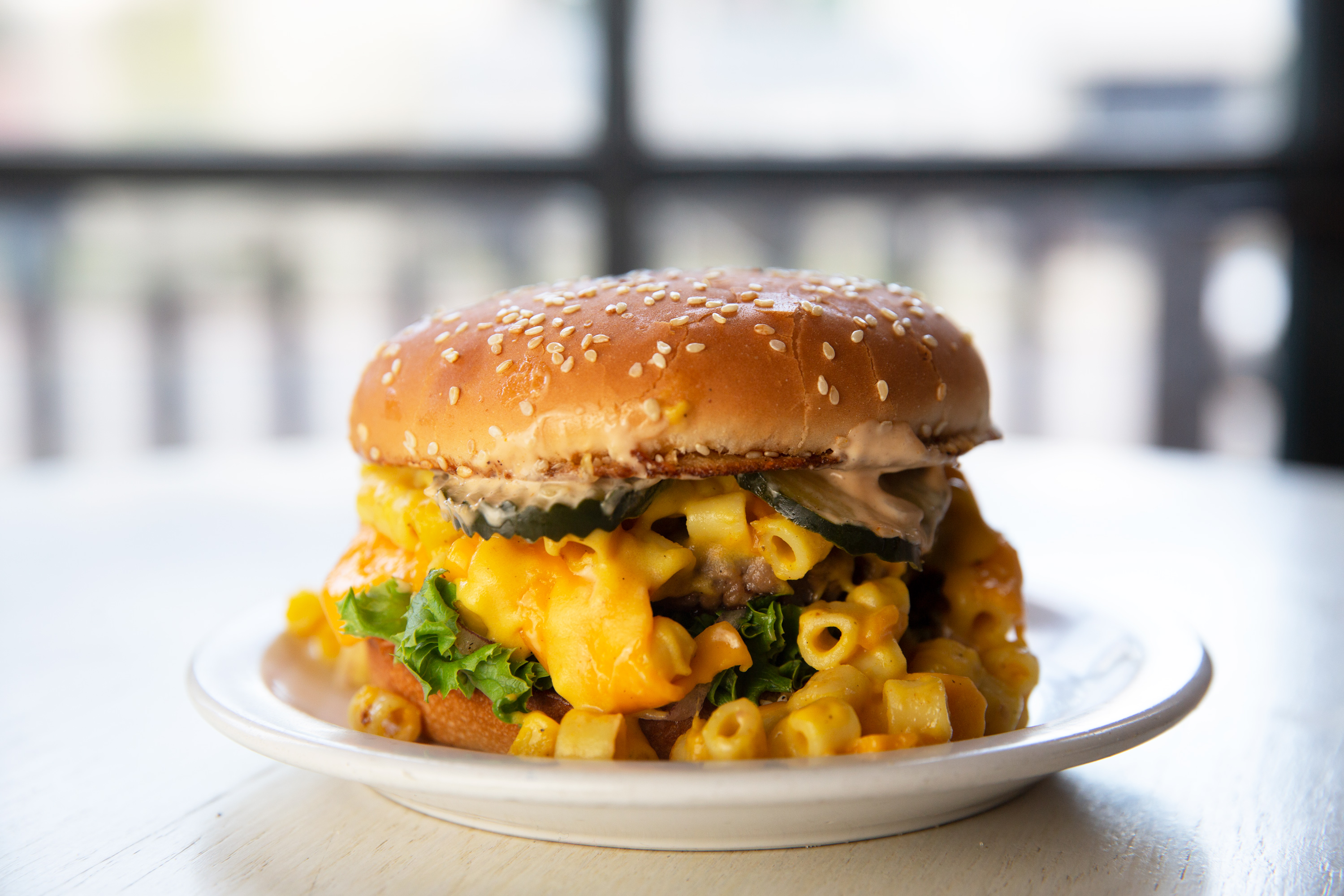 Building a national vegan burger chain
Currently, Honeybee operates one location in the Silver Lake neighborhood of Los Angeles, CA—a pilot location it used to optimize its menu and operations. Honeybee will use this location as a model for its future outposts, including its next location on La Brea Avenue in West Hollywood where it will feature a live camera feed of natural bee hives around the world meant to educate customers about the intricacy of bee colonies, along with a modern digital art display. Honeybee also opened a cloud kitchen in West Los Angeles during the COVID-19 pandemic that it will scale to future cloud kitchens to leverage its brand across Southern California and, eventually, nationwide.
Using these templates, Weiss' goal is to open four to six additional locations within 12 months and have 12 to 20 Honeybee Burger outposts operating within the next 24 to 36 months. Weiss says Honeybee's approach and branding will set the business apart from other players in the plant-based arena, which include Veggie Grill, Plant Powered Fast Food, PLNT Burger, Slutty Vegan, and other quickly growing vegan chains.
"Now is a great time to grow Honeybee, as there is no established national plant-based burger quick-service restaurant (QSR) with incumbency. Plus, we have the incredible tailwind of increasing demand for plant-based food and diets everywhere," Weiss said. "Five years ago, we didn't have the amazing plant-based options that we have today, and we see very few QSRs embracing these products as we do. But probably the most compelling reason to grow our business now is that we need to start changing our dining habits, and reduce our demand and desire for animal-based food. Our planet needs the help, and there's no time like the present."