Reality star and business mogul Kim Kardashian West shared the recipe for her favorite vegan tacos during her sister Kourtney Kardashian's second annual Poosh Your Wellness festival. During the online festival, Kardashian West created a special cooking demonstration in partnership with vegan brand Beyond Meat to show viewers how to create Kim Kardashian West's Plant-Based Tacos—a staple meal at the Kardashian West household. The vegan tacos are made with seasoned Beyond Beef, are served in gluten-free almond flour tortillas, and are topped with vegan Violife cheddar cheese, dairy-free sour cream, tomatoes, onions, and avocado. While the recipe calls for them, Kardashian West prefers her tacos without lime or cilantro.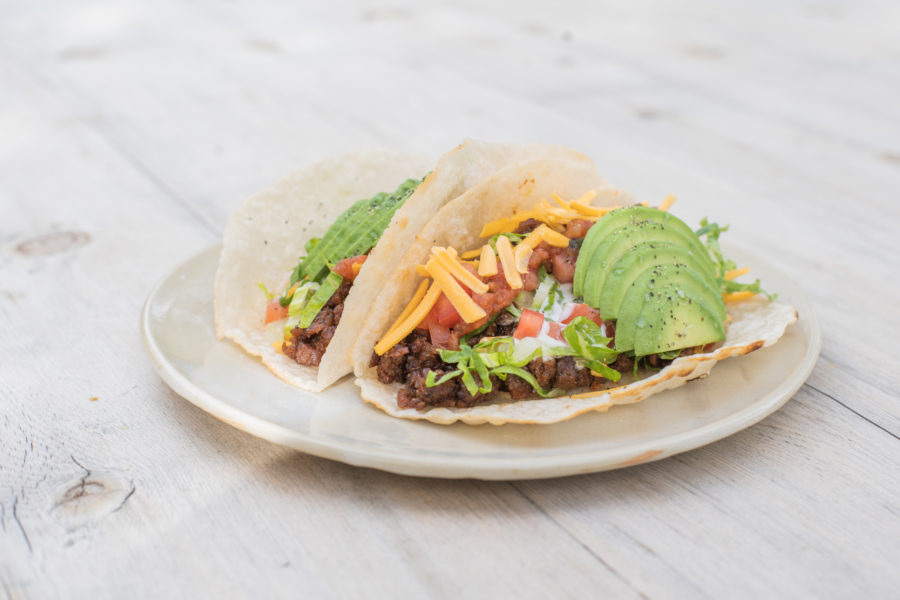 "The thing I really love about Beyond Meat is that it has zero cholesterol in comparison to real meat and it has a third less of the saturated fat. So, there is a big difference," Kardashian West, who admitted that she travels with a pack of Beyond Meat, said during the cooking demonstration. "It's a plant-based alternative to meat that looks like meat and tastes like meat—I'm such a fan."
Is Kim Kardashian West plant-based?
Kardashian West has been experimenting with the plant-based lifestyle in recent years. During the cooking demonstration, Kardashian West explained that in 2019, she initially began eating exclusively plant-based meals while dining at home. "I think I watched a documentary," she said about the beginning of her plant-based journey. "And I just met chefs that loved to cook plant-based and were teaching me so much about sea moss and all of this amazing food that had really good health benefits."
Kardashian West explained that while she initially did consume animal products when eating outside of her home, she eventually began eating fully plant-based last year after she tried a plant-based dish that impressed her. "I luckily have the help of amazing chefs that have figured out how to find the things that I really love and make a plant-based version of that." The 40-year-old star said she still might opt for fish while eating out once per month but aims to maintain a mostly plant-based lifestyle and prefers Beyond Meat over animal-derived meat.
She also recalled a few recent meals where she set up a Beyond Sausage breakfast bar and served vegan fried chicken (made with mushrooms). "No one knew the difference," she said. "Everyone was gravitating [to the food]." When it comes to her children, Kardashian West shared, "I try to get them to eat as much plant-based as possible. They really don't know the difference."