Reality star Kourtney Kardashian is officially transitioning to a plant-based diet, and she shared her food diary this week on her website, Poosh. "As you've probably noticed from Kourt's Instagram, she's gone (mostly, like 95 percent) vegan when it comes to her diet," the blog entry, entitled "What Kourt Eats in a Day: Vegan Edition," states. One of the reasons for Kardashian's transition is that she is concerned about the environmental impact of animal agriculture.
On a typical day, Kardashian's morning meal is either an avocado shake or banana smoothie made with vegan protein powder, blueberry bagel slathered in peanut butter and jelly, an açai bowl, or vegan chicken and waffles on treat days. The star's midday snacks include a combo of pickles and tangerines and Mind Right nutrition bars. For lunch, she typically opts for zucchini noodles (or "zoodles") and a piece of sourdough bread topped with vegan butter and pickles with a side of tangerines (a winning combination, according to the reality star). Kardashian's dinner options include vegan tacos or plant-based sushi (which she either makes at home or enjoys from upscale Los Angeles eatery Nobu where her go-to order is crispy rice with avocado, edamame, and an avocado roll).
The remaining 5 percent keeping Kardashian from going fully plant-based may be animal-derived collagen (a protein sourced from the connective tissues of animals) which Kardashian said she consumes in the morning in a recent Instagram post to promote her collaboration with nutrition company Vital Proteins.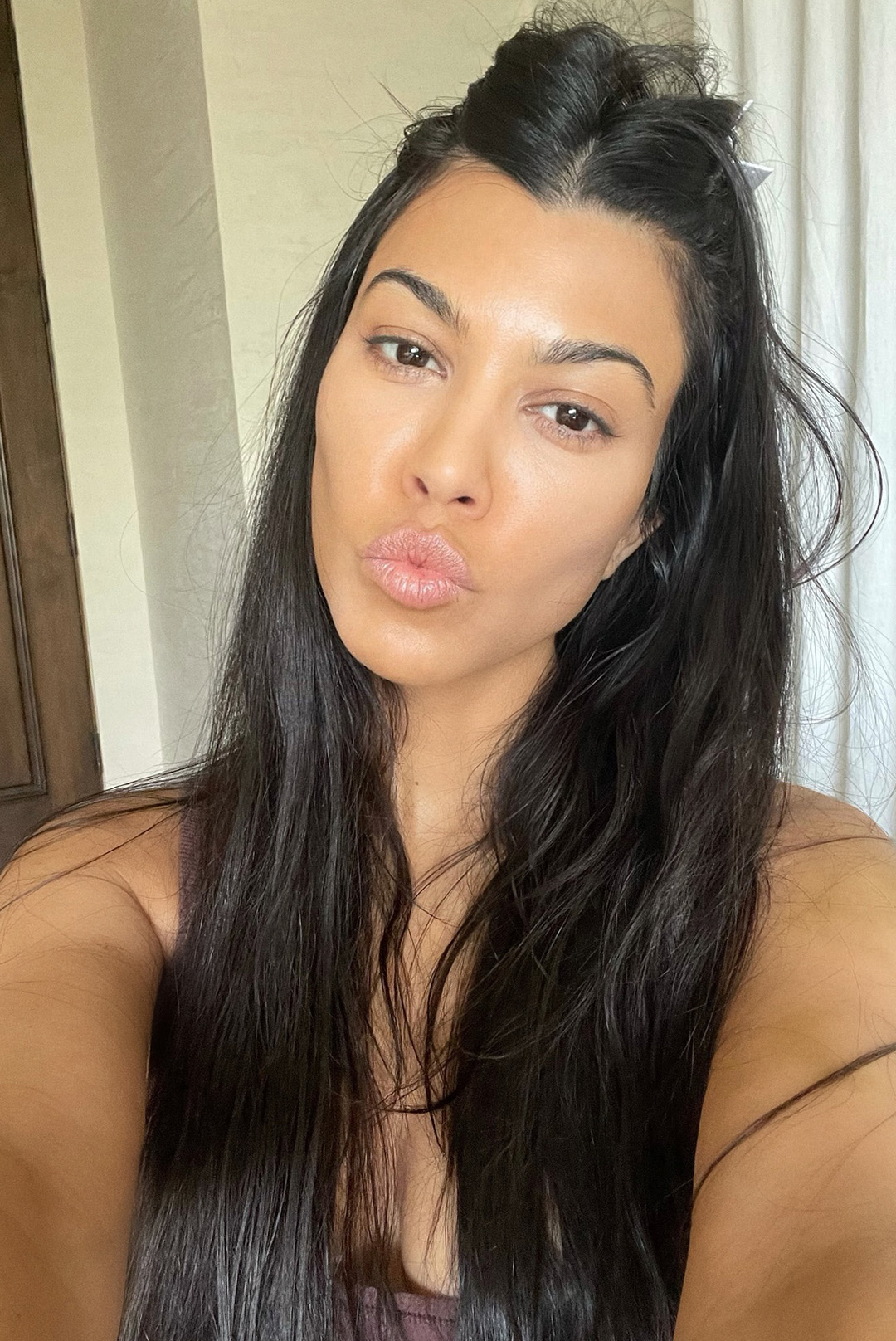 The vegan Kardashian clan
These days, Kourtney Kardashian is surrounded by vegans. Her sister Kim Kardashian West has been on a plant-based journey since 2019 when she first decided to remove animal products from her diet while dining at home. In January 2021, Kardashian West went plant-based for a second time and brought their sister Khloé Kardashian—who ditched meat in 2018 during her pregnancy with True Thompson—along for the ride during what she called a "Sister Boot Camp" challenge. Most recently, Kardashian West partnered with Beyond Meat to host a cooking demonstration, sharing a recipe for her favorite plant-based tacos, during Kourtney Kardashian's second annual Poosh Your Wellness festival this month.
In addition to her sister, Kourtney Kardashian's new love interest, Travis Barker, transitioned to veganism shortly after surviving a catastrophic plane crash in 2009 to heal his mind and body. The Blink-182 drummer—who now has several tattoos to honor Kardashian, one she even inked onto his skin herself—is also a vegan entrepreneur. In 2013, Barker partnered with celebrity chef Tal Ronnen to help him open Crossroads Kitchen, an upscale vegan eatery in Los Angeles where Kardashian gets her morning vegan chicken and waffles. Earlier this year, the 45-year-old musician launched Barker Wellness, a cannabinoid (CBD)-infused vegan and cruelty-free brand with the mission of providing vegan products for optimal physical and mental health.