Grocery chain Trader Joe's recently upped its vegan dessert options with the launch of vegan fudge ice cream bars. The Non-Dairy Frozen Dessert Chocolate Fudge Oat Bars are Trader Joe's vegan take on fudgesicles and are made with oat milk and semisweet chocolate. "These fudgy bars are a delicious gluten-free and vegan version of a nostalgic treat that comes with memories, but not the dairy," Trader Joe's describes the new vegan treats. "Chocolate-y, silky, and satisfying, these are sure to be a hit for all ages." The bars are available in a 4-pack for $3.49 each.
In addition to the new oat-based fudge bars, Trader Joe's is planning to release another vegan treat this summer. According to insiders, the grocery chain is working on a vegan version of its Hold the Cone miniature ice cream cones that feature ice cream in a waffle cone enrobed in chocolate. Additionally, the chain recently launched Vegan Cookies & Cream Vanilla Bean Bon Bons—a new flavor of the existing coconut milk-based Non-Dairy Mint & Chip Bon Bons Trader Joe's launched last winter.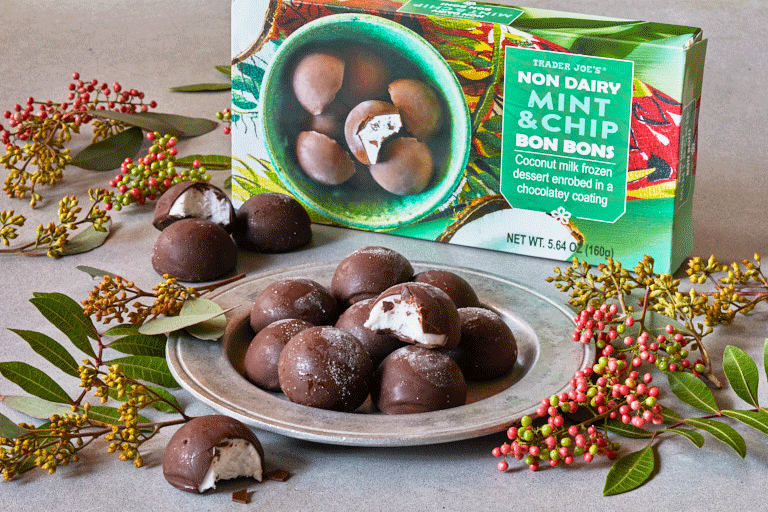 These ice cream options will join Trader Joe's growing selection of frozen vegan treats, which includes Non-Dairy Frozen Oat Desert (a vegan strawberry ice cream made with oat milk); Cheese-less Cheesecakes (vegan mini cheesecakes made with coconut milk); and classic ice cream Soy Creamy Cherry Chocolate Chip (which returned to Trader Joe's in 2019 after a brief hiatus).
Vegan at Trader Joe's
Earlier this year, Trader Joe's executives announced that a plethora of vegan options are in development at the popular grocery chain. In addition to new vegan items in the frozen aisle, the store recently added two vegan dips (tzatziki and caramelized onion), vegan bolognese (in both sauce form and as a ready-to-eat meal), and a vegan milk chocolate bar made with Trader Joe's Almond Beverage.
The Trader Joe's development team is also working to create next-level versions of its existing plant-based offerings and introduce new vegan options in the seafood category.
Photo credit: @traderjolene