This week, a group of approximately 40 cows escaped California slaughterhouse Manning Beef through an open gate. The herd ran for their lives around a nearby neighborhood in Pico Rivera, damaging cars along the way. Authorities rounded up most of the cows and returned them back to the slaughterhouse. Police shot and killed one cow after he/she charged at a family. However, one cow escaped authorities for two days before being located at a park in the South El Monte area—more than six miles away from Pico Rivera. A man—reportedly an employee of the slaughterhouse—attempted to wrangle the cow with a lasso after she knocked another man down out of fear.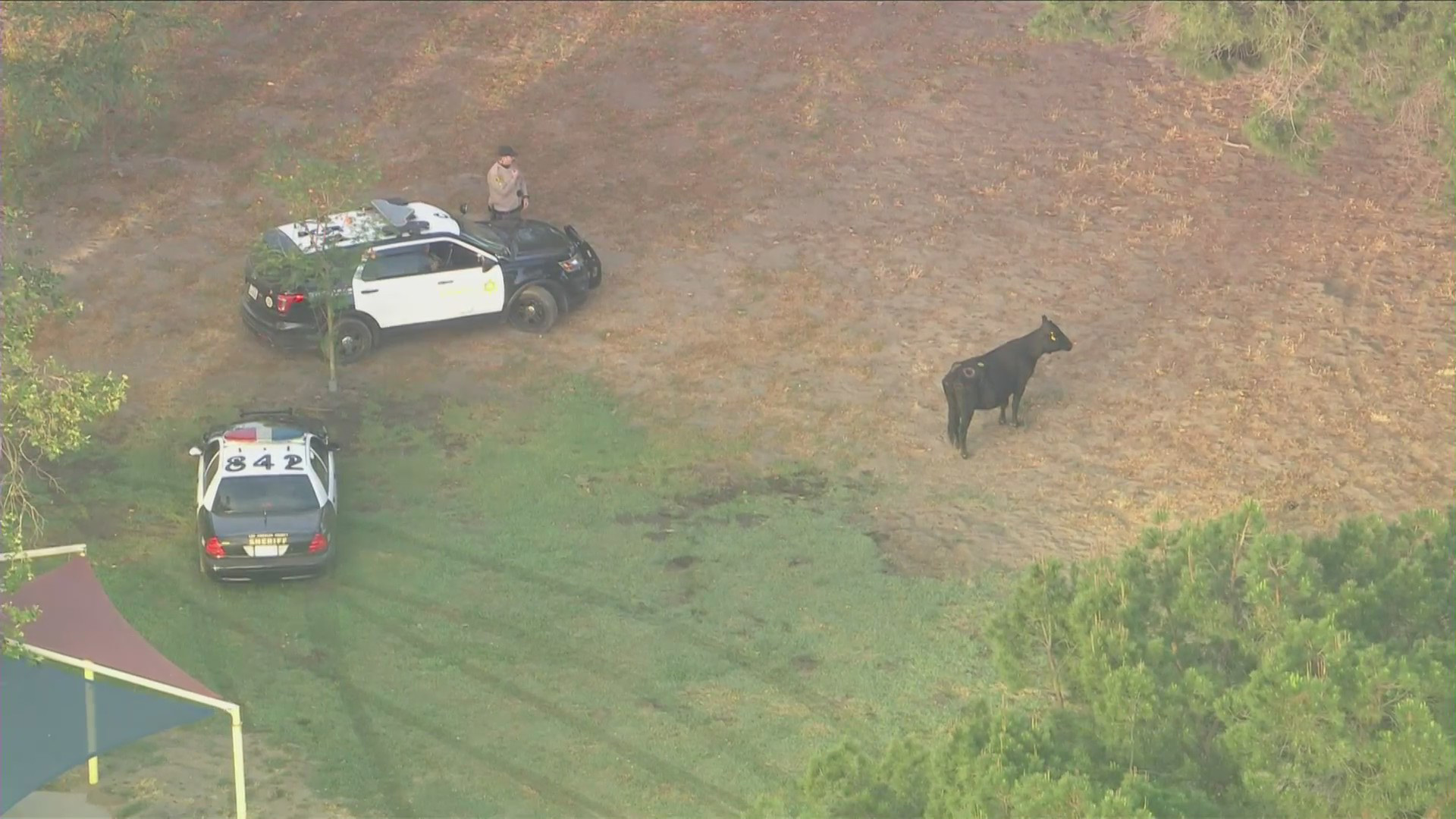 The cow was eventually captured and loaded onto a trailer, but she will not be returned to Manning Beef thanks to the efforts of Grammy Award-winning songwriter Diane Warren and animal activist Simone Reyes, who negotiated her release.
"Seeing these cows escaping their horrible fate broke my heart," Warren said. "They knew what awaited them. These are smart, empathetic, beautiful souls. What Paul McCartney said is so true: 'If slaughterhouses had glass walls everyone would be a vegetarian.' Your steak and hamburger come with a side of torture and murder."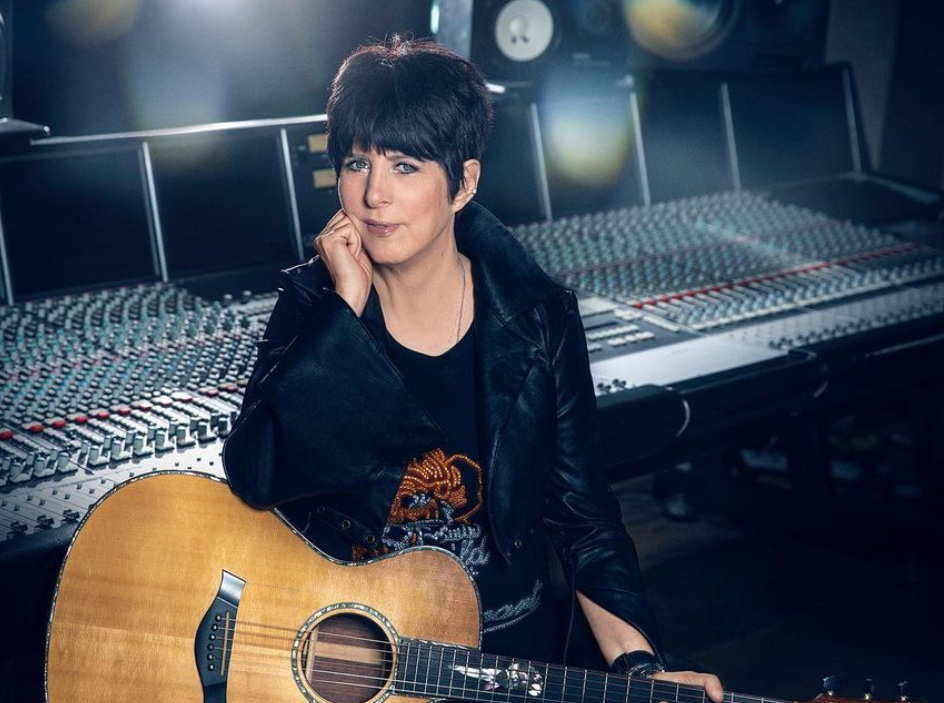 Instead of going back to the slaughterhouse, the cow is slated to be transferred to the Acton, CA location of animal rescue organization Farm Sanctuary, joining Liberty and Indigo—a mother cow and her calf who were rescued from Manning Beef by vegan actor Joaquin Phoenix last year. The cow must first undergo testing by the United States Department of Agriculture to determine if she is free of disease before being released to the city of Pico Rivera and then being allowed to go to Farm Sanctuary.
"Who wouldn't escape from a slaughterhouse if given a chance?" Farm Sanctuary Board Chair and vegan actress Emily Deschanel said. "The scene in Pico Rivera on Tuesday night should be all the proof anyone needs to know that cows want to live, and that the way we breed, exploit, and slaughter them for food is repugnant. We're grateful to Diane Warren and Simone Reyes for facilitating the release of this brave girl to Farm Sanctuary."
Joaquin Phoenix rescues cows from slaughter
In February 2020, right after delivering his animal-rights centered Oscar acceptance speech for Best Actor for his lead role in Joker, Phoenix went to Manning Beef to negotiate the release of Liberty and Indigo from the slaughterhouse alongside a group that included fiancée and fellow activist Rooney Mara, both his and Mara's mothers, Earthlings director Shaun Monson, Los Angeles Animal Save Founder Amy Jean Davis, and Farm Sanctuary President and Co-founder Gene Baur. Phoenix facilitated the transfer of the cows—whom he named after his sister and her child, who passed away—to Farm Sanctuary to live out the rest of their lives in peace.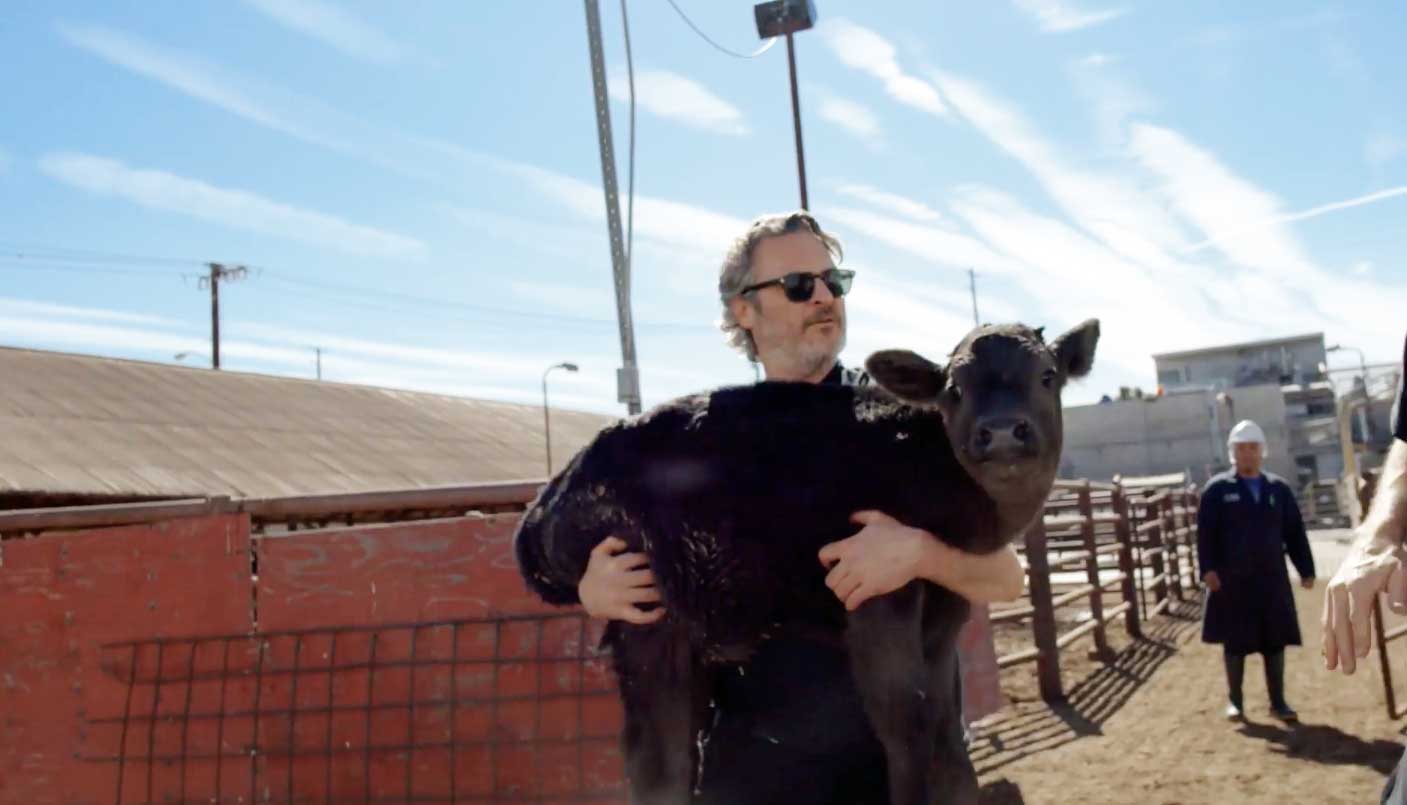 This April 22 (Earth Day), Phoenix returned to Farm Sanctuary to check up on Liberty and Indigo and filmed a follow-up documentary of the visit to share the story of their rescue from what he called a "factory of death" with his fans. There, he observed the mother-daughter duo at ease, nuzzling each other and visitors—a stark contrast to the fearful state in which Phoenix observed the animals when they were at the slaughterhouse. "It's their natural behavior; so often we interrupt that. These are unique lives and they deserve autonomy and freedom to live whatever lives they wish," Phoenix said. "I'm just thinking about the billions of animals that we kill for our consumption, for our hats or wristbands or shoes or belts."
And while the herd of cows who escaped from Manning Beef this week did cause damage to the surrounding neighborhood out of fear and desperation, the rescued cow will soon also be allowed to live a more peaceful existence, alongside Liberty and Indigo, at Farm Sanctuary.
"There were a number of other sanctuaries who wanted to accept not only this cow, but the others that were roaming through our residential streets," Pico Rivera City Manager Steven Carmona said. "And we're going to continue to facilitate that dialogue with Manning Beef."
Photo credit: CBS Los Angeles/KTLA/Farm Sancutary
Update: The cow is now living at Farm Sanctuary and has been named June B. Free.
A second, previously undetected cow was located 12 miles away from Manning Beef eight days after the escape. The same activists worked with the slaughterhouse and Pico Rivera officials to release this additional cow to Farm Sanctuary, where she is currently being nursed back to health after being found severely dehydrated.