Grocery chain Trader Joe's recently added vegan pork rinds to its large selection of plant-based snacks. The new Spicy Porkless Snack Rinds are made from a mixture of pea protein, rice meal, and pea flour which is seasoned with garlic, onion, salt, paprika, cayenne, and a pinch of habanero pepper for added heat. Trader Joe's new vegan pork rinds have the crunch and flavor of traditional cracklins but without any fried pig skin. The new vegan pork rinds are also gluten-free and retail for $2.99 per 3.5-ounce bag at Trader Joe's stores nationwide.
"Whether you know them as cracklins, scratchings, or perhaps even chicharrones, pork rinds are a plenty popular snack. So popular, in fact, that we saw no reason for the plant-based-product-preferring population not to partake," Trader Joe's described the new snack. "Some folks purported that perfecting a 'porkless pork rind' wasn't possible—particularly if we planned to keep the price low. 'When pigs fly!' they said. But, lo and behold, Trader Joe's Spicy Porkless Plant-Based Snack Rinds are as crispy, crunchy, salty, and satisfying as the real deal."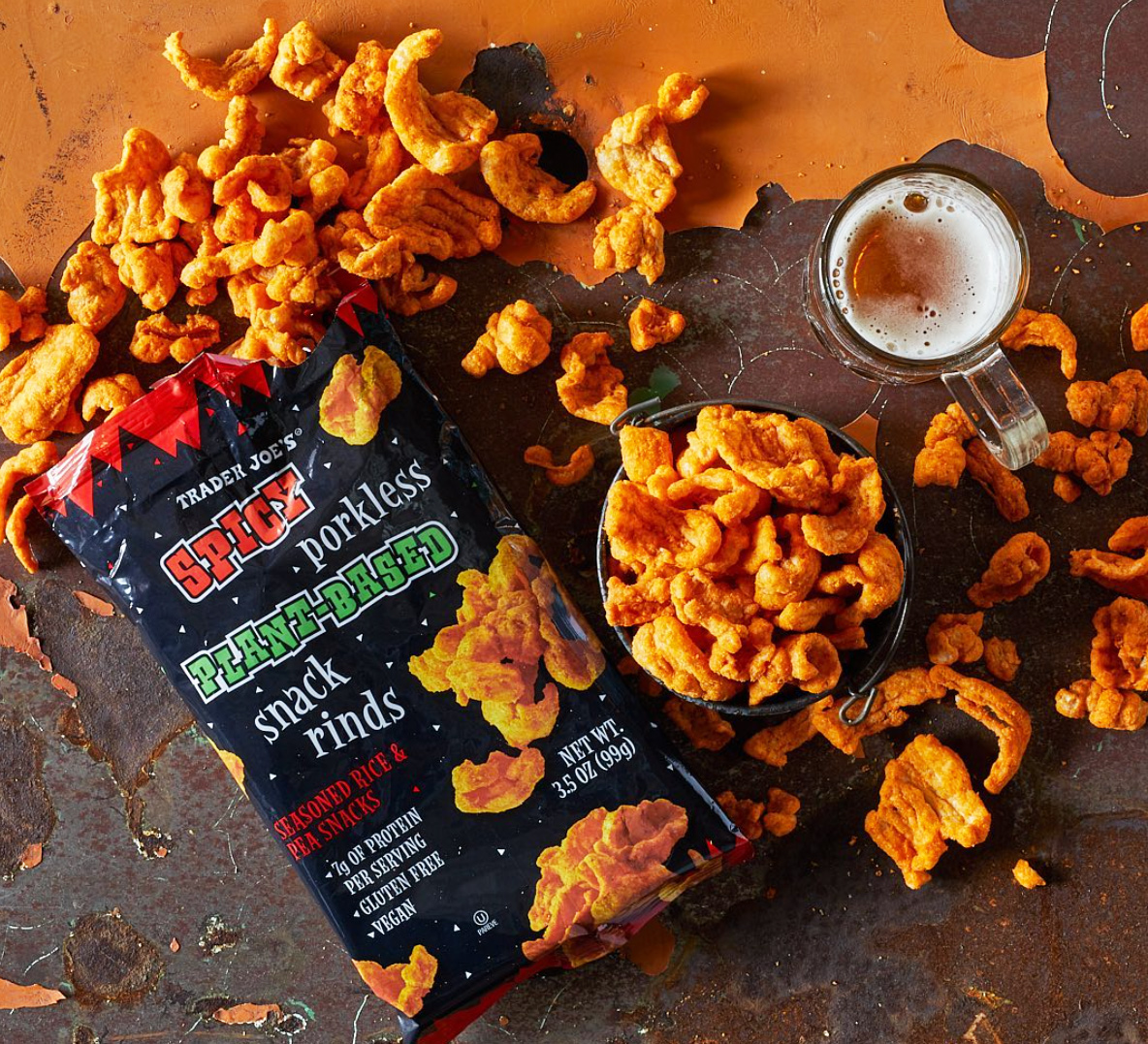 New vegan meals at Trader Joe's
From refrigerated vegan mac and cheese to ready-to-eat pozole, quick vegan meal options are becoming easier to find at Trader Joe's. In addition to vegan pork rinds, Trader Joe's also just launched a Vegan Enchilada Casserole which features corn tortillas layered with red chile sauce, seasoned pinto beans, roasted vegetables, and topped with a mix of vegan mozzarella and cheddar cheese shreds.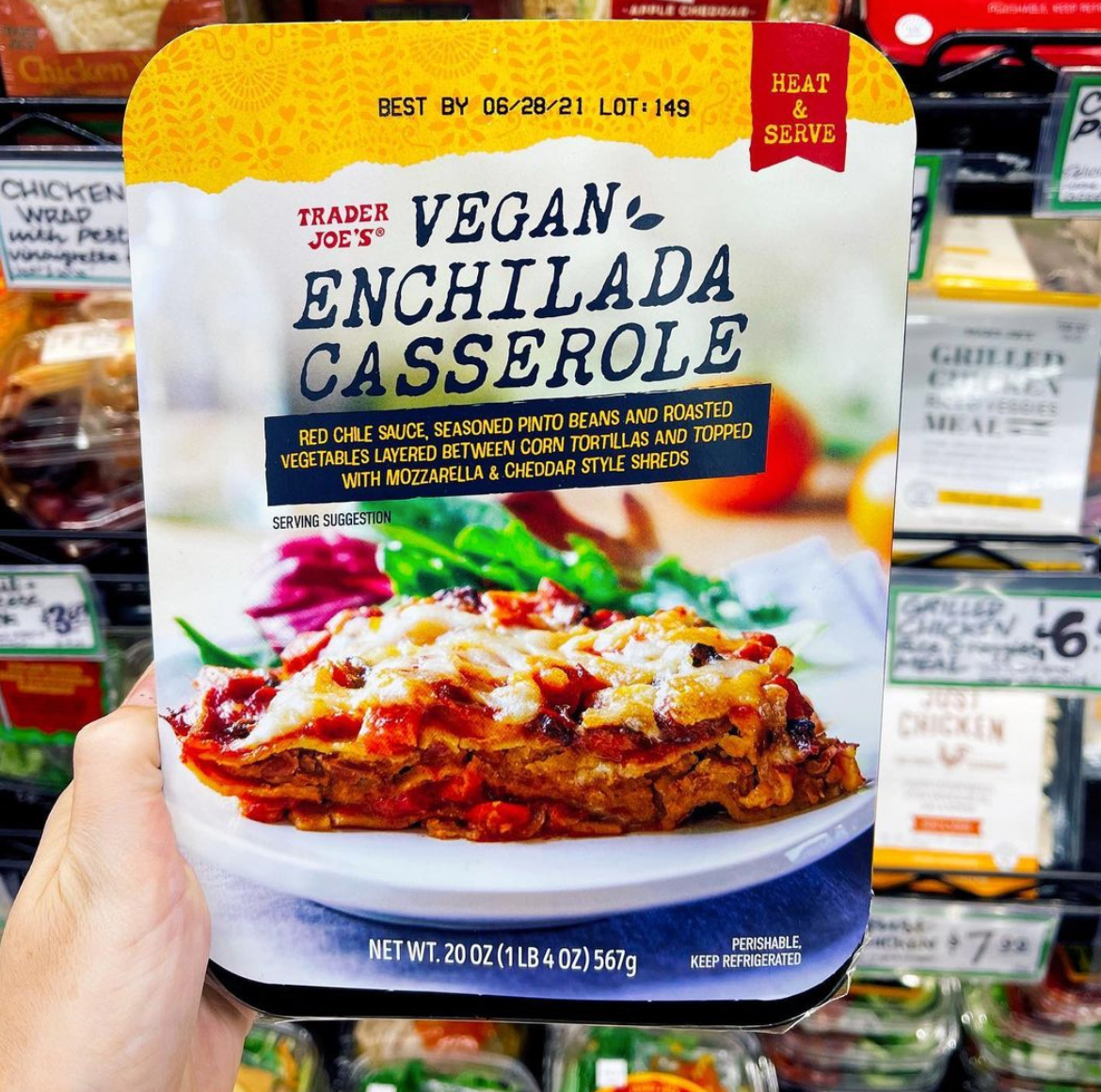 This follows the launch of Vegan Pasta Bolognese earlier this year, a frozen meal that features the same deep flavors of meat-based bolognese sauce but made with meatless sauce and mushrooms over lentil-based pasta. "We're lucky to live in a time of pronounced proliferation of plant-based proteins," Trader Joe's describes the meal. "Nowadays, even dishes that are more or less defined by their meatiness are available in vegan form, without sacrificing any of their signature texture or savory flavor." Trader Joe's also launched a Vegan Bolognese Style Pasta Sauce in stores this March for customers looking to make their own pasta creations from scratch.
Trader Joe's plans to add more vegan products
It's not a coincidence that new vegan items continue to appear on Trader Joe's shelves as the grocery chain is actively looking to expand its plant-based offerings to keep up with demand. Earlier this year, Trader Joe's executives announced that a plethora of vegan options are in development at the popular grocery chain. In addition to new vegan frozen meals, the store recently added Spicy Porkless Snack Rinds (a vegan version of pork rinds); two vegan dips (tzatziki and caramelized onion); its own line of vegan cheeses; and much more.
For dessert, Trader Joe's now offers a vegan milk chocolate bar made with Trader Joe's Almond Beverage, Non-Dairy Frozen Dessert Chocolate Fudge Oat Bars (think vegan fudgesicles), and Vegan Vanilla Cupcakes topped with rainbow sprinkles (at select stores in California).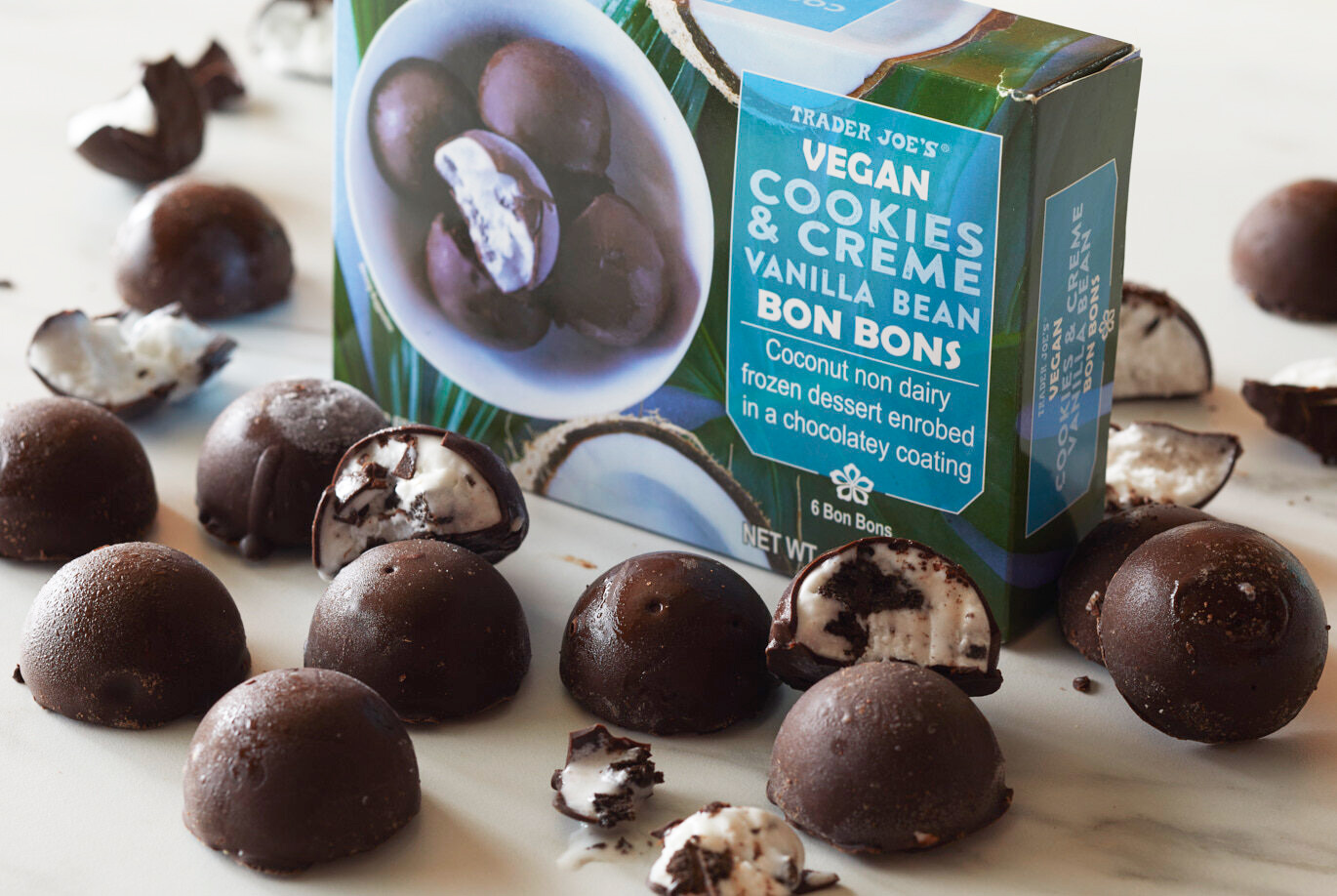 Inspired by the success of its seasonal (and totally vegan) Non Dairy Mint & Chip Bon Bons, Trader Joe's recently added a second flavor of the vegan treat. The new Vegan Cookies & Creme Vanilla Bean Bon Bons feature a crackly chocolate shell filled with coconut milk-based ice cream which is studded with chocolate and vanilla bean creme sandwich cookies. According to insiders, the grocery chain is working on a vegan version of its Hold the Cone miniature ice cream cones that feature ice cream in a waffle cone enrobed in chocolate.
To offer vegan options in every category, the Trader Joe's development team is also working to introduce plant-based seafood to its store shelves.