Today, Long John Silver's—the largest seafood chain in the United States—added its first plant-based seafood options to five test locations in California and Georgia. Made by plant-based seafood brand Good Catch Foods, the new limited-time options consist of vegan crab cakes and fish-free fish filets. Both items can be ordered as à la carte add-ons to any meal and are featured in three menu options: the Plant-Based Platter (which includes two Fish-Free Fillets, two Crab-Free Cakes, and two sides) and two plant-based meal options featuring Fish-Free Fillets or Crab-Free Cakes, each served with two sides. Long John Silver's currently offers several plant-based sides, including corn, green beans, and French fries.
"We're excited to propel change in quick service restaurants by teaming up with Long John Silver's," Christine Mei, CEO of Good Catch parent company Gathered Foods, said. "With the plant-based seafood sector expected to grow twelve-fold in the next ten years to $1.3 billion, there's room for dramatic growth. We're proud to fuel the momentum by delivering the delicious taste, unmistakable texture, and comparable protein that consumers crave."
In Georgia, the plant-based seafood options are available in the cities of Newnan (52 Bullsboro Drive) and Albany (1805 N. Slappey Drive in Albany). In California, the offerings are available in the cities of Bakersfield (3801 Ming Ave.), Sacramento (7228 Stockton Blvd.), and Clovis (406 W Shaw Ave.).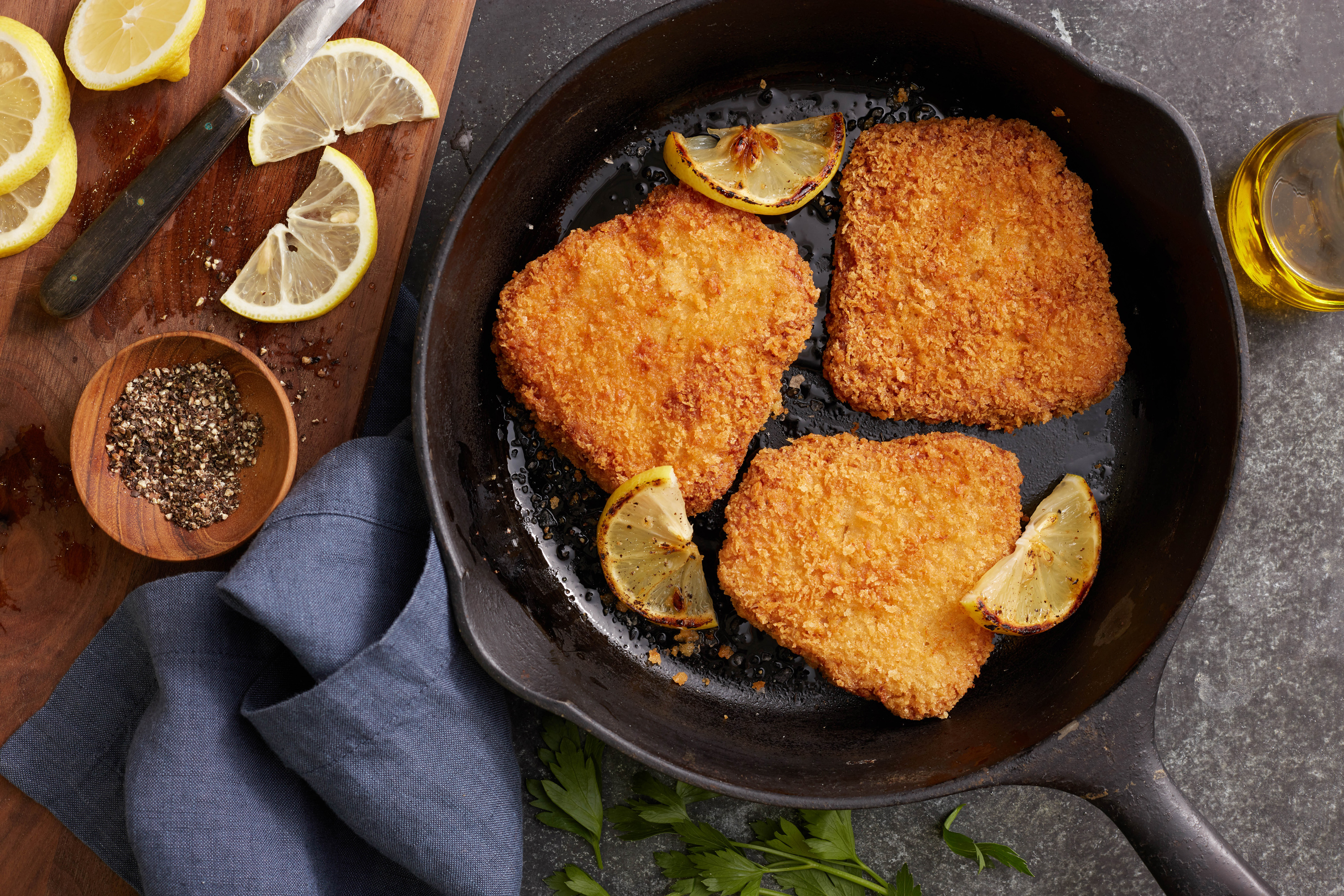 Vegan fish is making waves
Founded by chef brothers Chad and Derek Sarno, Good Catch offers truly sustainable alternatives to seafood products that do not necessitate the slaughter of animals nor the destruction of the world's oceans. Made from a proprietary blend of six legumes to mimic the texture and flakiness of seafood, the brand first launched in the retail sector in 2019 with three flavors of vegan tuna sold in convenient ready-to-eat pouches. Since then, the brand has expanded its offerings to include frozen appetizers and entrées and breaded plant-based seafood products, including the plant-based crab cakes and fish fillets now available at Long John Silver's.
The launch of Good Catch at Long John Silver's—which operates nearly 700 restaurants nationwide—represents the first time plant-based fish has appeared on the menu of a national seafood chain of this caliber, ringing in a much-needed shift in both the seafood and restaurant industries. The test launch of vegan fish is part of Long John Silver's commitment to continue to innovate its menu to serve flexitarian consumers.
"We work with partners who share the vision of fishing smarter with less environmental impact, an aspect that we know is very important to Good Catch," Christopher Caudill, Vice President of Marketing at Long John Silver's, said. "We're proud to have their plant-based products on our menu as a way to open our doors to a wider customer base who want to experience tasty seafood products in a more sustainable way."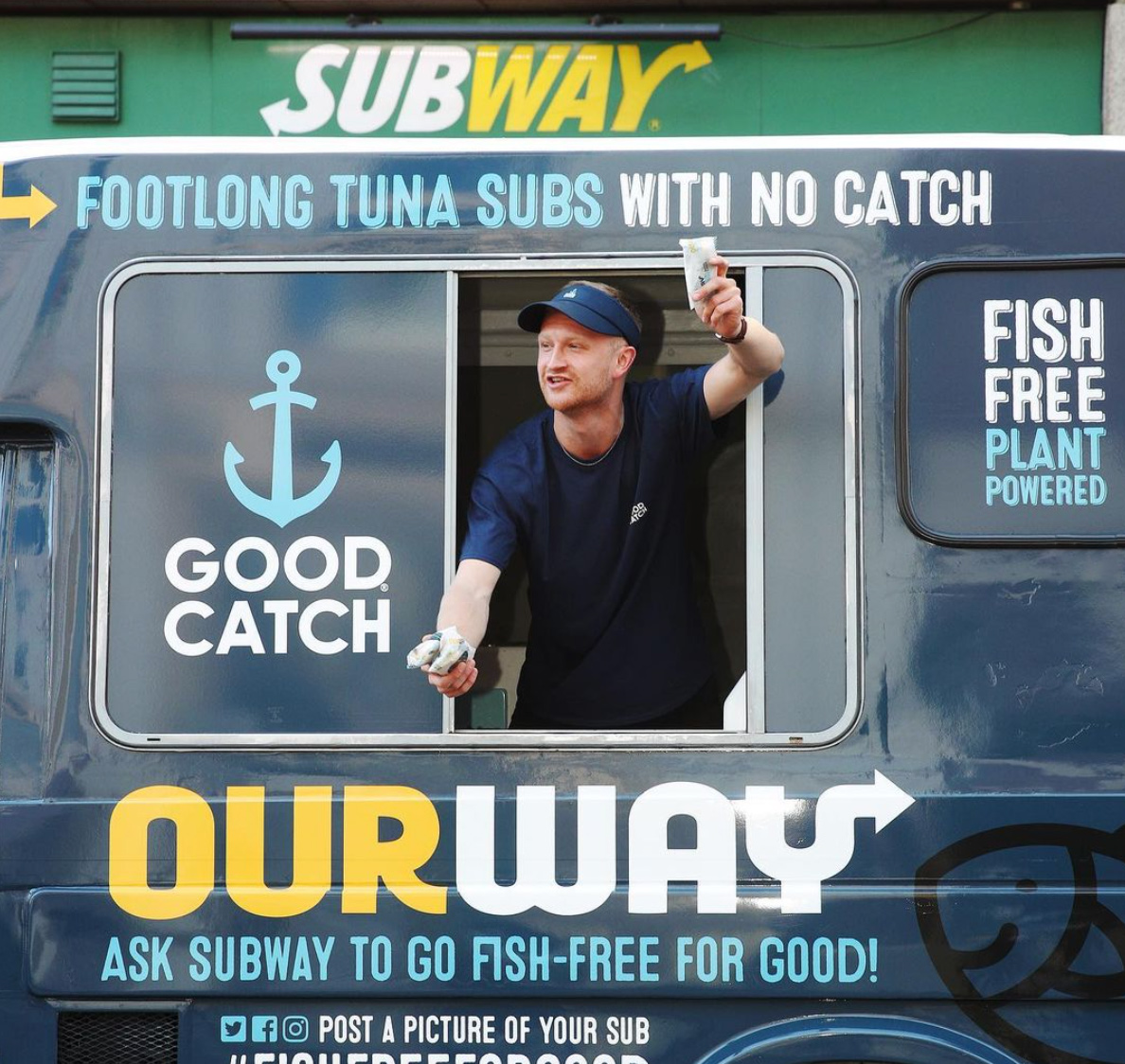 Vegan tuna at Subway
Good Catch has had a busy month promoting its plant-based seafood. Last week, the brand deployed trucks to New York City, NY, Austin, TX, and London, England to give out free vegan tuna sandwiches in front of Subway restaurants after the chain's tuna was the subject of debate. A lawsuit filed by two customers sparked a New York Times investigation into Subway's tuna, which a lab test showed might not contain tuna DNA at all. Subway CEO John Chidsey responded with the statement that the chain is proud of its tuna and explained that the test was faulty because the DNA in cooked tuna is denatured.
While the debate raged on, Good Catch took matters into its own hands by offering passersby free vegan tuna sandwiches which do not contain any fish—a good thing for the world's oceans as demonstrated by documentary Seaspiracy. The brand outfitted its trucks with an "OurWay" logo to mimic Subway's own branding and a slogan that stated "footlong subs with no catch"—referring to the DNA controversy but also to bycatch, or animals such as dolphins and turtles caught in industrial fishing nets. The one-day event was part of a larger #FishFreeforGood social media campaign to push Subway to ditch fish altogether.
After the event, Subway lawyers reached out to Good Catch with a cease-and-desist letter about its "OurWay" advertising. In the letter, the chain teased that it would be working on more plant-based options to meet growing demand for meat alternatives.