Spanish food brand Flax & Kale—owned by hospitality and food company Teresa Carles Healthy Foods—is launching the largest range of plant-based meat and cheese ever produced in Spain. The range includes 14 vegan meat products and 31 vegan cheese products that will soon be available in leading supermarkets in Spain as well as in major restaurants and online.
The range is produced right in Spain and includes vegan beef and chicken in different formats, including hamburgers, croquettes, nuggets, meatballs, and grounds. The vegan cheeses include gouda, cheddar, and mozzarella and they come sliced, cubed, and grated; as well as a spreadable Philadelphia-style cream cheese, a grated four-cheese blend, and mozzarella fingers.
The new lineup was created after three years of research and development led by vegetarian chef Teresa Carles. The development process focused on taste, texture, and overall experience with an aim to offer an identical sensory experience to animal-based meats and cheeses. The products also aim to provide the same feel under a knife, as well as spreadability, melt, and elasticity. The production process for the vegan cheese mimics the process for conventional dairy-cheese and includes plant milk made from dried fruit to help replicate the taste, texture, and nutritional content of dairy. Flax & Kale's cream cheese, for example, is a fermented cheese with 99-percent less saturated fat than its dairy counterpart and is also a source of plant protein. Flax & Kale tested the durability and consumer experience of its products at its own restaurants in Barcelona, Madrid, and Lleida.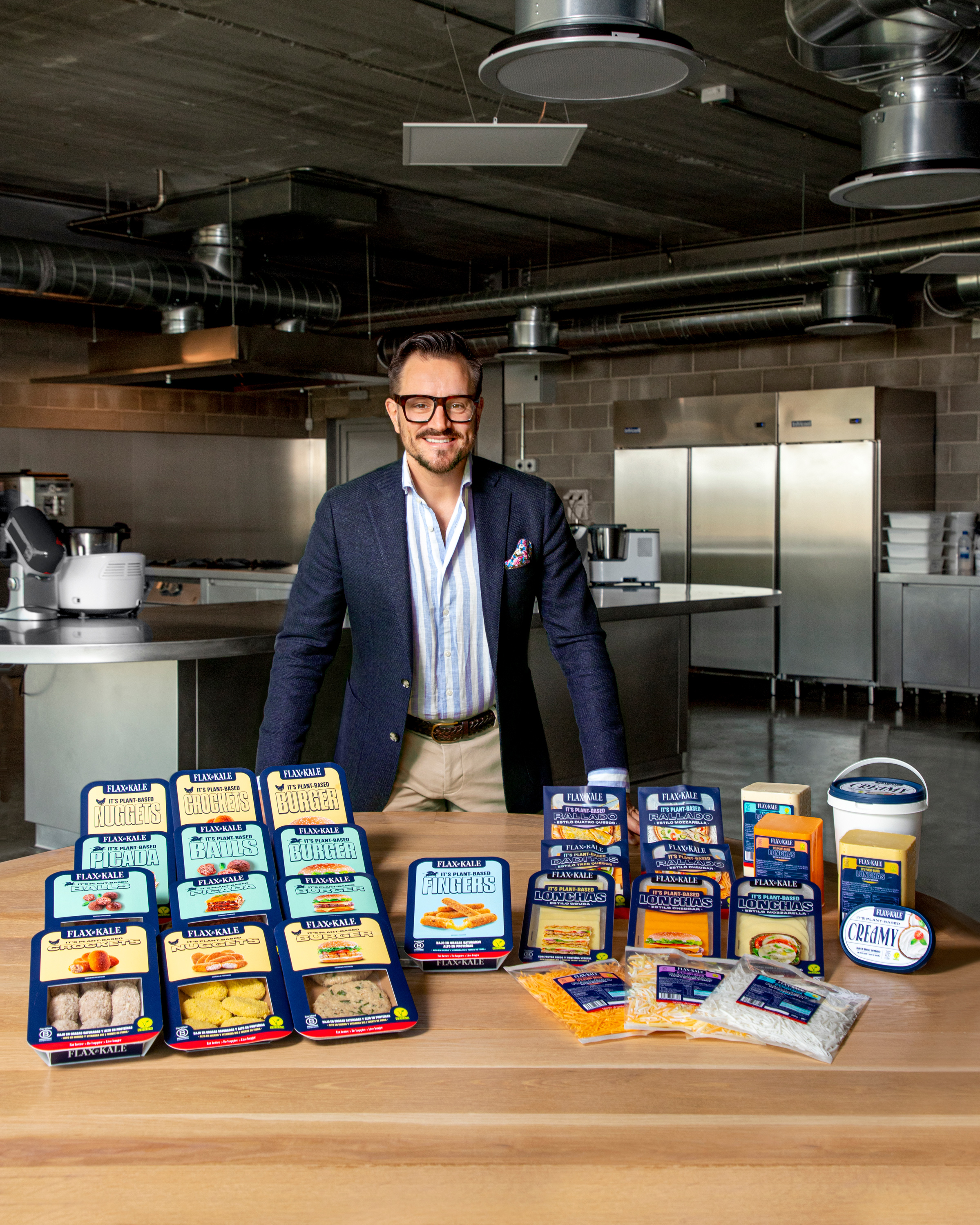 Committed to sustainability
The company is committed to sustainability, which has led them to be the first healthy food and restaurant group in Spain to achieve B Corp international accreditation—meaning it balances purpose and profits by considering the impact of its business decisions on its workers, customers, suppliers, community, and the environment. Additionally, the new range of vegan meat and cheese products are packaged with 90-percent less plastic than conventional products and have less environmental impact because they are 100-percent locally produced.
"At Flax & Kale, what we want is to transform the world of food with our own plant-based products: a wide range of products developed by our in-house research and development team and produced entirely at our facility in Lleida that are intended to revolutionize the market with healthy, tasty, and sustainable food," Jordi Barri, CEO of Teresa Carles Healthy Foods, said. "Our ambition is to become a leader in the plant-based market in Spain over the next few years with a very diverse range and truly competitive prices, which we can offer thanks to 100-percent local production and sizable investment over recent years in the latest generation industrial production lines. This launch is just the first step in that direction, and there will be many more steps in the coming months."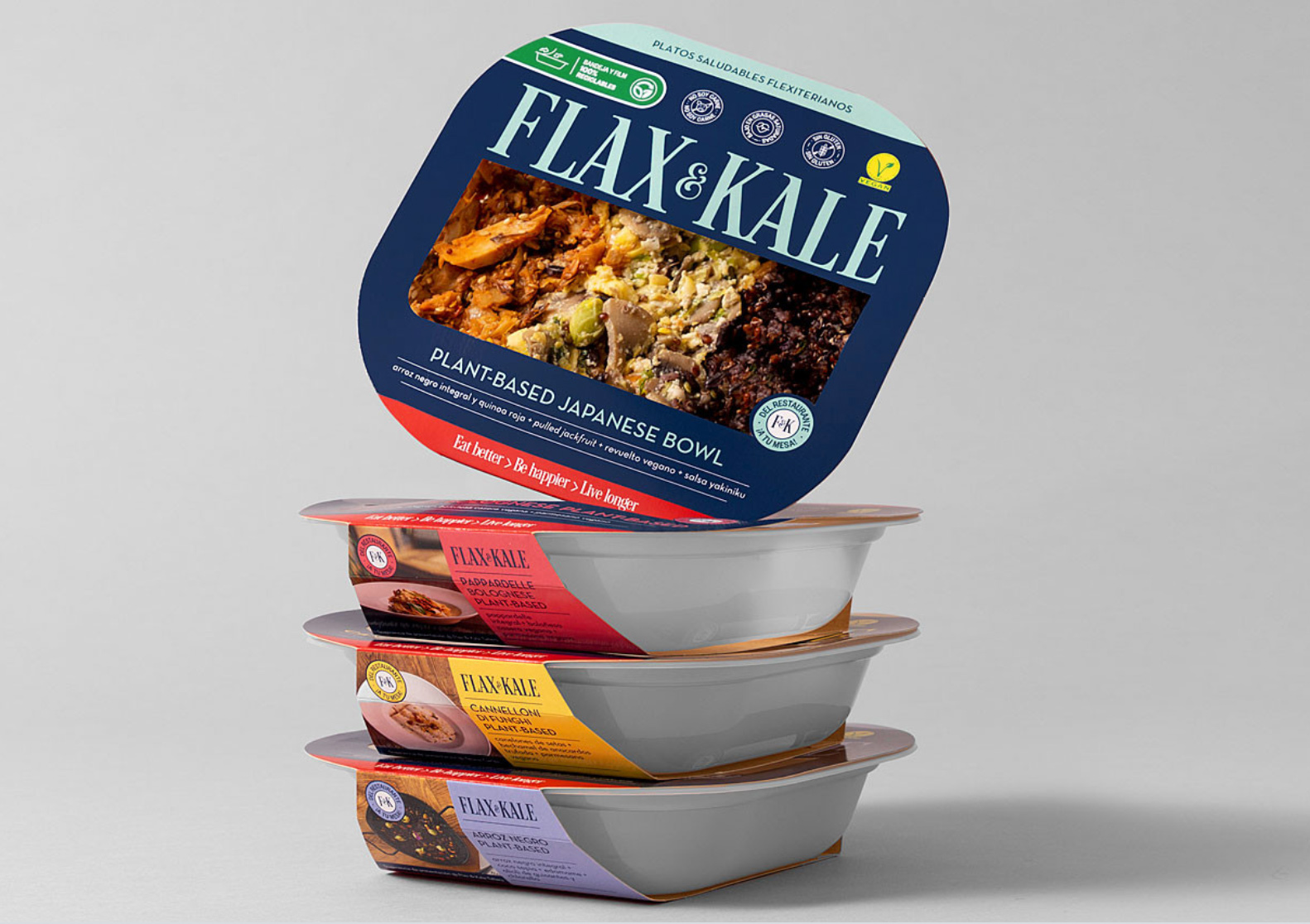 Veganism is here to stay
Teresa Carles Healthy Foods decided to expand its Flax & Kale brand with this new vegan range because it believes plant-based foods are a long-term trend that is here to stay, not only in Spain but worldwide. Though the vegan cheese market in Spain only has a two-percent penetration in market share, the company sees enormous potential for non-dairy products. According to the company, vegan meat is a more mature market with more products available in the country and it has recently been given a boost with restaurant and fast-food chains adding plant protein options to their menus.
Other Spanish brands are helping expand the plant-based sector in the country. Barcelona-based Heura (previously called Foods for Tomorrow) has launched a variety of products, including vegan chicken, burgers, meatballs, and pizza, since the company was created in 2017. Earlier this year, Heura announced that it has grown by 450 percent in 2020 and currently offers its products at 3,000 points of sale in Spain, Andorra, Portugal, France, the Netherlands, Singapore, Hong Kong, Chile, and the United Kingdom.
In February, Heura secured a $271,000 investment from Spanish government-backed NEOTEC Program of the Center for Industrial Technological Development. Through the two-year program, the company plans to continue its mission of democratizing access to plant-based foods in Spain and beyond.